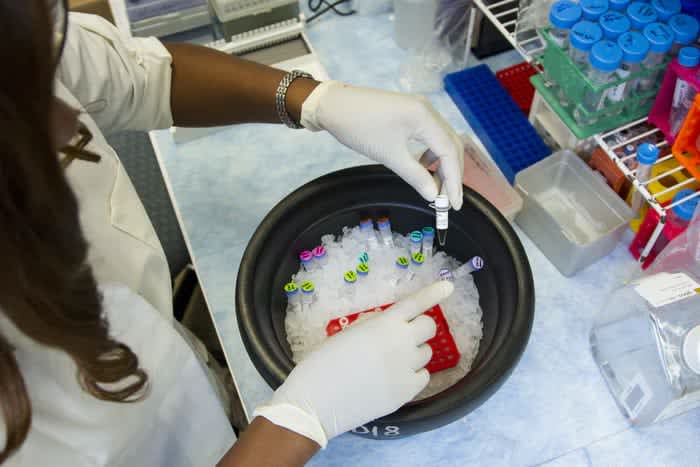 Right from the lab work and clinical trials to the grants and funding, for the scientists or researchers working on cancer research, everything has come to a screeching halt since the outbreak of the COVID-19. Here's our report.
By Deepika Khurana
Around the globe, the COVID-19 pandemic has claimed countless lives, caused economic disruptions, and, for scientists working on cancer research, it has thrown the research program into a tailspin.
In fact, since the outbreak of the COVID-19, cancer researchers and patients around the world are looking at an uncertain future. The lockdown that followed the outbreak has not only put drug trials on halt but also it has derailed all the cancer research activities around the world.
Sample this: Cancer Research UK (CRUK) and UK's second biggest cancer charity Macmillan Cancer Support had recently announced that they will scale back their research plans owing to the cancellation of a range of fundraising events. In fact, Macmillan Cancer Support in a press briefing had mentioned that the foundation is expecting the loss of up to half its fundraising income this year which counts to about £100 m.
The massive financial hit taken by two of the UK's biggest and best-supported charities is likely to reduce their research capacities to an extent that it would directly impact its goal to see three in four people survive their cancer by 2034.
Similar is the case with the American Cancer Society (ACS) where more than half of grantees have reported that their cancer research or training activities had been put on hold due to the disruption caused by COVID-19. Not to mention, it has resulted in a catastrophic loss to patients and researchers, alike.
"Clearly, like everything else in the world, COVID-19 pandemic is having a major impact on cancer research," said Dr. Gauri Kapoor, Director, and Head of Department of Pediatric Hematology-Oncology, Rajiv Gandhi Cancer Institute & Research Centre, New Delhi.
So be it the lab work, the grants, scientists or researchers who go to labs for different activities – everything has come to a screeching halt.
Agrees Dr. Ashu Abhishek, Senior Consultant & Unit Head, Radiation Oncology, Fortis Memorial Research Institute, Gurugram. According to him, "Although complete scientific world keeps updating every time, oncology is one field where every three months the treatment protocols change a bit."
While referring to the case of Glioblastoma patients; a kind of brain tumor, Dr. Ashu explained, "About five years back, the survival rate of these patients was barely 6-9 months. But now in these five years, a lot has changed in terms of their treatment, I mean so much molecular has come in that now these patients stand a chance to survive for over two to three years."
"So oncology is the field where innovation is the protocol," he said.
Apart from the new treatment plans, the ongoing pandemic has also led to the diversion of resources to contain the deadly virus. This is also expected to lead to a funding crunch in the near future. "Absolutely, all non-essential research has been halted, with research on COVID-19 being the only type of research being encouraged," added Dr. Gauri.
Definitely, these are desperate times and therefore, these require desperate measures. As many researchers in the cancer labs work with cells, many of them had no choice but to freeze their cell cultures during an abrupt lockdown.
"When you shut down, you have to take the cells and freeze them to minus 80. And then they stay in suspended animation for the period of the lockdown," informed science educator Dr. Rohini Karandikar.
While many labs struggled to maintain the basic upkeep of sensitive equipment, others faced hard decisions of what to let go. "The cold stock of cells is usually frozen in liquid nitrogen. But, depending on what state the lab was left during shut down, reviving those frozen cells can even take a long time. So the shutdown has been pretty devastating," said Rohini.
And it's not just lab research, the impact of COVID-19 on clinical trials is equally worrying. "Most clinical trials had to be stopped with the beginning of COVID-19. Globally too, clinicians stopped enrolling patients into clinical trials. And that was partly because of the capacity of hospitals," added Dr. Gauri.
And while the immediate impact of COVID-19 on labs, clinical trials, and cancer services is clear, it's likely to be just the beginning.
What's at stake?
Besides everything else, the stalling of funding is expected to have a bearing on many important cancer research projects. Unfortunately, in south-east Asian countries like India, where COVID-19 arrived in around March 2020. It's normally the time for the release of yearly installment for on-going project grants, and as most of the government or agency money has been disbursed into the management of the COVID-19 pandemic, researchers might get either reduced or delayed in their next round of funding.
"In a time of uncertainty, funds for any research with any government is limited. And whatever little funds were available, they are now being mobilised for the care of patients with COVID-19," said Dr. Gauri.
Besides, things are expected to be very bleak for early researchers like postdocs who have just started their careers in cancer research. "Research generally comes from developed countries as developing economies hardly have any surplus money to spend on research. So definitely, grants are going to be difficult for some years and not just for a few months," informed Dr. Ashu.
Perhaps, this could also mean some of the brightest scientists leaving academic research, which would be a huge loss to cancer research. "If you put all those things together, you can start to see how tough it is for researchers," said Rohini.
Time is crucial for research
Apart from money, the other important entity which researchers are losing is time. Research faculties, Postdocs, PhDs, Research Assistant, Technicians working on cancer research are losing their precious time.
"Cell research is hands-on work. You need a very sophisticated lab to do it. But even for lab research, one needs to read a lot. So, that reading work has taken a front seat during the pandemic," said Dr Gauri.
So, for all the Ph.D. students and Postdoc fellows who are not directly involved in COVID-19 Management, for them, the best way to utilise their time is to brush-up concepts in the area of their research.
"It's also a good time to look back in your research data and try to formulate the additional experiments for upcoming manuscripts," said Dr. Gauri.
But, as Dr. Ashu has rightly said that most part of the cancer trials, research, and papers come from the West. "For research, we are still dependent on developed countries when actually it should have been the other way round because India has a diversity of cancer cases. Here, every state has a different set of cancer patients."
According to him, it's not that Indians lack the mind to pursue research. But they prefer going abroad to pursue trials and finish their research. "Though our government centres are good enough to carry out research work," he said. "What we lack here is the strict framework and government policies."