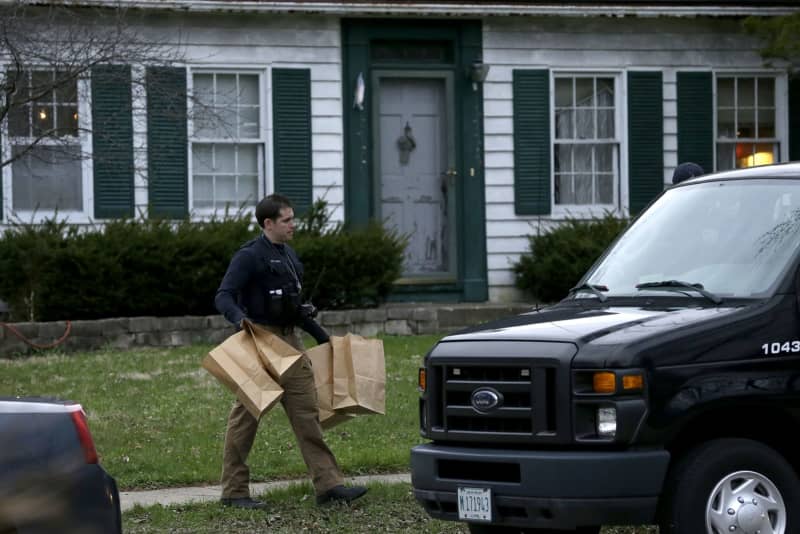 CHICAGO — Two former state child welfare officials who were involved in an abuse investigation four months before 5-year-old AJ Freund's tragic death were arrested Thursday, both facing felony charges.
Carlos Acosta, an elected McHenry County board member, and his former supervisor, Andrew Polovin, are charged with endangering the life of a child and reckless conduct, records show.
Bail was set at $20,000 for each, according to the McHenry County sheriff's office. Acosta, 54, of Woodstock, posted bond hours after his arrest. Polovin, 48, of Island Lake, had also bonded out by Friday morning, a sheriff's office official said.
The men left the Illinois Department of Children and Family Services in December following a lengthy internal disciplinary process. DCFS officials have declined to say whether they were fired or voluntarily quit.
Late Thursday, a DCFS spokesman declined to comment on the criminal charges.
Acosta was the child protection specialist assigned to investigate a Dec. 18, 2018 hotline call from Crystal Lake police regarding a bruise on AJ's right hip. The child gave various statements about the cause of his injury, including that the family's dog had pawed him, but he also told an emergency room doctor, "Maybe mommy didn't mean to hurt me."
Acosta deemed the allegation of abuse unfounded about two weeks later after consulting Polovin, who also was the supervisor in two earlier hotline investigations involving AJ, records show.
The employees, who both had about 25 years of agency experience, were reassigned to paid desk duty shortly after AJ was reported missing in April 2019. His body was found six days later in a shallow grave about 7 miles from his Crystal Lake home.
His parents, Andrew Freund and JoAnn Cunningham, had a long history with DCFS and had temporarily lost custody of AJ after he was born with heroin in his body. Cunningham, 37, pleaded guilty to murder and was sentenced to 35 years in prison earlier this summer. Freund, 61, still awaits trial.
Acosta and Polovin also are named in a federal lawsuit filed on behalf of the slain boy's estate, which represents his three siblings. The lawsuit alleges that the former state employees showed "an inhumane indifference to AJ's safety" in their handling of the December 2018 hotline investigation.
Besides the suit, former DCFS Inspector General Meryl Paniak had recommended their termination for their handling of the December 2018 hotline investigation. The inspector general report, which focused on the agency's handling of the December hotline investigation and an earlier one from March in which Acosta was not involved, found the employees "failed to see the totality" of the troubled history of AJ's family and missed opportunities to intervene.
Acosta was carrying a caseload above what is allowed under a federal consent decree at the time of their contact with AJ's family, a systemic problem that has long vexed DCFS and that child welfare advocates say puts vulnerable children at further risk, the Tribune has reported.
Acosta was paid $95,900 in 2019. Polovin was paid $189,000 in 2019, according to the state comptroller's office database.
———
(Robert McCoppin contributed to this story.)
———
©2020 Chicago Tribune