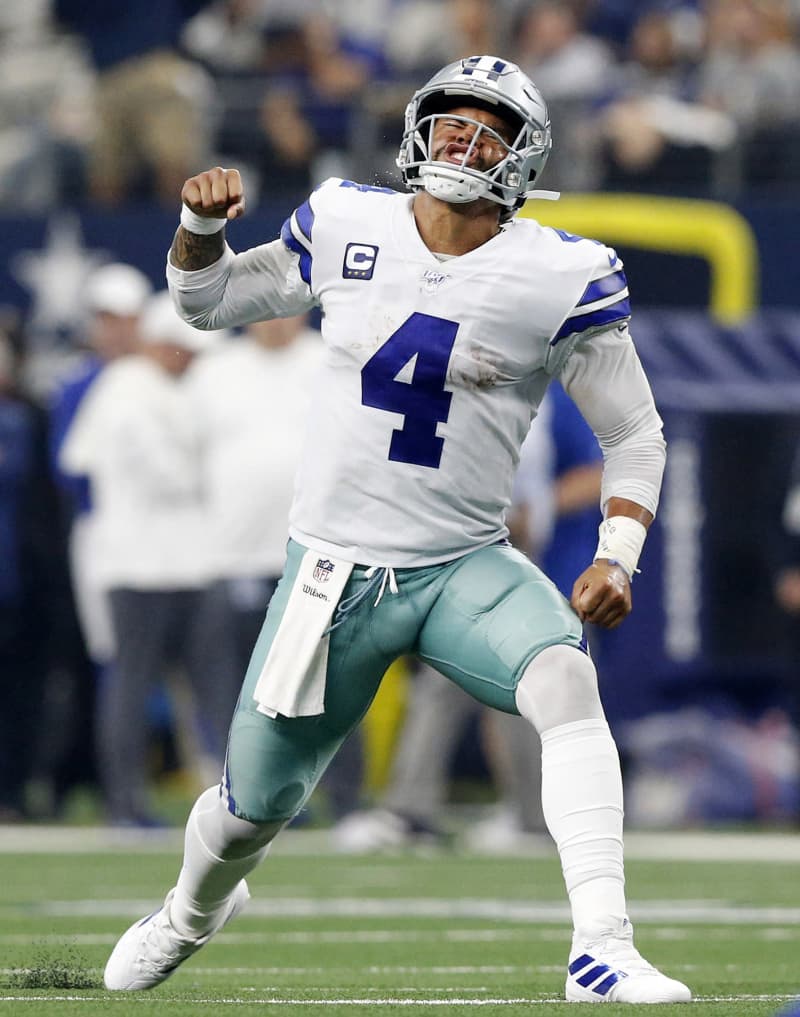 With 64 consecutive starts at quarterback for Dallas Cowboys after joining the team as a fourth-round pick, there is no question about Dak Prescott's courage, toughness and resolve to overcome adversity.
But this was no time to be the stereotypical football guy.
It was a moment and situation that called for openness and vulnerability.
After revealing a battle with depression during the spring due to the COVID-19 pandemic and the death of his brother Jace by suicide, Prescott has continued to detail what he felt, endured and how he got through his depression in an effort to help others who might be experiencing the same things and save lives.
"Mental health is a huge issue and a real thing in our world right now, especially the world we live in where everything is viral and everyone is part of the media," Prescott said. "(You) can get on social media and be overcome with emotions and thoughts of other people and allow that to fill in their head when things aren't necessarily true — whether it's getting likes on Instagram or something being viewed or getting bullied or whatever it may be.
"All those things create emotions and put things in your head about yourself or your situation in life that aren't true. I think it's huge. I think it's huge to talk. I think it's huge to get help. And it saves lives."
Prescott's initial revelation to Graham Bensinger in an interview that will air publicly this weekend drew criticism from pundit Skip Bayless on his show, Undisputed, on Fox Sports 1.
"When it comes to the quarterback of an NFL team, you know this better than I do, it's the ultimate leadership position in sports," Bayless said. "You are commanding an entire franchise. … But you're commanding a lot of young men and some older men. And they're all looking to you to be their CEO, to be in charge of the football team. Because of all that, I don't have sympathy for him going public with 'I got depressed. I suffered depression early in COVID to the point where I couldn't even go workout.' Look, he's the quarterback of America's Team."
Bayless' bosses at Fox Sports disagreed, rebuking him in a statement Thursday night and showing support for Prescott.
"At Fox Sports, we are proud of Dak Prescott for publicly revealing his struggle with depression and mental health," the company said in a press release. "No matter the cause of the struggle, Fox Sports believes Dak showed tremendous courage which is evident in both his leadership on the Dallas Cowboys and in his character off the field. We do not agree with Skip Bayless' opinion on Undisputed this morning. We have addressed the significance of this matter with Skip and how his insensitive comments were received by people internally at Fox Sports and our audience."
Asked on Thursday about his thoughts about leaders being better served by keeping things inside and hiding their pain from their teammates, Prescott offered his own rebuke.
"No, I think that is a fake leader," he said. "Being a leader is about being genuine and being real. As I said if I wouldn't have talked about those things to the people I did I wouldn't have realized my friends and a lot more people go through them. And they are as common as they are. I don't think for one second, leaders or not, I don't care how big a person you are, if you are not mentally healthy and you are not thinking the right way then you are not going to be able to lead people the right way."
Cowboys owner Jerry Jones said Prescott's voice and message rendered Bayless' criticism moot.
"This is such a humanizing aspect to see Dak this way — so humanizing," Jones said. "Anything else doesn't have substance to it, any commentary, any assessment. Dak is talking about real, real, real life and inner thoughts. The other stuff, static outside, is pale in comparison to Dak's message."
Prescott began his road to recovery by being honest with himself as well as the people around him.
He talked to Chad Bohling, the New York Yankees director of mental conditioning, as well as his friends and family.
"For sure, I realized it," Prescott said of him needing counseling. "When you have thoughts that you've never had, I think that's, more so than anything, a chance to realize it and recognize it, to be vulnerable about it. Talked to my family, talked to the people around me simply as I did at the time. Some of them obviously had dealt with it before. Was able to have those conversations and then reach out further just to more people. I think being open about it and not holding those feelings in was one of the better things for me."
Depression was real for Prescott, and understandable. He lost his brother to suicide in April. Prescott's mother, Peggy died of colon cancer in 2013 when he was at Mississippi State. Jace was his mother's primary caregiver before her death and had long dealt with some emotional burdens.
And then the coronavirus pandemic and the accompanying quarantine proved to be too much for Prescott to deal with as a self-described person who had nowhere to go to get his mind off things.
"I'm a people person. I'm somebody that likes to be around people. I like to inspire. I like to put a smile on people's faces, day in and day out, and I like to lead," Prescott said. "When that's taken away from you simply because you're forced to quarantine and not be around people and get around people as much as you would like to, yeah, it's tough.
"As I explained, it creates new emotions. Emotions that I've never felt before but obviously dealt with. And I obviously got the help that I needed and was very open about it. I think that's why I was fortunate to get over it, as not all are. As I've said before, I don't want to sit here and dwell on the things that were a struggle for me when I know I'm very fortunate and blessed and other people have it much more worse. But just to be transparent about it, that even in my situation, emotions and those type of things, can overcome you if you don't do something about it."
Cowboys coach Mike McCarthy called it another example of Prescott's impressive character that he heard so much about before coming here and has seen repeated and consistent validation since getting to know him up close and personal.
"I think his strength, his ability to be transparent on his personal challenges that he's fighting through that's obviously something that takes time, I think it shows tremendous strength," McCarthy said. "I admire him for it and I just think it's another great example of what a tremendous leader that he is and the qualities that he has that he's able to express that in today's world. When you think of leadership, the ability to serve others is so important. The humility of you can't lead until you first serve. Here's a young man that is, I mean, he's beyond his years in every walk of life, just both with what he's done so far at a young age professionally and just the type of man he is personally. I admire the young man."
———
©2020 Fort Worth Star-Telegram