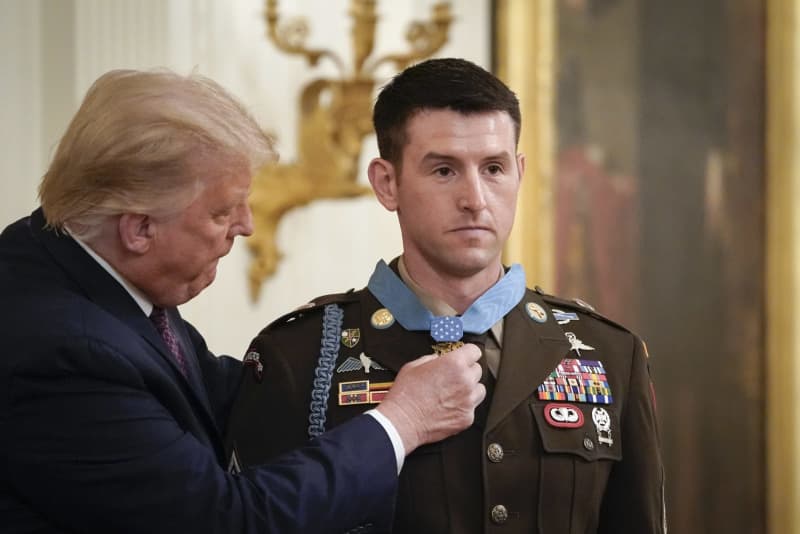 The United States' newest recipient of the Medal of Honor, the country's highest recognition of military bravery, was a high school senior in South Carolina the day the World Trade Center fell under attack.
Thomas "Patrick" Payne enlisted in the U.S. Army shortly after graduating from Batesburg-Leesville High School in 2002 and, 13 years later, he liberated dozens of hostages from Islamic State captors during a rescue mission in Iraq.
For his "conspicuous gallantry" in the mission, a part of Operation Inherent Resolve, Sgt. Maj. Payne, 36, received the Medal of Honor from President Donald Trump on Friday, the 19th anniversary of the 9/11 terror attacks in New York, Washington, D.C., and Pennsylvania.
As a high school senior, "Pat was sitting there listening as his teacher solemnly told the students that their generation had a fight to win," Trump said at Friday's White House ceremony. "In that moment, Pat was called to action. He knew his country needed him."
In his 13th year of service, on Oct. 22, 2015, then-Sgt. 1st Class Payne led an assault team on a nighttime rescue mission to free dozens of captives of ISIS fighters in Kirkuk Province, Iraq, according to the White House. Payne put himself in the line of enemy fire and braved a burning building to rescue hostages trapped inside.
"Sgt. Payne knowingly risked his own life by bravely entering the building under intense enemy fire, enduring smoke, heat and flames to identify the armored door imprisoning the hostages," the White House said in a news release announcing that Payne would receive the Medal of Honor.
"Upon exiting, Sgt. Payne exchanged his rifle for bolt cutters and again entered the building, ignoring the enemy rounds impacting the walls around him as he cut the locks on a complex locking mechanism. His courageous actions motivated the coalition assault team members to enter the breach and assist with cutting the locks."
At least 70 hostages were rescued that night.
Payne, a native of Batesburg-Leesville and Lugoff, both rural areas just outside Columbia, South Carolina, initially was awarded the Army's second-highest honor, the Distinguished Service Cross, for his role in that mission. That award was later upgraded to a Medal of Honor, the country's most prestigious military decoration, given to military members who have displayed outstanding acts of valor.
Payne is "a warrior who has devoted the last two decades to fighting the forces of terror," Trump said. "Pat, you embody the righteous glory of American valor. We stand in awe of your heroic, daring and gallant deeds. You truly went above and beyond the call of duty to earn our nation's highest military honor."
The president added that "Pat would be the first to remind us that he was not alone that day in the battle." Army Master Sgt. Joshua Wheeler, an Oklahoma native, died during that rescue mission.
"Our nation endures because fearless warriors like Josh are willing to lay down their lives for our freedom," Trump said.
In his 18-year career in the Army, Payne has deployed 17 times in support of Operation Enduring Freedom, Operation Iraqi Freedom, Operation New Dawn and Operation Inherent Resolve, and to the U.S. Africa Command area of responsibility, according to the Army.
Payne is currently an instructor assigned to the U.S. Army Special Operations Command and is stationed at Fort Bragg, North Carolina, where he lives with his wife and three children.
———
©2020 The State (Columbia, S.C.)