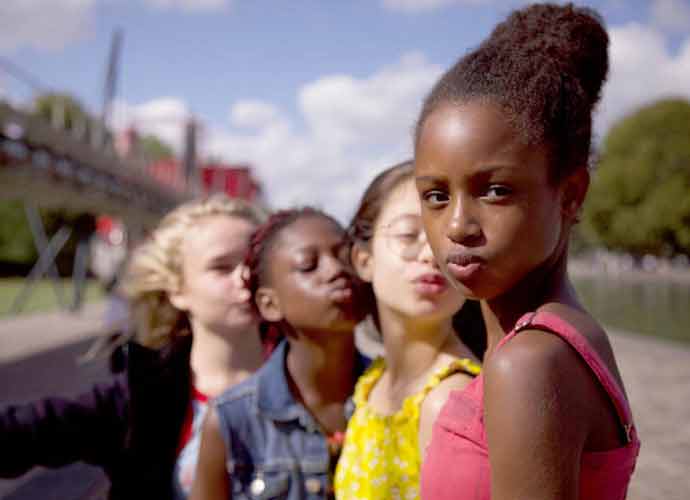 Controversy over Cuties, a new movie on Netflix, has erupted on social media as critics debate whether it is condemning pedophilia or encouraging it. Its director, Maïmouna Doucouré, won the world cinema dramatic directing award for the film at the 2019 Sundance Film Festival, and was receiving generally positive reviews from critics before it was released on Netflix – so what went wrong?
As shown in the above trailer, the movie follows an 11-year-old Senegalese-Muslim girl as she learns about traditional values at home and learns about internet culture and sexuality through an adult-style adolescent dance group called Cuties. Though the official trailer focuses more on the main character's home life and newfound friends than her dancing, what initially caught social media attention was the image used for Netflix's ad campaign.
Netflix later apologized and changed the film's promotional posters to the original on the right, but criticism had already begun flooding in.
Now, with the full film having made its debut on Netflix and becoming the seventh most popular movie on the site today, arguments on Twitter are in full swing. The majority of the tweets are against Cuties, and many believe that, regardless of whether or not the movie's intent, the movie is a depiction of pedophilia.
Meanwhile, defenders of the movie – including Netflix itself – implore hasty critics to watch the film.
"'Cuties' is a social commentary against the sexualization of young children," a spokesperson for the streaming platform said. "It's an award-winning film and a powerful story about the pressure young girls face on social media and from society more generally growing up — and we'd encourage anyone who cares about these important issues to watch the movie."
Many supporters also ask those protesting the film to consider its context, as the film was based on real-world viral videos and experiences Doucouré had. Doucouré herself wanted the film to carry a message against the objectification of young women – the opposite of what most viewers ultimately saw.
With all the controversy, Republican politicians and commentators have begun to give a political spin to the movie, focusing on how former first lady Michelle Obama and diplomat and advisor Susan Rice are both Netflix stakeholders.
Despite its 88% rating on Rotten Tomatoes and 68% positive critic reviews on Metacritic, criticism for Cuties is widespread and far reaching. Currently, there are no plans on Netflix's part to take it down, and only time will tell what the ultimate effects of the polarizing movie and its many critics and supporters will be.