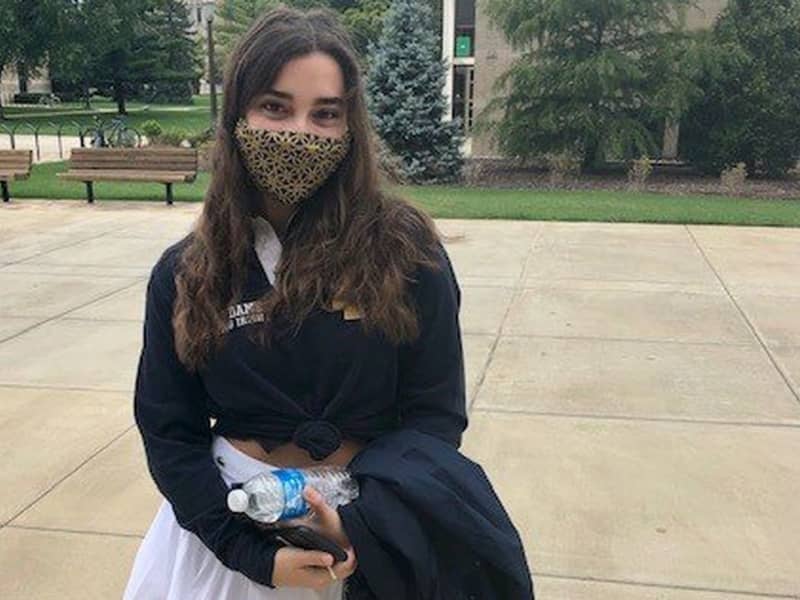 SOUTH BEND, Ind. — There are times we embrace silence: as Tiger Woods lines up a putt, after you've rocked a baby to sleep, once a flight takes off.
Notre Dame's first football Saturday of 2020 was not one of those times.
It was impossibly quiet outside the stadium about two hours before kickoff. Jarringly so.
"Definitely a ghost town right now," said Heather Horvath, a South Bend, Ind., native, while seated near the Ara Parseghian entrance.
Added Natalie Zadrima, a Notre Dame junior. "It's quiet and empty. There's no one here."
You know it's a weird football Saturday when you drive by the nine-hole course west of the stadium and people actually are playing golf. Normally that's a prime area for tailgating and parking.
There were no traffic cops. Just seas of empty parking spots. And no grills. Tailgating was banned, so no waft of sizzling brats, steaks and dogs.
"It's not normal," said Coy Brown, a former Bowling Green linebacker who accompanied Horvath to the game. "We're missing that camaraderie."
But it wasn't all bad.
While the Chicago Bears aren't allowing spectators at Soldier Field, at least for now, the state of Indiana permitted Notre Dame to operate at 20% capacity — about 15,500.
The school made tickets available to students, faculty, staff and players' families. The attendance was 10,097, 90% of which were students, a school spokesman said.
Spectators were required to wear face masks and were asked on the stadium PA to stay in their "assigned seats."
They were so distanced, so spaced out, you would have thought you were watching the waning moments of a 30-point loss to Navy.
"It's surreal," said Tim Prister of Irish Illustrated as he prepared to enter the stadium for his 39th consecutive home opener. "But it's been seven months of surreal. The fact that they are playing a football game is awesome. Thirty days out we thought it would happen … 25 days out, we didn't … 23 days, we did. We've been saying all along: Just get this season started. The thunderstorms will probably halt it at some point, which would be fitting."
Rain fell, but the storms stayed away.
The Irish struggled for much of the game but wore down Duke in a 27-13 victory as Ian Book threw for 263 yards.
The fact Notre Dame even played was an accomplishment, considering that the Big Ten and Mid-American conferences are sidelined. The Irish are the only game in town. They essentially joined the ACC for a season to complete their 11-game schedule.
And if the Irish had bailed, the ACC might have followed suit. And then the Big 12 and SEC would have been pressured to fold.
"Some thought it was overplayed that Notre Dame saved the football season," Prister said. "I don't think that's real far-fetched."
When the Big Ten announced its fall sports postponement Aug. 11, Notre Dame coach Brian Kelly said he was concerned about "the ripple effects. We had days when we saw things like that but just kept our heads down and kept going. We knew we had good procedures and protocols, good science, that we had doctors that were really following what they believed. We followed them diligently."
Notre Dame's campus couldn't avoid a COVID-19 spike, prompting a two-week pause to online classes. But the football team barely was affected. The school announced before kickoff that only two players would not be available, both because of injuries.
So save for the ACC logos on the field on officials wearing masks, the game itself looked normal.
Only the vibe wasn't.
Early on Saturday the stadium PA announcer said of the weather: "Off and on showers in the first half … chance of thunderstorms later in the afternoon. It is 2020."
———
©2020 Chicago Tribune