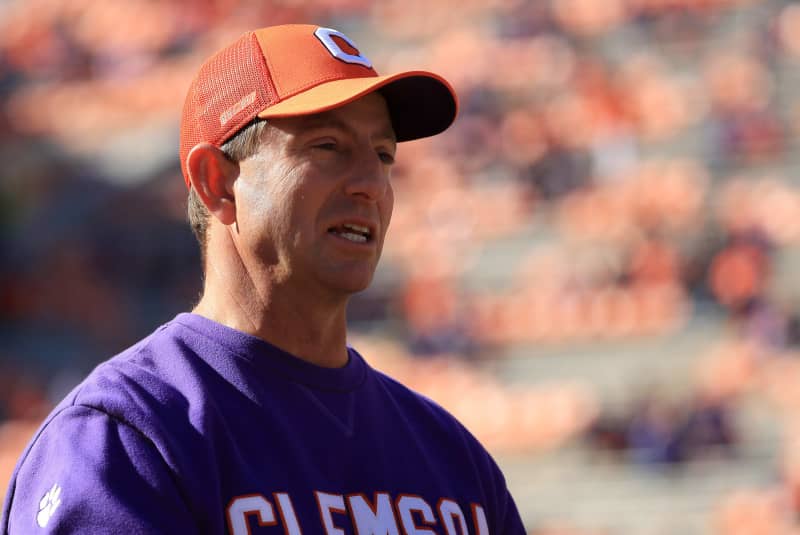 WINSTON-SALEM, N.C. — There were more cardboard cutouts than fans in the stands, the coin toss was done with social distancing in mind and coaches wore masks on the sidelines. It wasn't an unfamiliar sight while playing sports during a pandemic.
But once the football was kicked off and the game got underway, it played out just as the last couple of Wake Forest-Clemson games have — with the Tigers dominating.
No. 1 Clemson pounded the Demon Deacons, 37-13, Saturday night at Truist Field in a game that was never really competitive.
The Tigers led 24-0 at halftime and 37-3 late in the third quarter when star quarterback Trevor Lawrence exited the game. The junior completed 22 of 28 passes for 351 yards, with one touchdown and no interceptions. He also rushed for a pair of scores.
Senior receiver Amari Rodgers was Lawrence's favorite target on the night, catching five passes for 90 yards. Two-time ACC Player of the Year Travis Etienne had 17 carries for 102 yards and a score.
Clemson's defense was without four starters as Justin Foster, Derion Kendrick and Mario Goodrich were announced as out for the game for undisclosed reasons a couple of hours before kickoff. Xavier Thomas was previously announced as out for at least the first half of the season after battling COVID-19 and strep throat this summer.
The ACC is playing an 11-game season that includes one non-conference game during the coronavirus pandemic. The league delayed the start of the season one week.
———
©2020 The State (Columbia, S.C.)