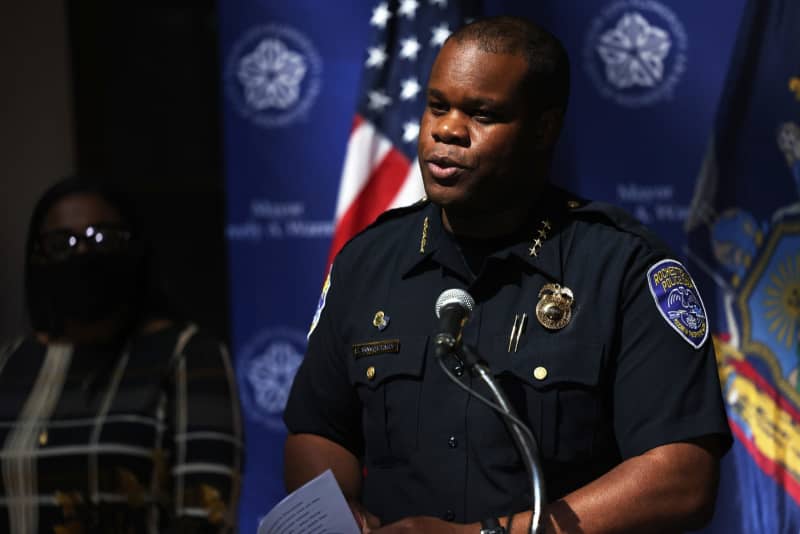 NEW YORK — Rochester Mayor Lovely Warren fast-tracked the removal of the city's police chief, suspended a top lawyer and called for a federal investigation Monday into the death of Daniel Prude.
The stunning shake-up comes amid prolonged protests against police and a week after chief Le'Ron Singletary said he would be stepping down at the end of the month as he railed against "outside entities" he claimed were attempting to assail his reputation.
Warren said during a news conference that an initial review of Prude's death revealed a "pervasive problem in the Rochester Police Department."
"One that views everything through the eyes of the badge and not the citizens we serve," she said. "It shows that Mr. Prude's death was not taken as seriously as it should have been by those who reviewed the case throughout city government at every level."
In addition to Singletary, a Rochester native who has been on the force for 20 years, being relieved of his duties, Warren said she suspended Corporation Counsel Tim Curtin and Communications Director Justin Roj without pay for 30 days.
Rochester has been beset by nightly violent protests for nearly two weeks in the wake of police body camera footage showing cops handcuffing and placing a hood over Prude's head back in March.
The video shows the naked 41-year-old Black man, who had a history of mental health issues, cuffed and thrown to the ground, where officers held him down for about two minutes until he stopped breathing. He died a week later after he was taken off life support.
Warren announced two weeks ago that seven Rochester officers had been suspended, but demonstrators have taken to the streets nightly to protest, calling on both her and Singletary to step down.
On Monday, she said the city's Office of Public Integrity will "determine if any employees — including herself — violated city or departmental policies or ethical standards."
Rochester will also bring in an outside agency to assess police training manuals, general orders and regulations, as well as the city's open records process.
While New York Attorney General Letitia James is already investigating, Warren requested the U.S. attorney general's office and the Department of Justice top get involved in the matter.
"Frankly, the public should have been informed of Mr. Prude's death and the circumstances that led to his death in March," Warren said, vowing "robust" reform of the city's police.
———
©2020 New York Daily News