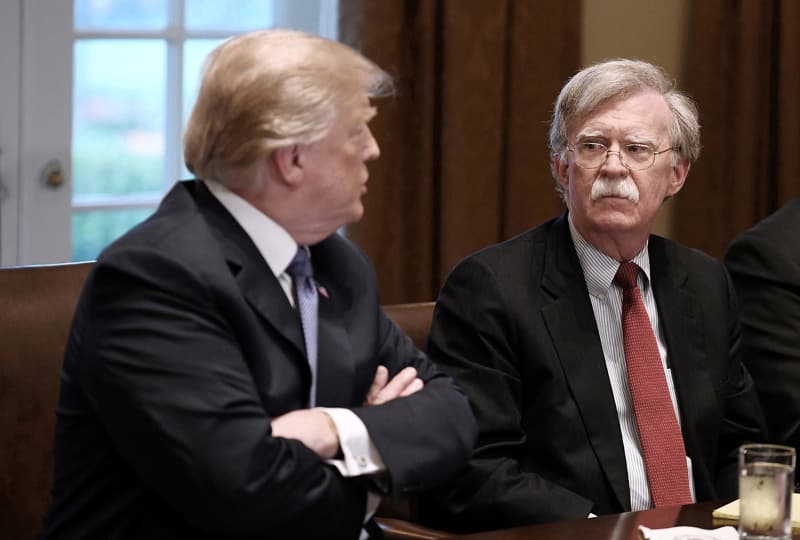 Former national security adviser John Bolton is reportedly now the subject of a criminal investigation by the Justice Department, which accuses him of disclosing classified information in his tell-all book that took aim at President Donald Trump.
A grand jury has been convened and is subpoenaing records related to the publication of Bolton's book "The Room Where It Happened," The New York Times reported Tuesday.
Trump was stung by the unflattering portrait of him in the Bolton book and has called for his former adviser to be imprisoned and fined for spilling government secrets.
Bolton insists he was doing a public service, although he refused to testify to the impeachment inquiry about key moments in Trump's effort to pressure Ukraine to smear Democratic rival Joe Biden.
Along with the Ukraine revelations, Bolton wrote that Trump asked Chinese leader Xi Jinping to help him win the presidential election by improving trade ties and buying large quantities of agricultural products.
Bolton's lawyer said he would cooperate fully with any probe.
"Bolton emphatically rejects any claim that he acted improperly, let alone criminally, in connection with the publication of his book," Charles Cooper said in a statement.
A grand jury investigation would have had to have been approved by Attorney General Bill Barr. It reportedly came after a referral from Director of National Intelligence John Ratcliffe, a fellow Trump ally.
"Unauthorized disclosure of these types of classified information could … cause irreparable damage to national security," Ratcliffe testified at a congressional hearing.
The White House unsuccessfully sought to block Simon & Schuster from publishing the book. If prosecutors seek to charge Bolton, it could seek jail time or settle for getting him to hand over the reported $2 million advance he got.
Bolton is a neo-conservative hawk who was a key architect of the Iraq War during his time in the George W. Bush administration.
He fell out with Trump in part over the president's cozy ties with Russian strongman Vladimir Putin and North Korean dictator Kim Jong Un, even though he had little to say in public while he was still part of the administration.
———
©2020 New York Daily News