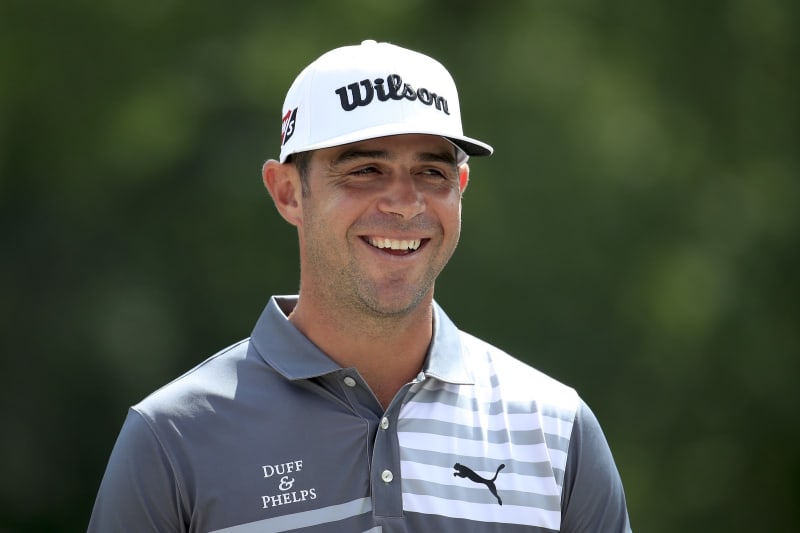 Gary Woodland got to enjoy being U.S. Open champion a little longer than most winners, and now he is ready to mount a defense of it.
Woodland, a native of Topeka who played golf in college at the University of Kansas, will tee off at 1:05 p.m. Thursday in the first round of this year's U.S. Open on the West Course at Winged Foot in Mamaroneck, N.Y. This year's tournament was originally set for June 18-21 but was postponed because of the coronavirus pandemic.
"It feels great to be the defending champ, and it was nice to have that trophy I would say a little longer than normal after one win," Woodland said during his news conference Tuesday at Winged Foot. "Obviously the U.S. Open being postponed, I had it a couple extra months.
"But with COVID in there, as well, you didn't get to travel too many places. But walking through New York City with that trophy for media day afterwards was pretty cool, taking it back home, taking it to a couple football games was pretty special. Anytime you get to hold a piece of trophy that your name is etched on forever is pretty cool, and to share it more with my friends and family and my team just proves the hard work pays off, and that was very special for me."
Woodland came out on top in last year US Open at Pebble beach, but he hasn't been in top form recently. He hopes to feed off the emotion and energy of being defending champion this week. He spent time last week working at home with swing coach Justin Parsons to improve his game after recording just two top-10 finishes in nine PGA Tour events since play resumed in June.
Woodland hopes that work pays off with a strong finish at Winged Foot. Like most U.S. Open venues, it is known for being a very difficult course, but Woodland said he is ready to embrace the challenge.
"I think a lot of guys will be looking forward to getting back to some typical setups in the next coming weeks and making a lot of birdies," he said. "But you look forward to the challenge. This isn't the norm."
Woodland said he played at Winged Foot last year to get familiar with it and has been at the course since Saturday to prepare for this year's tournament.
"The golf course is big. It's hard. But I think that's what you expect when you come to a major championship and especially a U.S. Open," Woodland said.
Woodland said it will be crucial to drive the ball in the fairway because players aren't going to be able to advance it too far out of the rough.
When he does hit it in the rough, Woodland said, it will be key to try and limit the damage.
"You're trying to eliminate big numbers, knowing par is a great score," he said. "So that becomes more of a mental test than anything, staying patient. Bogeys are going to happen. Nobody is going to go bogey free I would imagine around this place."
Woodland said he is thankful that the United States Golf Association decided to delay this year's tournament instead of cancel. There won't be any fans in attendance, but he said he hopes to put on a good show for those watching on television.
Woodland isn't the only former University of Kansas player in the field.
He played Monday with former Jayhawk Ryan Vermeer, who is now the director of golf at the Happy Hollow Club in Omaha.
Vermeer, who earned All-America honors while playing for KU in 1999 and 2000, earned his first U.S. Open start by being among the top three points leaders in the 2019 PGA Professional Player of the Year standings.
"It's great to have a former Jayhawk out here talking a little about how our football team is struggling and hopefully our basketball team is great again," Woodland said. "His game is great. I think for him, it's believing he can play out here."
———
©2020 The Kansas City Star (Kansas City, Mo.)