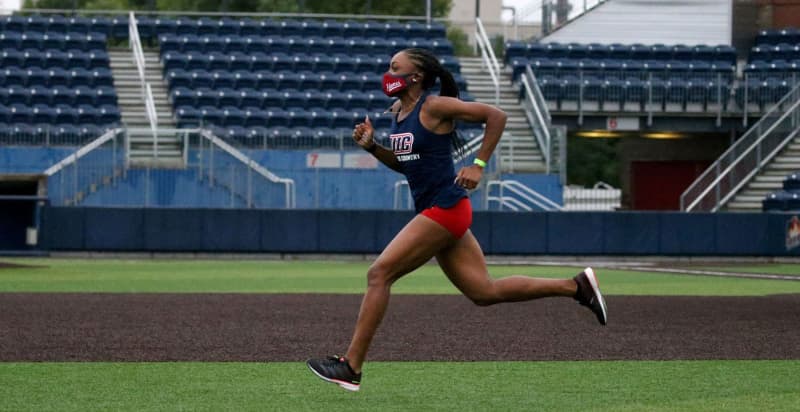 CHICAGO — When Loyola Chicago senior midfielder Giann Magno learned the fall soccer season was postponed because of COVID-19, he processed a mix of emotions.
He was disappointed not to compete. He was relieved to have some finality to questions about whether he should continue preparing for fall games. Quickly, he moved on to acceptance.
"On my team there is more so understanding," Magno said. "We had this conversation: Even if we were to have a season or try to have a season, it wouldn't be smart. It would take just one person on one team for that team to get shut down. We all know this is a problem, this virus. It is really prevalent in everyone's minds. We would be putting ourselves at risk and putting other people at risk that we know."
Measured responses such as Magno's often aren't given the megaphone in the divided, intersecting world of sports, politics and COVID-19.
The king of college sports — football — sits at the center of most media stories. Big Ten football parents, players and coaches have held rallies and protests, while some hired attorneys to try to force a fall season despite a vote by university chancellors and presidents to postpone.
Politicians even have weighed in, focusing their attention almost solely on football.
All the while, athletes in cross country, soccer, women's volleyball and field hockey quietly have digested the loss of their fall seasons too.
Lucrative professional sports contracts don't await them like some football players. Seniors grapple with whether they'll join the workforce or use an extra season of eligibility, which can be costly for those without full scholarships.
"I felt like I was in the best shape of my life," said Kayla Isom, a cross-country and track athlete at Illinois-Chicago. She won the Horizon League indoor and outdoor 800-meter championships.
"We were kind of hopeful for the upcoming outdoor season because we had such a great indoor season," Isom said. "I shed some tears but realized I had to get over that. I felt like everyone was disappointed, but we realize it was for the safety of us and the safety of our family and everyone in the world. I don't mean my team didn't feel anger. … We just understood it."
The NCAA approved a blanket waiver allowing fall sports athletes to retain a year of eligibility for the 2021-22 season.
DePaul soccer goalie Drew Nuelle hopes a spring season can be fulfilled, and he won't use that extra season of eligibility. He'll be taking the Medical College Admission Test in the spring. He had planned to take it last spring when his class load and athletic responsibilities weren't simultaneously overwhelming but had to cancel amid COVID-19 restrictions.
He'll use this rare fall without competition as an opportunity to study and delve into activities his hectic schedule had caused him to neglect. He wants to join a new diversity and inclusion group on campus, learn leadership skills and find a mentoring program in the medical field.
"I'm trying to use (the fall) for social events with friends or to join clubs," said Nuelle, from St. Louis. "You're super busy as a Division I athlete. If you're pre-med or pre-law, it's very strenuous. You can look at this as not having a season. My mindset is, let's make the most of it."
Isom, a senior from Bolingbrook, Ill., will base her decision to return on whether she competes this season. Her spring 2020 outdoor track season was canceled as well as her fall cross-country season. If she can't compete in the winter indoor track season or the spring 2021 outdoor season, she might return.
"I'm still considering that," she said. "There's a lot of I-don't-knows. If we don't have a season, I will probably come back. I feel like I'm not finished yet. I want to go out the best I possibly can."
This is the longest most fall athletes have gone without competing.
UIC's cross-country team has held team races to stay sharp. "It gets really competitive," Islom said.
Illinois senior goalkeeper Sami Sample, from South Elgin, said her soccer team has Friday night scrimmages under the lights.
"We're finding ways to get that competitive feeling back again," she said. "We play on a game field and get all the emotions out that we can't get from playing (other) teams. That's what's kept us going."
In Big Ten football circles, some argue for resuming competition because conferences such as the SEC, ACC and Big 12 are playing — although almost all NCAA programs below the Division I Football Bowl Subdivision are not competing.
Sample feels some frustration when she sees other soccer programs competing. But she said she understands the Big Ten's decision.
"I'm extremely hopeful (for a spring season)," she said. "With all this uncertainty, I've learned during quarantine to take the little wins. I want us to be able to play again and compete with other teams. (We're focused on) the ability of our team to be resilient and bounce back and practice hard together."
Even if conferences allow games to resume in the spring, seniors feel some disappointment about missing a traditional fall season.
When the decision to postpone was announced, DePaul senior volleyball player Emma Price said she felt "relief to not be in danger." She has tried to focus on positives.
"It's something to be taken seriously," said Price, from California. "But there was also sadness. Every senior wants their best season to be their last season. It's tough no matter what. I'm excited to play in the spring. It gives us more of a competitive advantage to train and prevent injuries."
Magno, of Buxton, England, said he's still learning about American culture and the dominance of football here.
"When I saw players and players' families protesting, I was actually shocked," he said. "It's like, there are bigger things, people's health."
Magno said the Loyola soccer team "had a scare" with COVID-19 when a teammate had been exposed to someone who tested positive. It reinforced his acceptance of waiting to play.
"(The team) shut down," he said. "It opened our eyes to the possibility of getting COVID. It's not just you — (it's) teammates, people around you who are close to you. It helped us understand if we don't have a season, it's the smarter decision."
———
©2020 Chicago Tribune