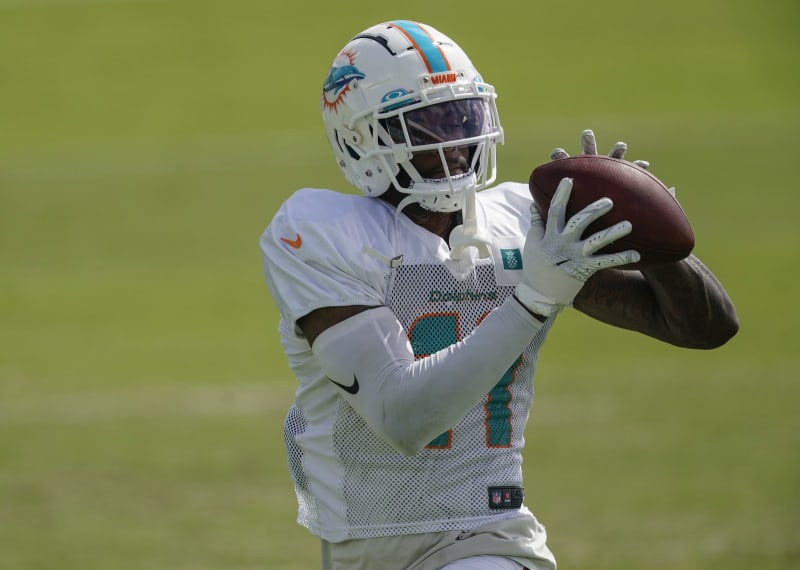 Let's be honest with ourselves for a moment.
Can we say we're surprised DeVante Parker is dealing with another injury?
The Miami Dolphins have only benefited from Parker having one healthy season during his five-year, and one game tenure with the team.
So what exactly would make anyone conclude that the healthy year Parker had last season — the one where he delivered 1,202 receiving yards and nine touchdowns on 72 catches — would be the new normal?
And the injury-plagued seasons the Dolphins' 2015 first-round pick had his rookie year (foot), 2016 (back), 2017 (quadriceps) and 2018 (hamstring) wouldn't happen again?
Last Sunday Parker tried to play through a left hamstring injury he's been nursing for the past two and a half weeks, but the former Louisville standout was forced to sit out the second half of Miami's 27-11 loss to the New England Patriots.
He practiced on a limited basis Wednesday, but the Dolphins are taking a wait-and-see approach on his availability for Sunday's home opener against the Buffalo Bills.
The Dolphins passing game struggled because of Parker's absence, mainly because a healthy Parker is a difference maker, an elite receiver.
And an injured Parker is an ordinary one.
That's why Miami needs to focus its efforts on getting Parker fully healthy before they worry about getting him back on the field because he's not dominant when he's got something nagging him.
The Dolphins should shut Parker down for the next two games — Sunday's contest against the Bills and next week's Thursday night road game against the Jacksonville Jaguars — and give his soft tissue injury 18 days to heal before trying to play him again in the October 4 home game against the Seattle Seahawks.
"We'll just try to take it one day at a time. Sometimes guys turn around quickly. If it takes more time, then that's what it is," coach Brian Flores Wednesday about Parker's hamstring injury. "We'll just try to make the best decision for DeVante and obviously for the team."
Flores' team must figure out how to produce an efficient passing attack without Ryan Fitzpatrick's favorite target, and that requires a couple of Miami's reserves to step up.
Some of them need to prove they belong on Miami's 53-man regular-season roster.
Jakeem Grant's speed has always been tantalizing. He's a dynamic return specialist (four career touchdowns), but the 5-foot-7, 171-pound receiver hasn't proven he's anything more than a gimmick player on offense in his four previous seasons.
"Everybody runs a route differently," offensive coordinator Chan Gailey said Tuesday. "Jakeem (Grant) is a good player but he runs things differently than DeVante does and we don't have time on task from last year with 'Fitz' (Ryan Fitzpatrick) and Jakeem like we do 'Fitz' and DeVante."
Isaiah Ford, who the Dolphins have spent three seasons developing on the practice squad, is often praised for his intellect.
The developmental slot receiver knows all three receiver positions, and can supposedly play them seamlessly. But is the former Virginia Tech standout ready to produce the first down reception that keeps a drive alive, or score his first NFL touchdown?
Mack Hollins, a former North Carolina standout who led the NCAA in yards per reception as a junior (24.8 average) and averaged 20.6 yards per catch during his college career, has the size (6-4, 221), and toughness needed to seamlessly replace Parker as Miami's starting split end.
But for one reason or another — usually injuries — his career didn't take off in his first three seasons with the Philadelphia Eagles, who eventually cut him late last season, opening the door for Miami to claim the 27 year old.
If there was ever a time for any of these three receivers to establish themselves as NFL playmakers, it's now.
And if they can't make plays in Parker's absence then the Dolphins have all the evidence they need to move on, and start investing playing time in youngsters like Lynn Bowden Jr, the 2020 third-round pick Miami traded to acquire from the Raiders earlier this month, and rookie Malcolm Perry, the former Navy quarterback Miami's grooming to be a slot receiver.
The Dolphins better figure something out because this season will start circling the drain if nobody steps up, and Miami's forced to wait for Parker to be healthy again this year — or maybe even next year.
———
©2020 Sun Sentinel (Fort Lauderdale, Fla.)