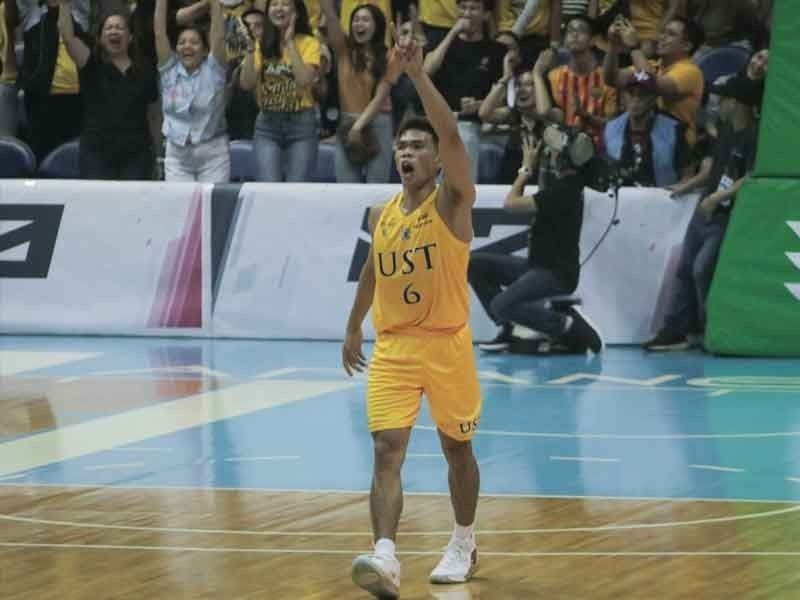 Manong's defense suits DLSU recruits
(The Philippine Star) – September 17, 2020 – 12:00am
MANILA, Philippines — Former UST players Mark Nonoy and Deo Cuajao said the other day they're excited to work with La Salle coach "Manong" Derick Pumaren because of his defensive orientation, something they were introduced to when coach Aldin Ayo led the Growling Tigers to the UAAP men's basketball finals last season.
Nonoy, 20, and Cuajao, 19, were UST rookies when the Tigers advanced to the title playoffs against Ateneo. "Kinabahan ako sa finals at sobrang dami nanood," said Nonoy. "Si coach Aldin, nagturo sa amin ng basic skills, kung paano dumepensa, ang dami naming natutunan sa kaniya." Cuajao said he learned to create good habits, on and off the court, from Ayo. They would've stayed with UST if Ayo didn't resign. When Ayo was suspended by the UAAP, that was their signal to explore moving to another school. By then, five Tigers had left the team.
Last Monday, Nonoy and Cuajao flew to Davao with their agent Jackson Chua to meet with La Salle alumnus Atty. Mads Carpio who joined the Archers management group early this year. Their COVID-19 test results weren't honored at the Davao airport and they quarantined at the Travellers Inn overnight while waiting for the findings of a mandatory swab. They were cleared with negative results the next day, met with Carpio and committed to transfer to La Salle. Nonoy has since gone home to his La Carlota hometown while Cuajao stayed in Davao where he lives with his father and three siblings. Cuajao's mother Janette has passed away. His father Doroteo was in the meeting with Carpio. Three playing years with La Salle await the blue-chip guards.
Nonoy and Cuajao said they owe a lot to UST and Ayo. When they play UST as Archers in the UAAP, their arms will be raised in singing both the Tigers and La Salle alma mater anthems after the game. At La Salle, they vowed to play their hardest and carry over the confidence that Ayo instilled in them. Both players pointed to Archers guard Aljun Melecio as the toughest they defended last season. Melecio will have graduated when Nonoy and Cuajao finish their one-year residency to play for La Salle in Season 84. "Sina Aljun, Encho (Serrano), Evan (Nelle) at ang La Salle community nag-welcome sa amin kaya tuwang-tuwa kami," said Nonoy.
Cuajao scored 24 points in his PBA D-League debut before the season was cancelled this year when the Tigers were headed for a collision course with La Salle as both teams had 2-0 records. Now, Cuajao and Nonoy will wear green. While they share the same agent, Cuajao and Nonoy never got together until last year. They played against each other at the 2018 Palarong Pambansa in Ilocos Sur with Cuajao's Davao team winding up second and Nonoy's Western Visayas squad reaching the quarterfinals. Nonoy said his favorite players are James Yap in the PBA and LeBron James in the NBA while Cuajao singled out Scottie Thompson in the PBA and Kobe Bryant in the NBA.
Carpio, who earned a Political Science degree at DLSU in 1997, said the essence of his involvement is "to bring probinsyanos like myself to the big stage, to give grassroots homegrown talents the opportunity to play and get a good education." While recruiting Fil-foreigners seems to be a trend, Carpio said he would also like to give locals a chance. "I'm here to support my school," he said. "I've been a passionate supporter since I enrolled at La Salle. There is no political color to my participation. This is sports, not politics. All I want is to open the doors for players, especially yung sariling atin, to become the best student-athletes they can be."