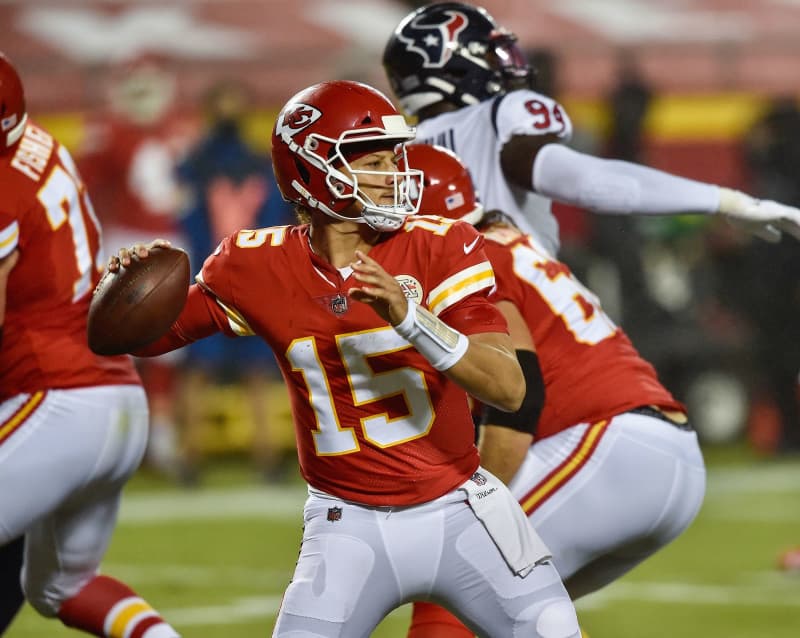 KANSAS CITY, Mo. — Patrick Mahomes had the fourth-lowest yardage output of his career in the Chiefs' 34-20 season-opening win Thursday, and the reason that needs to be stated first is because of what came next.
As he assessed the performance with his backup quarterbacks afterward, they told him it was one of the best games he'd ever played.
Really.
Mahomes managed only 211 yards on 24 completions, the former a number he has eclipsed 27 times and even doubled three times. His yards per attempt — 6.59 — is the third lowest total in his 32 career starts.
But, uh, one of his best games?
"Chad (Henne) and Matt (Moore) both said it was one of the best games I've played because I took the check-downs and didn't try to force it down the field when it wasn't there," Mahomes said. "It's something that I've learned from those veteran guys. I've learned from Coach (Andy) Reid. All of us want to go for the big shot. All of us want to go for the touchdown pass every single time. But if defenses are going to play us back, and they're going to play us in coverage, I'm going to take the stuff underneath and let the guys make plays and find ways to score."
It's been a particular point of emphasis. The Chiefs are anticipating they will see more teams play Cover 2 defense this season, with deep-lying safeties residing in the secondary to counter the Chiefs' speed. So Mahomes has worked on settling for the short routes. Not as a preference, to be clear. As a necessity.
It's precisely the way the opener unfolded. Mahomes threw the ball 32 times against the Texans, who nestled into their Cover 2, and his average pass traveled only 4.7 yards downfield, per NextGenStats from Zebra Technologies.
His 24 completions reached receivers an average of 3.2 yards downfield. That's the lowest among all 32 NFL starting quarterbacks Sunday. Baltimore quarterback Lamar Jackson, the reigning MVP winner known more for his running than his passing, averaged 10.3 yards.
In 2019, Mahomes' average completed pass traveled 6.2 yards before finding its destination. In 2018, the number was 6.4.
So, cause for alarm? Hardly, he says. His coach took it a step further.
"He did work on that, and I thought he did a nice job with that — managing the game and still taking shots when needed," Reid said. "I thought he was accurate with the ball, and I thought he just handled the situation against a good defense. I thought he handled it well. That, to me, showed growth."
Because the temptation is still there. Mahomes hasn't won MVP awards and topped 9,000 yards in his first two seasons with check-downs. (Remember when that phrase was profane in Kansas City?)
Mahomes acknowledged, "my nature wants to take that shot if I get that chance to." And he'll still do it. But that's precisely why his backup quarterbacks sought him out after the game. They know his personality. They know the most enjoyable plays are the quick strikes, the ones that just so happen to show up in the stat sheet.
Mahomes threw only one ball that traveled at least 20 yards in the air in Week 1. He threw at least two such passes in every game but one last season. Heck, in one game in Oakland, he fired 11 passes that traveled 20-plus yards downfield.
"He knows the game; he knows the coverages; and he knows where to go with the ball," said wide receiver Sammy Watkins, a beneficiary of the adjustment who finished with seven catches for 82 yards and a touchdown. "If he sees something open, why not just throw it and get the ball off? Pat loves the big plays. Now I think he's just growing up, being that elite quarterback that says, (well), let me just check it down and move on to the next play. That's a special guy we have on our team."
This is unlikely some sort of new norm, but it could be a variant of it. You might see it more often than the past. Teams will look to defend Mahomes differently. A popular option will be limiting the effect of Tyreek Hill's speed with double-teams or safety help. Make Mahomes settle.
He did. Maybe twice too often. On a third-down play early in the first quarter, Mahomes threw a quick pass to running back Darrel Williams to effectively prolong a drive. He later realized he had Hill streaking from the slot in a one-on-one matchup. Should've thrown that one, he thought.
And late in the half, he checked down a pass to wide receiver Demarcus Robinson when a longer-developing route to tight end Travis Kelce could have produced a bigger play. Didn't matter, though. The Chiefs scored on the ensuing snap.
"You just want to keep the drives going, but whenever you get those matchups, especially with Tyreek, who's usually double-covered, you want to make sure you go out there and attack them," Mahomes said. "Just learning from that, trying to find the best ways to attack them during the game and the flow of the game."
———
©2020 The Kansas City Star (Kansas City, Mo.)