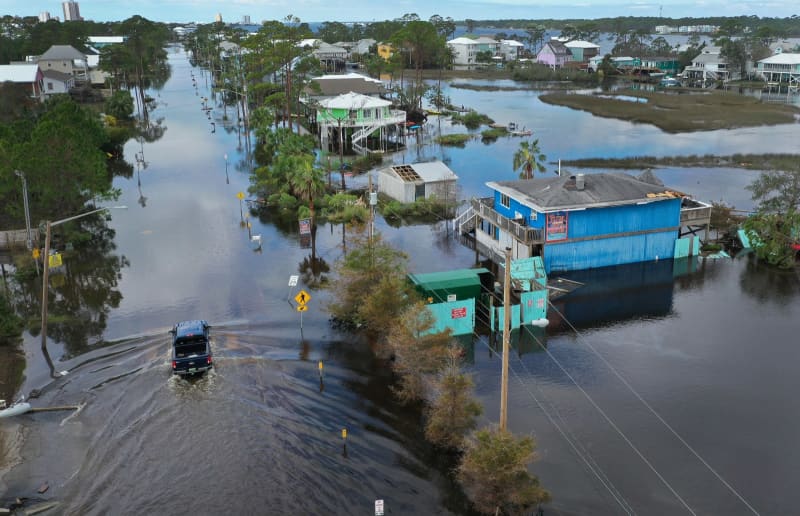 On the eve of the 2018 elections, President Donald Trump took the stage at a Pensacola rally and marveled at the damage wrought to Florida's Forgotten Coast only weeks earlier by Category 5 Hurricane Michael.
"That wasn't a hurricane. That was like a 50-mile wide tornado," Trump said, noting how the storm had wiped homes in coastal towns clean off their foundations. "Nobody's ever seen anything like that. But you are great people and we are with you 1,000%."
Two years later — as protracted Michael recovery efforts continue in a deep red region of the president's home state — Trump has another chance to prove that he will be there for the storm-weary people of the Florida Panhandle.
The devastation brought by Hurricane Sally's slow crawl through the northern Gulf Coast is still unfolding. But the storm — now a depression moving on a path expected to take it through Georgia and South Carolina — inundated barrier islands like Perdido Key, dumped more than two feet of rain onto parts of Northwest Florida and blasted a chunk out of the newly constructed $600 million Pensacola Bay Bridge. The storm, which reportedly killed one person in Alabama, also lashed the eastern Panhandle, where two years ago Michael killed dozens and caused an estimated $25 billion in damage across rural areas and tourist beach towns.
Now, with less than two months until the Nov. 3 election — and millions of mail ballots beginning to go out next week — the storm will once again test Trump's ability to respond to catastrophic damage in Florida.
"A governor or president can have all sorts of policy issues, but it's how they handle disasters that gets them remembered — either in good or bad ways," said Ron Sachs, a spokesman for Rebuild 850, a nonprofit entity formed by former Florida House speakers to help assist in Michael recovery efforts. "We've been fortunate that governors and presidents have been sensitive to Florida's needs after storms like Michael."
Rebuilding after Michael was always expected to be a multi-year process. But frustration with the pace of federal aid lingers in the region.
Despite Trump's promises during a May 2019 rally in Panama City that there would be "no games, no gimmicks, no delays" when it came to hurricane relief, it wasn't until the following month — more than 200 days after the storm made landfall — that Congress passed a $19.1 billion Hurricane Michael recovery bill.
Today, efforts to help thousands of displaced homeowners and renters continue, and timber farm owners are among those still waiting for financial assistance after the storm damaged an estimated 2.8 million acres of Florida forest land.
State Sen. Bill Montford, a Democrat whose district includes some of the counties hit hardest by Michael, lost a timber crop of his own and said federal reimbursements are only now becoming available.
"It took (Congress) weeks and weeks to make the decision and that's what drug it out," Montford said in an interview in which he praised the state's response but expressed frustration with the federal government. "If you look at the lack of cooperation in Washington, it's not surprising it took that long. But that's no comfort at all to the people who are waiting on Washington to make the move."
But in Washington and in Florida, officials have expressed confidence in the government's ability to respond to Hurricane Sally.
As the storm crept toward Mobile Bay Tuesday, Trump issued a preemptive declaration of emergency. When the storm began to move inland and winds diminished, search and rescue teams scrambled ahead of the hurricane began running hundreds of missions, according to Republican Gov. Ron DeSantis.
"In Florida, this is our bread and butter. We know how to do this," said U.S. Rep. Matt Gaetz, a close ally of the president whose district includes Pensacola. "Disaster response is best when locally executed, state managed and federally supported. Our emergency management teams at the local and state level are very good at this. We know exactly how to make the ask and respond to the needs of our people."
Gaetz said it's too early to know when Trump might visit the region given the concern early after a storm hits that the federal resources needed to support a presidential visit might take away from recovery efforts.
"The people in Florida handle it, they know how to handle it," Trump told reporters during a Wednesday press conference at the White House. "That's in good shape, Hurricane Sally."
The recovery effort will have humanitarian consequences. But it will probably carry political ramifications as well. Trump won the Florida Panhandle by about 200,000 votes in 2016, according to Florida Democratic strategist Steve Schale. And Democrats set out this election cycle to siphon voters from Trump in rural areas like the Forgotten Coast, the area around Apalachicola National Forest where the Panhandle forms a triangle dipping into the Gulf of Mexico.
In June of last year, before speaking to Florida Democrats at their annual summer gala, Democratic National Committee Chairman Tom Perez visited the storm zone and recorded a short video about the region's continued struggle after Michael. Standing next to battered trailers, with a backdrop of rubble, he spoke to a man who said he was leaving the area, and told Perez that "what the storm didn't get, the bureaucracy got."
Sally's Wednesday landfall came as Trump's administration responds to multiple crises — including the coronavirus pandemic and other hurricanes — that threaten to stretch the Federal Emergency Management Agency thin. FEMA had $14 billion in its disaster relief fund as of August 31, down significantly from the end of July when the agency had $68 billion in its disaster relief fund.
In August, the Trump administration announced an executive order that would take up to $44 billion in disaster relief funds from FEMA to pay for COVID-related unemployment claims. But on Tuesday, Trump said the federal government is ready to begin disaster recovery efforts in the Gulf region.
"We have FEMA there. We have the Army Corps of Engineers there. They can bring things back so fast you wouldn't believe it," Trump said on Fox News. "The Coast Guard is there. They're the MVP. They save lives. We have it under watch very strongly. FEMA's there long ago, a couple of days ago, actually before it hit."
———
(McClatchy DC reporter Francesca Chambers contributed to this report.)
———
©2020 Miami Herald