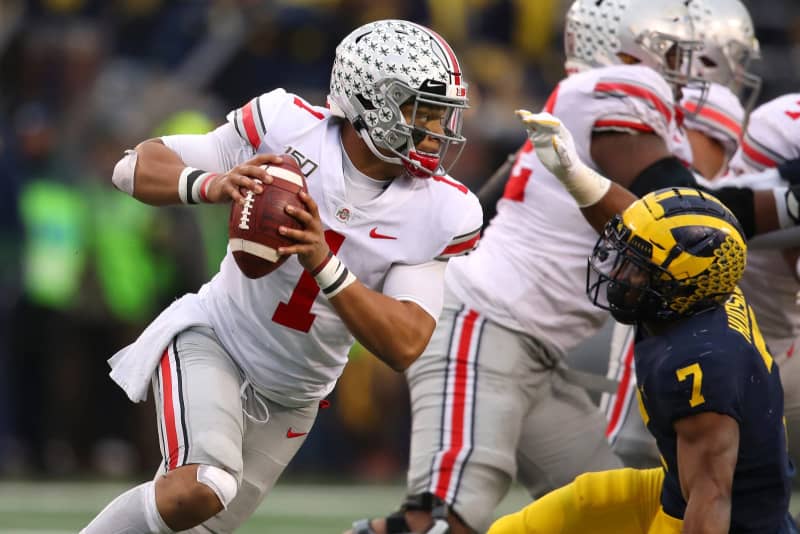 CHICAGO — Pat Fitzgerald couldn't wait until the Big Ten's official announcement at 8:20 a.m. to share the news with some of his players.
As they entered and exited the Northwestern weight room Wednesday morning, he let them know about Big Ten football's return.
"Guys are stoked; they've wanted to play," Fitzgerald said. "But we didn't do anything too crazy. There was no water dumped on anyone's heads. Got to social distance."
Football during a pandemic means more than near-empty stands and individually marked water bottles. Here are 10 key questions that remain after the news that the Big Ten season will open Oct. 23-24.
———
1. What will the schedule look like?
Each team will play at least eight games — six in its division and two crossovers to be determined. Teams will play two of the three crossover opponents on their original schedules. The weekend of Dec. 19 will feature the championship game at a site to be determined. Lucas Oil Stadium in Indianapolis is possible, but so are campus sites.
The other 12 teams also will have the "opportunity" to face one another that weekend, as Wisconsin athletic director Barry Alvarez put it. The games would pit No. 2 from the West versus No. 2 from the East, 3 versus 3, etc. A 7v7 matchup sounds more like a soccer scrimmage.
———
2. When will the schedule be released?
In the next several days. The Big Ten is negotiating with its TV partners, and Alvarez said Fox Sports has asked about Friday games.
Northwestern athletic director Jim Phillips said any teams asked to play on short weeks would not have a disadvantage against other opponents. And remember, there are no weeks off.
———
3. When will teams begin practice?
Fitzgerald put it like this during a video call: "Tomorrow morning. 8 a.m. Air in our helmets."
Northwestern will have only non-contact practices until the Big Ten delivers the machines that will allow for daily rapid antigen testing, expected by Sept. 30. But schools have leeway and are allowed to have players in pads.
———
4. Was the vote unanimous?
Officially, yes. But Rutgers might have gotten dragged in to avoid a 13-1 decision that would have raised eyebrows. The university released a statement warning that "individual universities may suspend the return to competition on a week-to-week basis if they or their scheduled opponents are experiencing significant negative changes among players and staff or within the broader university community."
Rutgers halted workouts in late July, and coach Greg Schiano said last month that 30 football players tested positive. Jonathan Holloway was one of the few university presidents to offer public support for the conference's original decision to postpone.
———
5. What are the risks?
Playing a contact sport makes social distancing impossible. Beyond the practices and games, think about all the meetings and huddles.
The Big Ten's decision has its detractors. USA Today columnist Christine Brennan, an Ohio native and Northwestern alumna who sits on NU's 64-member Board of Trustees, described this as the darkest day in the conference's sports history: "The day the vaunted conference caved. It choked. It got scared. It became the SEC."
She pointed to national testing deficiencies for non-athletes and COVID-19 outbreaks at Michigan State, Wisconsin and Maryland. Nationally, alarms went off when LSU coach Ed Orgeron casually mentioned that "most of our players have caught it" and said he hopes they don't have to miss any games.
Big Ten coaches say their players will be safer with off-field team protocols that demand they wear masks and avoid bars and large gatherings. And players who wish to opt out will not lose eligibility or their scholarship.
But there's a reason Dr. Anthony Fauci warned in June that football might not be possible in 2020. Flu season might prompt a national second wave.
Jeff Mjaanes, Northwestern's director of sports medicine, said schools and the conference will work together if there's a need to cancel a game. There is no threshold of healthy players required to play.
———
6. Should President Donald Trump be taking credit?
A Big Ten source said the conference did not ask for help and Trump did not specifically offer any — and that Commissioner Kevin Warren's contact with him was limited to a single phone call. Warren on Wednesday described the call as "productive … interesting and respectful."
Trump devotees are certain he helped. His critics, meanwhile, called this line in his tweet — "It is my great honor to have helped!!!" — an obvious attempt to sway voters in Midwestern swing states.
An unnamed Big Ten president told NBC News: "President Trump had nothing to do with our decision and did not impact the deliberations. In fact, when his name came up, it was a negative because no one wanted this to be political."
People will believe what they want to believe.
———
7. Was this done 'for the money'?
Yes and no. If money were not a factor, the Big Ten would not be playing. Big Ten schools need football revenue to survive: Nebraska football accounted for $96.1 million in 2019, 71% of the athletic department's total revenue.
The Big Ten distributes more than $50 million to each school, mainly from TV money. And now those TV partners have the inventory they want.
All that said, if the overwhelming majority of players, parents of players and coaches had not pleaded to return, the Big Ten would not be playing. And based on the conference's August decision to postpone, the presidents and chancellors really do care about safety.
By adding daily rapid testing and a cardiac registry to examine COVID-19's effects on the heart, the conference believes it can forge ahead without putting players at risk.
And if this were purely a money grab, conference officials would be trying to sell tickets to games. Instead, only family members of players and coaches will be allowed to attend.
———
8. What about player opt-outs?
That's an interesting one. SI.com reported that eight of the Big Ten's 21 announced opt-outs declared for the NFL draft, but not all signed with agents. If they did sign and accept money, it's doubtful the NCAA would restore their eligibility.
Northwestern's Rashawn Slater, Minnesota's Rashod Bateman, Penn State's Micah Parsons and Michigan's Jalen Mayfield, Ambry Thomas and Nico Collins all signed with agents.
Purdue's Rondale Moore and Ohio State's Shaun Wade did not. Ohio State guard Wyatt Davis announced on Twitter he's hoping to opt back in.
———
9. How do Illinois and Northwestern look?
Not bad. Lovie Smith has his deepest and, by many accounts, most talented roster. Quarterback Brandon Peters returns after a solid season, and the Illini added graduate transfers in USC tight end Daniel Imatorbhebhe and South Carolina defensive tackle Roderick Perry.
Northwestern should have a good defense and will be solid at quarterback with Indiana transfer Peyton Ramsey expected to beat out Hunter Johnson and Andrew Marty.
———
10. Did this episode do permanent damage to Kevin Warren's reputation?
Doubtful. Warren is a first-year commissioner who hadn't worked in college sports for decades, and at times it showed. His reasons for postponing Aug. 11 were unclear, and he waited eight days to resurface, allowing frustration to fester. And internally, coaches and many athletic directors felt like they were in the dark over the last five weeks. They rallied and pushed for the restart.
But Warren seems determined to improve the flaws in his game. Asked point-blank why his communication with coaches, players and parents was so poor, he replied, in part: "There are many things we learned over the last 40 days, and we'll get better. And I think the goal in life is to make sure that today is better than yesterday. So I appreciate your question."
Warren is nothing if not warm, friendly and positive. He might have lost the fan base, at least for now, but he works for the chancellors and presidents of the 14 schools. If Big Ten football thrives in 2020 — and if Warren succeeds in the conference's next media rights deal — much of the last five weeks will be forgotten.
———
©2020 Chicago Tribune