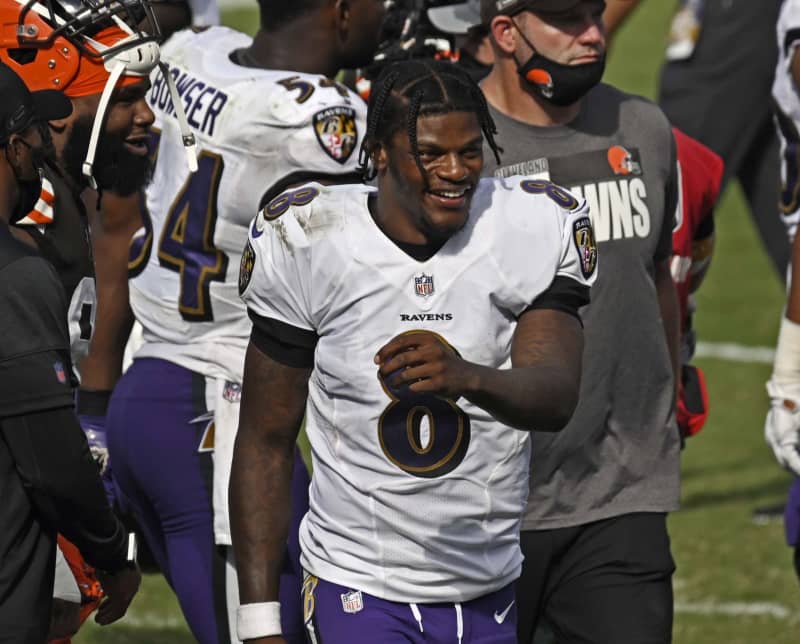 I could put a derby and a bowtie on the pig, but why bother? We had a lousy start to our season last week. The excuses are there if I want 'em. No preseason, coronavirus opt-outs, limited or no fans mostly wiping out home-field advantage — these things have made King Sport that much more unpredictable in 2020, especially early. Also had more bad luck than lucky bounces in Week 1, such as a dropped last-second TD pass costing me the Lions win I'd predicted. Nevertheless, no excuses as we dig into our 30th season of NFL picks in the Miami Herald. We got risky out the gate with four outright upset picks, nailing one (Packers over Vikes) and pushing against the spread on our Upset of the Week (Bengals over Rams). Had Cardinals-plus-points over Niners as another positive amid the rubble. No worries. Long season. Let the bounceback begin! (Note: Thursday night pick was At Browns (-6) over Bengals, 17-13).
———
Week 1: 8-8, .500 overall; 6-9-1, .406 vs. spread.
Final 2019: 169-86-1, .663 overall; 129-120-7, .518 vs. spread.
Final 2018: 179-75-2, .705 overall; 145-104-7, .582 vs. spread.
———
GREG COTE'S NFL WEEK 2 PICKS
———
GAME OF THE WEEK
RAVENS (1-0) at TEXANS (0-1)
Line: BAL by 7.
Cote's pick: BAL 37-27.
TV: 4:25 p.m., CBS.
The GOTW panel sniffed around Pats-Seahawks and Rams-Eagles, too, before bowing to the likelihood of a shootout between young guns Lamar Jackson and Deshaun Watson. Oh yeah! Houston has the added prep time after losing last Thursday to K.C., but now confronts maybe the only offense as good as the Chiefs'. And no fans robs Texans of what edge they might have enjoyed. Patrick Mahomes took a flamethrower to HOU's defensive backfield last week and L-Jack should do the same. As much as Texans getting a touch might tempt, I would resist the urge. Baltimore's offense (like K.C.'s) almost feels like a weekly can't-miss cover unless somebody starts proving either stoppable.
———
UPSET OF THE WEEK
SAINTS (1-0) at RAIDERS (1-0)
Line: N.O. by 6.
Cote's pick: LV 27-24.
TV: 8:15 p.m. Monday, ESPN/ABC.
"AAAWWWK!" trumpets the Upset Bird. "Las Vegas! Las Vaaawwwk!" Raiders make their long-awaited Las Vegas home debut at new Allegiant Stadium on Monday night, although no spectators will mean negligible electricity and little of the ambiance the NFL and TV craved. (Sure will miss those Raiders fans in their Halloween costumes — NOT!) Giving Sin City a real upset shot here because Drew Brees seemed like a star in decline last week, and now will be missing star WR Michael Thomas for awhile. Makes the Casinos really tempting getting six and we will gamble further with the outright upset. "Gambling on Vegas," notes U-Bird. "Big game from the 'slot' receiver, get it? Aaawwwk!"
———
THE REST OF WEEK 2:
Bills (1-0, -5 1/2) over At Dolphins (0-1), 24-17: Don't like the matchup for Miami. Bills secondary will be tough to throw on, and DeVante Parker (hamstring) is iffy. And Buffs' dual-threat QB Josh Allen will be a handful for Fins' D. Having said all that the Dolphs keeping it inside the bet line in what feels like a low-scoring afternoon is a tempting play I was going back and forth on. Miami dubiously will allow 20% of capacity or some 13,000 fans to its home opener. But will that many risk showing up? Chances are pretty good those who do won't leave smiling.
At Bears (1-0, -5 1/2) over Giants (0-1), 23-13: Not overselling Chitown, which was lucky to win its opener, but Bears' defense will be the dominant, result-steering unit at no-fans Soldier Field in what bodes as a points-shy affair. Also, Biggies on a short week after playing Monday night.
At Cowboys (0-1, -4 1/2) over Falcons (0-1), 34-24: Dallas and Jerry (What Pandemic?) Jones will have an actual home-field advantage here. Team is allowing less than 50% capacity — still more than others. Russell Wilson crushed Atlanta's D last week and Boys will do the same, although Matt Ryan will make it a shootout.
At Packers (1-0, -6) over Lions (0-1), 27-20: Aaron Rodgers had a huge opening-week performance that pretty much offered a middle finger to this team drafting his replacement. Now he faces a banged-up Motown secondary at no-fans Lambeau. Might lean Lions covering if I were sure WR Kenny Golladay would play. But I'm not.
At Titans (1-0, -9) over Jaguars (1-0), 24-16: Tenners have won six in a row at home over Jags, though no fans for this one. Jax surprised last week and catches Titans with short prep time after playing Monday's late game on road. Lean visitors catching near double digits.
Vikings (0-1, +3) over At Colts (0-1), 27-20: Upset! ("Aawwk!") Both coming off disappointing openers, but Vikes lost to a much better foe (Pack) than did Nags (Jax). New/old Indy QB Philip Rivers reminded us he's a turnover machine, and now he's without top RB Marlon Mack, lost for the season. Indy will let in around 2,500 fans but they won't have much to celebrate.
49ers (0-1, -7) over At Jets (0-1), 27-16: Niners' D let DeAndre Hopkins go wild in loss to Arizona last week, but NYJ (with no fans present) doesn't pose anywhere near that challenge. Also expect Frans TE George Kittle to return from last week's knee injury. Le'Veon Bell out means Frank Gore, 37, vs. his ex-team. That means lots of Sam Darnold — seldom a good thing.
At Eagles (0-1, even) over Rams (1-0), 24-21: Season's first pick-'em betting line finds Rams coming off a defense-strong upset of Dallas and Eagles limping home (to no fans) after stunning loss at lowly Washington. LAR on a neat lil' 6-0 run on East Coast, and Aaron Donald licking chops vs. Phils' beat-up O-line. But still a strong hunch for Birds.
At Steelers (1-0, -7 1/2) over Broncos (0-1), 19-13: Both teams coming off (separate) Monday night games in what figures as a low-scoring day at fanless Heinz Field. Ben Roethlisberger looked all the way back in owning Giants last week but faces a tougher D here. So lean Stallions with points.
At Buccaneers (0-1, -9) over Panthers (0-1), 31-20: Tom Brady looked shaky-old in uneven debut for Bucs last week vs. Saints (so did fellow old G.O.A.T. Drew Brees). But Tom gets a more favorable matchup here in his no-fans home debut vs. a Cats D that gave up 34 points last week to Vegas and Derek Carr. Key might be involving Leonard Fournette and Rob Gronkowski more than their bit parts in opener. Carolina has lost nine straight dating to last year, and Tampa bottled up Christian McCaffrey pretty well last year.
At Cardinals (1-0, -6 1/2) over Washington (1-0), 24-20: Washers on a 10-2 series run vs. Zona, and Redbirds 3-13 at home past two seasons. Now forget all that. Or weigh it very little, at least. Kyler Murray and DeAndre Hopkins, albeit before no fans, will solve the WAS defense. Lean visitors keeping it inside bet line, though.
Chiefs (1-0, -8 1/2) over At Chargers (1-0), 38-16: Bolts play first game at their new SoFi Stadum in Inglewood, although no fans inside sort-a kills that buzz. K.C. won last Thursday, so this will be Mahomes, rested. Good luck with that. He's 377 pass yards from being quickest to 10K, and could get it here. Chiefs have won 11 of past 12 in this division series and six straight on road. Don't stop now.
At Seahawks (1-0, -3 1/2) over Patriots (1-0), 27-20: Patriots in Sunday prime time tells you the perfume is still on New England, even post-Brady. Pats coasted past Miami last week but Cam Newton won't find the run-pass option as easy vs. SEA. Nor will Pats' D find it nearly as easy to contain Russell Wilson, et. al. Hawks lose much of home edge sans fans, but they're still the better team. Yonder comes a reality check for Bill Belichick in his new era.
———
©2020 Miami Herald