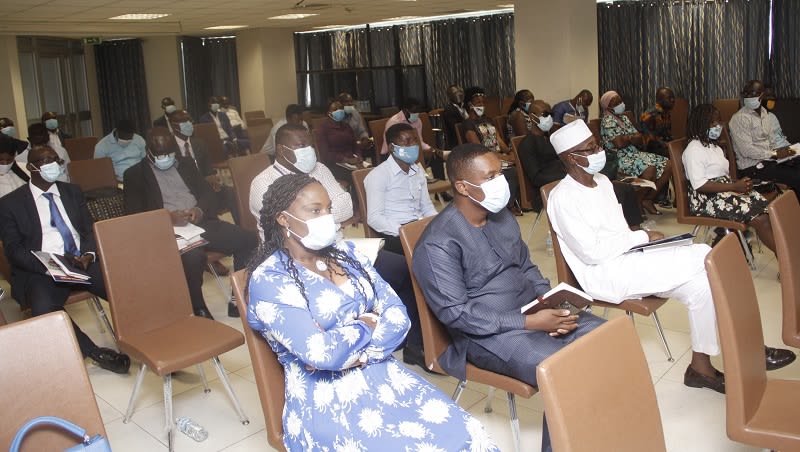 Gertrude Ohene(1st left)and participants at the training
The Ghana Shippers Authority (GSA) on Wednesday hosted selected senior journalists and editors to a seminar on the maritime industry in the country.
It was the seventh of such seminars it had held and it was themed 'Contemporary Trends and Developments in Ghana's Shipping Industry'.
Chief Executive of GSA, Benonita Bismarck, remarked that her outfit aimed at educating journalists about the nuances of the industry for a better presentation of its stories.
She highlighted the importance of the media in presenting relevant developments for both industry players and the public at large.
The authority, she recalled, had been collaborating over the years with the Ghana Journalists Association (GJA) in the direction of educating its members on issues about the maritime industry.
"The continuation of such programmes will go a long way to ensure appropriate reportage," she said, adding that similar collaborations exist between the GSA and relevant state agencies such as the Ghana Export Promotion Authority (GEPA) with a view to achieving the export goals of the nation.
President of the GJA, Roland Affail Monney, in his remarks, took exception to media practitioners whose arrogance and shallow-mindedness led to poor reportage from their end.
Journalists, he said, should avoid feeding the public with facts-deficient stories, especially when such presentations concern the economy.
The economy could be impacted negatively when poor reports about it were served by journalists, he remarked.
He acknowledged the outstanding support the GJA received from the GSA.
President of the Ghana Institute of Freight Forwarders (GIFF), Edward Tetteh-Owusu Akrong, added his voice and experience to the programme.
Resource persons such as Fred Asiedu-Dartey, Head of Freight and Logistics, GSA, took participants through important issues in the maritime industry. He touched on demurrage, uncleared imports and other aspects and especially educated freshers about the industry.
Gertrude Ohene-Asienim, Chairperson of the Institute of Chartered Shipbrokers (ICS), West Africa, took participants through International Commercial Trade Terms otherwise referred to as Iconterms.
Journalists left the venue of the programme richly enhanced in terms of knowledge of the maritime industry.
With shipping matters incomplete without the insurance component, Seth Eshun, Head of Supervision, National Insurance Commission (NIC), made a presentation on the 'Implementation of Marine Insurance Act 2006 (Act 724): Inherent Benefits for Shippers in Ghana'.
By A.R. Gomda