SLAS office bearers. Seated from left: Jaliya Jayasekara, Suranjith Premadasa, Duminda Jayasunghe (Asst. Treasurer), Dinesh Jayawardena, Suminda De Silva (Vice President), Shehan De Tissera (Secretary), Ashhar Hameem (President), Upulwan Serasinghe (Treasurer), David Todd (Vice President), Sanjaya Sedara Senarath, Indu Samarakoon, T.G.N. Gamini and Pubudu Wickrama. Standing from left: Malaka Herath, Kamil Hussain, Errands Wakista, Jayantha Fernando, Janaka Dias, Abeeth Dangalle, Kalim Iqbal, Namaz Fawzy, Ryan Gray, Safraz Junaid, Youan Lorenze, M.M. Chandana and Dhammika Pieris. Absent Rizvi Farouk (Asst. Secretary)
"I was not appointed to dictate terms to controlling bodies," says Dilantha Malagamuwa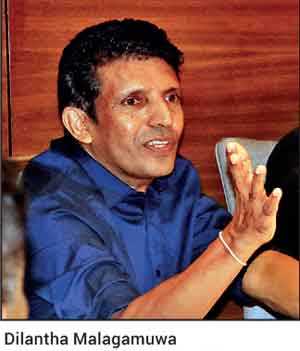 Text and Pix by
P.D. De Silva
The Sri Lanka Automobile Sports (SLAS) AGM was held on 31 August.
At the AGM, Ashhar Hameem, a founding member and a former President of the Southern Motor Sports Club, was elected uncontested as President of the controlling body for motor sports in the country. Shehan de Tissera of the Colombo Motor Sports Club and Upulwan Serasinghe of the Negombo Motor Sports Club were elected as Secretary and Treasurer respectively.
The SLAS AGM was challenged with four objections being filed and subsequently being rejected by the Election Committee and the Court of Appeal turning down an application made by the Nuwara Eliya Motor Racing Club praying for an interim order to prevent the AGM being held. The entire council was elected uncontested.
Motor sports in Sri Lanka has been placed in capable hands for the next four years as its new President is an International Race Official and Administrator trained by FIA-CAMS Australia and British Automobile Racing Club who has officiated at the Formula I races in Australia, India and thrice in Singapore. He has two decades of experience as an organiser and race director of many motor races and rallies held locally.
Sharing his future plans with the media Ashhar said that having Namal Rajapaksa, a racing enthusiast, as Minister of Sports and International Racing Driver Dilantha Malagamuwa as a member of the National Sports Council was a shot in the arm for motor racing.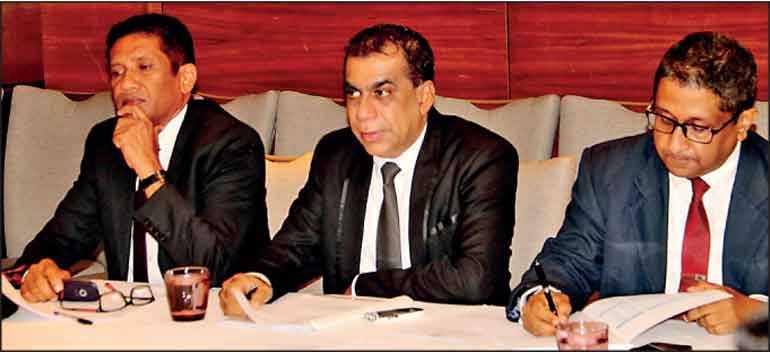 President Ashhar Hameem, Secretary Shehan de Tisera and Treasurer Upulwan Serasinghe at the first SLAS committee meeting on 9 September
He said that the safety of drivers would be given priority while facilities would be upgraded to international standards and hoped that the health authorities would give the green light to commence motor racing soon.
At the discussion with Malagamuwa which followed Wednesday's council meeting the need to update the rules for motor racing was brought up while a request was made to the representatives of the Sri Lanka Army to upgrade their race tracks as well as consider constructing a tarmac to international standards at the existing Sevanagala track.
Meanwhile, Sri Lanka's top motor racing driver Dilantha Malagamuwa told members of the SLAS Council that he "was not appointed to the National Sports Council to dictate terms and conditions to controlling bodies".
New SLAS Council
President: Ashhar Hameem – Southern Motor Sports Club
Vice President: David Todd – Motor Racing Association
Vice President: Suminda De Silva – Sri Lanka Association of Racing Divers and Riders
Secretary: Shehan De Tissera – Colombo Motor Sports Club
Asst. Secretary: Rizvi Farouk – Sri Lanka Auto Sport Drivers Association
Treasurer: Upulwan Serasinghe – Negombo Motor Sports Club
Asst. Treasurer: Col. Dumida Jayasinghe – Sri Lanka Motor Cycle Club
Council Members
Southern Motor Sport Club: Dr. Sanjaya Sedara Senarath and Eranda Wakista
Ceylon Motor Sports Club: Yohan Lawrence and Safraz Junaid
Sri Lanka Motor Cycle Club: Dhanmmika Pieris and Suranjith Premadasa
Asian Motor Racing Club: Dinesh Jayawardena and Jaliya Jayasekara
Sri Lanka Association of Racing Drivers and Riders: Pubudu Wickrama and Kamil Hussain
Negombo Motor Sports Club: T.G.N. Gamini and Malaka Herath
Motor Racing Association: Namaz. Fawzy and Kalim Iqbal
Sri Lanka Autosport Drivers Association: Jayantha Fernando and Janaka Dias
Colombo Motor Sports Club: Ryan Grey and Abeeth Dangalla
(Council Members comprise two representatives each from the nine Affiliated Clubs.)
Probation Club Representatives
Army Motor Sports Committee: Brigadier Indu Samarakoon and Major M.M. Chandana