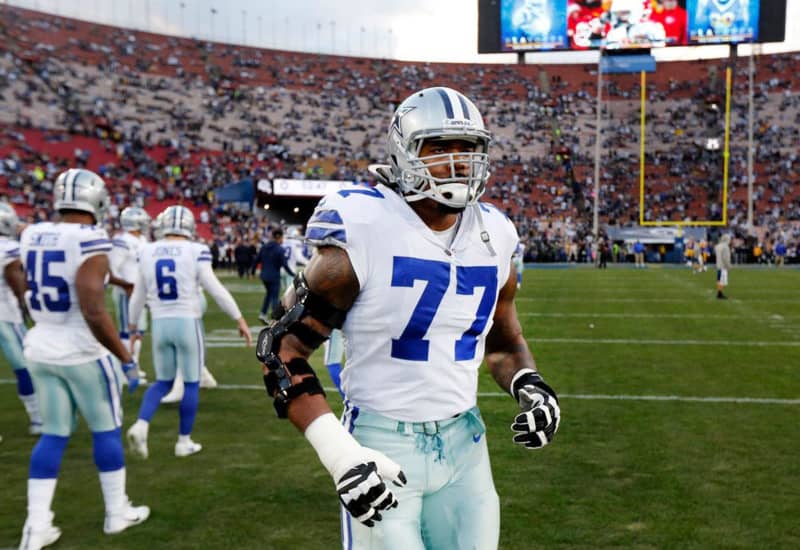 FRISCO, Texas — The Dallas Cowboys don't sound optimistic about Pro Bowl left tackle Tyron Smith's availability for Sunday's game against the Atlanta Falcons.
Smith suffered a neck injury going through individual drills and didn't practice on Thursday or Friday.
Owner Jerry Jones called Smith a game-time decision for Sunday, while coach Mike McCarthy said they are still gathering information on Smith and will know more on Saturday.
"As far as the plan, you're always working different scenarios," McCarthy said. "We'll continue to do that today and tomorrow. We'll see how Tyron is tomorrow. That will probably be the determining factor.
"I don't have all the information, but I know he wants to go. He's a pro and he's doing everything possible with the training staff. We have time. We have another 48 hours, so we've just got to do what's best for him personally and we'll go from there."
Smith's situation is another setback for the Cowboys at tackle.
The Cowboys are already without starting right tackle La'el Collins (Reserve/Injured, hip) for at least the next two games, and backup tackle Cameron Erving (knee) was also placed on injured reserve this week. He is expected to be out six weeks.
Undrafted rookie Terence Steele started at right tackle in the season against the Los Angeles Rams and was marginal at best.
If Smith were unable to play Sunday, the options at tackle include Brandon Knight, who started one game at right tackle last year, and Alex Light, who was signed off the Arizona Cardinal practice squad Tuesday.
Starting guards Zack Martin and Connor Williams are also options at tackle. Both have received reps at the position.
Smith has missed three games in each of the last three seasons due to injuries and the last time he missed a start against the Falcons, quarterback Dak Prescott was sacked eight times in a 27-7 blowout loss in 2017.
The good news on the injury front is that the Cowboys feel good about availability of receiver Amari Cooper for Sunday.
Cooper was limited in practice Thursday with a foot issue.
McCarthy said Cooper "went through the mock game (walkthrough practice) and (did) everything today. I don't foresee a setback there."
Defensive end/linebacker Aldon Smith, who was excused from Thursday's practice for a dentist appointment, also participated in Friday's walkthrough and should be good to go for Sunday.
———
©2020 Fort Worth Star-Telegram