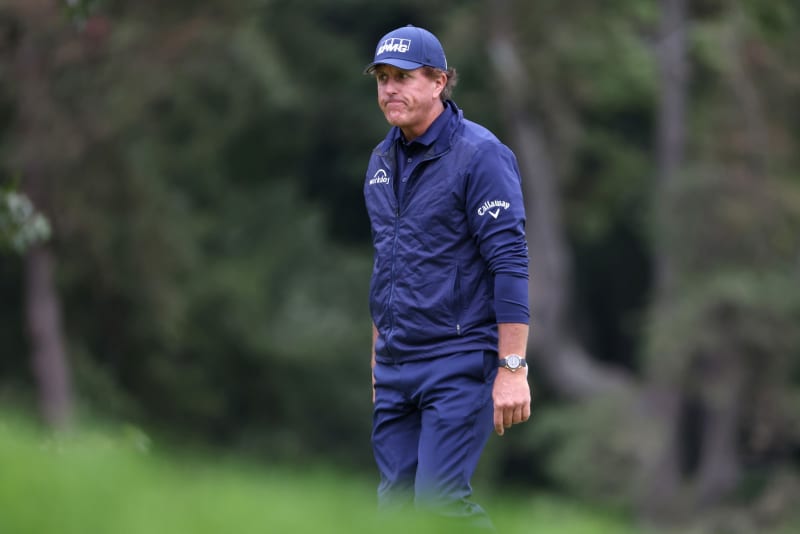 MAMARONECK, N.Y. — Phil Mickelson was just as gracious missing the cut at Winged Foot as he was when he kissed away the 2006 championship.
"I enjoyed the week and I enjoyed the challenge that this golf course provides," he said after a much improved round of 73 that left him at 13-over. "I think it's always one of the hardest tests that we play but one of the most fun challenges because of the character of the course all throughout, from shot-making to putting and short game.
"I think it's a terrific place to play golf and I'm appreciative of the opportunity to have been able compete here and I'm disappointed I didn't play better."
Mickelson said he needs to "figure things out" at home, where he plans to spend the next couple of weeks.
"I get out here where the penalty for a mis-hit is severe, and I find myself getting a little tight and a little steer-y, and playing some of my worst golf," he said. "When I go back home, I don't have the stress and I seem to play just fine, but I've got to be able to bring it out here under these conditions."
———
The U.S. Open hasn't been kind to Bubba Watson. He's had only one top-10 finish back in 2007 and seven missed cuts, including five of the previous six years. Friday, however, he posted just his first Open score in the 60s, with a 69 that included a tough double bogey on the 18th hole. It was just one of two under par rounds shot in the morning. At 1-over for the week, he's still in contention.
"To end with a double bogey, it's tough, but at the same time, knowing how tough this golf course is and how tough it's going to be on the weekend, we've just got to make the cut. That's the first goal, so we can fight on the weekend," he said.
Watson had four birdies on the day, including three straight to close out the front nine.
———
Defending champ Gary Woodland missed the cut, shooting 74-74. He has been playing with a torn labrum in his left hip.
"It gets to a point where you're playing against the best players in the world, you just can't play with pain. I've played with pain my whole life, but it's getting a little tough," he said. "It's frustrating. Especially because this meant a lot to me coming back here defending. I put a lot of time and effort into it, and if your body doesn't let you do it, you just can't do it, and that's frustrating."
Woodland plans to see a specialist Monday to reevaluate.
———
Thomas Pieters got off to a hot start in the morning and briefly grabbed the lead at 6-under par but six bogeys on the back nine sent him to a round of 74, even par for the week. He said the wind made it "twice as hard."
"This morning was actually OK. It wasn't that windy," he explained. "I drove it well, so I gave myself a lot of opportunities. Back nine the wind got up my scorecard says it all. I missed a few really short putts, which still hurts, but in the end, not unhappy where I'm at."
———
Bogeys on 17 and 18 kept Xander Schauffele from finishing in red numbers. He goes into the weekend at even par.
"Bogey-bogey sucks anywhere but I didn't shoot myself out of it," he said. "Seventeen was going to be a par or bogey all day, but 18 I could have sort of made a mess of things, and all I was trying to do was give myself something inside 10 feet for par, and I was close to doing that."
———
World No. 1 Dustin Johnson faltered down the stretch. He had a chance to get back to even for the week at the short par-3 seventh, his 16th hole, but hit a poor wedge that came up short and followed that with a chip that went long. He followed up with another bogey on 17 and failed to take advantage of the par-3 ninth.
"I think still on this golf course with the conditions that we're supposed to have the next couple days, I don't feel like I'm out of it," he said. "I'm going to have to play really well, but I like where I'm at. I think obviously two solid rounds and right back in the mix."
———
©2020 New York Daily News