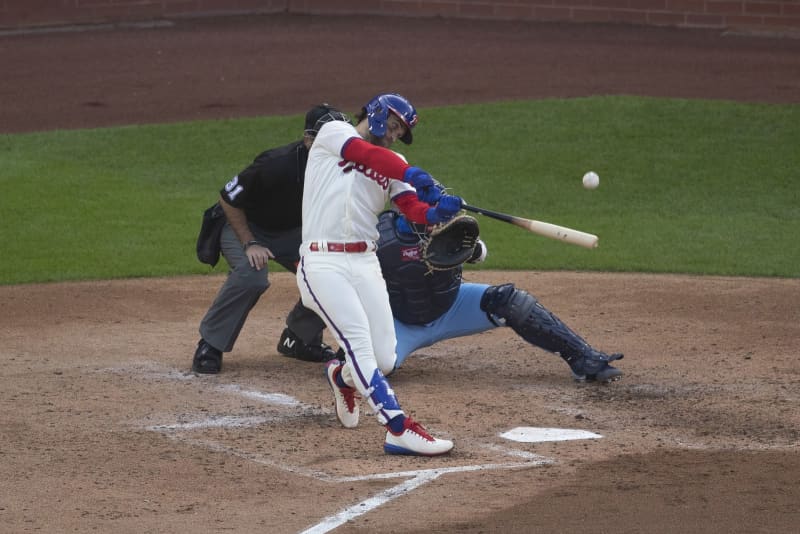 PHILADELPHIA — The Phillies do not have Rhys Hoskins or J.T. Realmuto. They don't have a reliable bullpen or even know who their starting pitcher will be for two of their next four games.
But if they're looking for someone to carry them to October, they do still have Bryce Harper. And he seems to be heating up.
Harper homered Friday afternoon to power the Phillies to a 7-0 win over the Toronto Blue Jays in the first game of a doubleheader, and then doubled in the tying runs in an 8-7 win in the second game at Citizens Bank Park.
Harper drove in four runs on four hits in the doubleheader after homering twice on Thursday night. He followed his two-out double in the sixth by scoring the go-ahead run from second base on an infield grounder by Alec Bohm.
Minutes earlier, St. Louis completed a doubleheader sweep of Pittsburgh, which would have bumped the Phillies from the final playoff spot. But then Harper smashed an 0-1 splitter off the wall in center to tie the game.
Hoskins is on the injured list until at least Wednesday. Realmuto is out until at least Monday. The Phillies also played Friday without Jean Segura, who was hit by a pitch Thursday.
So the Phillies need Harper to carry them if they are to capture one of the National League's two wild-card berths. They again have a winning record (26-25) and have just nine games left, seven of which are on the road. They'll turn to Vince Velasquez on Saturday night and do not know who will pitch Sunday. They still have to determine their pitching plans for Monday's doubleheader in Washington. It won't be easy, but there's a path to October.
"We come to the ballpark with one goal, and that's to win the day," said Zach Eflin, who pitched a seven-inning shutout in the first game. "We don't have time to be caught up in the standings and stressing over that. There's no point in that. We show up ready to play every single day and that's the kind of baseball we play here in Philly."
Not only do the Phillies need Harper to blaze that path to October, they also need their starting pitchers to limit the team's reliance on the bullpen. Eflin did that Friday, striking out nine and allowing just four hits as he kept the bullpen door closed.
But the second game of the doubleheader was a "bullpen game." And that meant seven high-stress innings. The Phillies used six relievers: David Hale, JoJo Romero, David Phelps, Heath Hembree, Connor Brogdon, and Hector Neris.
They blew a two-run lead with a five-run fourth inning and then gave back the lead an inning after rookie Rafael Marchan tied the game with a three-run homer, the first home run of his professional career. It was shaping up to be another brutal loss by the Phillies until Harper bailed them out.
Eflin will likely make one more regular-season start and would be in line to start the third game of a first-round series if the Phillies make it to October. Aaron Nola and Zack Wheeler could make the Phillies an imposing first-round foe. And Eflin, if he pitches the way he did Friday, is a strong No. 3.
"The more I pitch, the better I'm going to get," Eflin said. "I always want the ball. I never shy away from the ball."
Harper entered Thursday batting just .163 with a .640 OPS since Aug. 19 as he slipped into a 28-game slump after powering the Phillies for the first part of the season. It was hard to see the Phillies reaching October without Harper's playing a key role. And it became even harder to imagine their reaching October without Harper once Hoskins and Realmuto went down.
His two homers Thursday night were not enough, but it was at least something to cling to. Harper seemed to have his swing back.
He was without Hoskins and Realmuto again Friday, but he was not alone. Didi Gregorius hit an RBI double in the first inning of the first game and had three hits. Bohm had an RBI single in the sixth and had two hits.
Andrew McCutchen homered in the third inning of the second game, and Marchan had two hits.
The Phillies played without Hoskins, Realmuto, and Segura but still swept the doubleheader. It was their first doubleheader sweep since Sept. 9, 2012 as they went 21 straight doubleheaders without a sweep.
The Phillies, finally, showed some urgency and played like a team fighting for its postseason fate with just 10 days left in the regular season.
They were in playoff contention in each of the last two seasons, but they were never in the race this late in the season. The last two Septembers were brutal as the Phillies faded from the postseason conversation. There's still time for them to fade this month. Their injured lineup and beat-up bullpen may be enough to keep them from October.
But they did enough Friday to keep themselves in that conversation. Harper could be enough to carry them to October. But he wasn't pulling the Phillies by himself Friday.
"We know where we're at," Eflin said. "We show up every day prepared and ready to win. If we do that, everything else is going to take care of itself. Everyone has their heads and hearts in the right spot. We're fighting to get into the playoffs, and we're looking forward to carrying all of the momentum we can into the playoffs."
———
©2020 The Philadelphia Inquirer