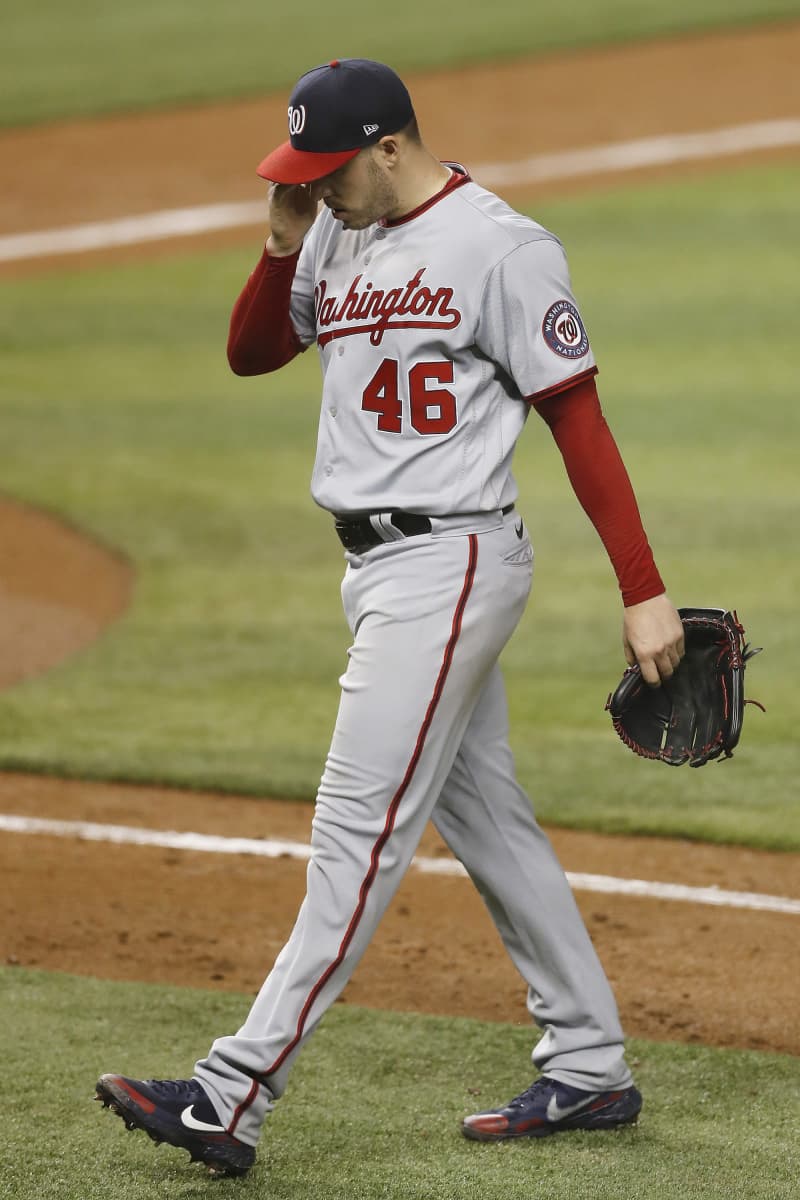 MIAMI — Pablo Lopez could have gotten rattled in the fourth inning. Two Washington Nationals runners had just scored. Carter Kieboom stood on third representing the game-tying run. Andrew Stevenson was on first. He just needed one out to get out of the jam and keep the Miami Marlins' lead intact.
As Lopez fired his first pitch to Victor Robles, a 93.6-mph fastball in the zone, Stevenson and Kieboom both took off from their respective bases, looking to execute a double steal. Chad Wallach's throw to second base wasn't in time to get Stevenson. Sean Rodriguez's throw back to Wallach, however, was perfect. Wallach tags Kieboom. Inning over. Jam escaped. Sigh of relief for Lopez and the Marlins.
Miami, meanwhile, continued to tack onto its lead with a well-rounded offensive approach against Nationals starter Patrick Corbin for a needed 7-3 win Saturday at Marlins Park.
The Marlins are now three games over .500 at 27-24 and continue to hold onto their second-place spot in the National League East behind the Atlanta Braves and ahead of the Philadelphia Phillies with nine games left. The Nationals drop to 19-31, the same record they had last year before going on a torrid run to make the playoffs and ultimately win the World Series. They won't have that chance this year, however, due to the 60-game format that came as a result of the coronavirus pandemic.
Lopez held the Nationals to just the two fourth-inning runs while scattering three hits and three walks over 5 1/3 innings. He struck out six. James Hoyt, Brad Boxberger, Richard Bleier and Brandon Kintzler held Washington to one run over the final 4 2/3 innings.
Marlins manager Don Mattingly also strategically paired Lopez with Wallach for a second consecutive start. Lopez held the Phillies to one earned run over seven innings his last time on the mound. That game was a needed restart for Lopez, who had given up 12 earned runs over 5 2/3 innings in his two prior starts.
"Right now, it seems like that combination was pretty good," Mattingly said pregame of Lopez and Wallach. "More than anything, it's riding a little bit of momentum."
The offense also carried over its momentum from the second game Friday's doubleheader and came out firing against Corbin.
Miami tagged the lefty for 14 hits and seven runs over six innings. Miguel Rojas hit a leadoff home run to open scoring and was a triple shy of the cycle. Garrett Cooper had a two-run homer in the third and an RBI double in the sixth. Brian Anderson, Starling Marte and Chad Wallach all had multi-hit games as well.
———
©2020 Miami Herald