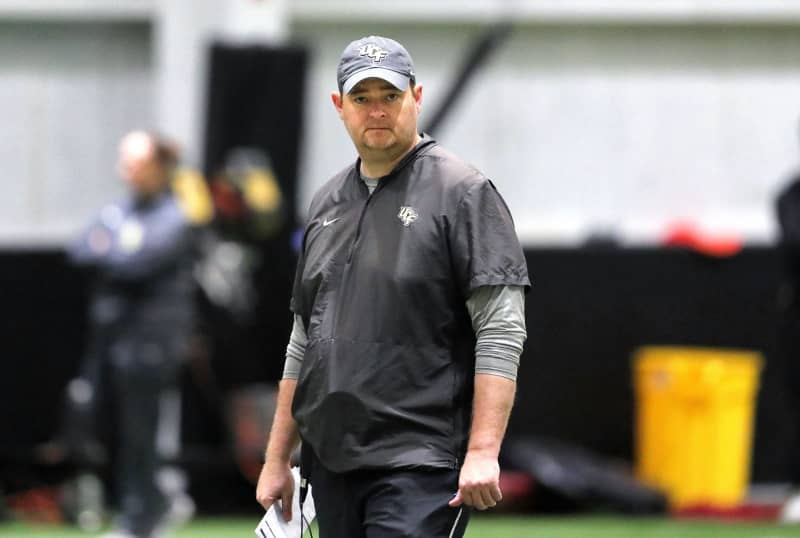 ATLANTA — UCF coaches talked about quarterback Dillon Gabriel's growth and improvement from his true freshman to sophomore seasons.
It didn't take long for Gabriel to showcase the strides he made during the offseason, tossing three touchdown passes while guiding No. 14 UCF to a 49-21 road win over Georgia Tech on Saturday.
The Knights had to overcome an ugly third quarter, eventually pulling away thanks to three fourth-quarter scores.
UCF coach Josh Heupel praised the Knights for coping with extensive coronavirus restrictions and a national fight against social injustice, unifying to kick off the 2020 season with a win.
"The buildup of what's happened here the last six months. The uncertainty for tomorrow over the last six months. … They didn't know until 9:30 this morning that we're going to play. I'm really proud of them," Heupel said. "They've made me and they've made our coaching staff better."
Gabriel led UCF on touchdown drives of 75, 80, 90 and 35 yards in the first half as the team roared back from a 7-0 deficit in the first minute of the game to claim a 28-14 halftime lead.
He finished 27-of-41 passing for 417 yards and four touchdowns passes — two apiece to redshirt senior Tre Nixon and senior Marlon Williams.
It's the first time Gabriel has thrown for at least 400 yards in a game and the second time he's thrown four touchdowns.
"From the first snap on, he had his eyes on the right place," Heupel said of Gabriel. "He was flawless and that's hard to do."
The Knights won their fifth consecutive season opener with the victory over the Yellow Jackets.
"A win means everything," Williams said after beating Georgia Tech. "We didn't know if we would have a season a couple of months ago. I'm just happy to be able to play football again."
The last time the UCF football team was in Atlanta, the Knights celebrated a program-defining 34-27 win over Auburn in the Peach Bowl to cap the 2017 undefeated season. The win catapulted the program into the national college football spotlight, with players and fans celebrating it as a national championship campaign.
Three years later, the program was once again in the ATL with its sights set on another shot at a milestone victory during a game airing nationally on ABC. Under cloudy skies and relatively cool temperatures at Bobby Dodd Stadium, the Knights briefly looked like a team that hadn't played much competitive football in more than nine months.
Georgia Tech returner Jahmyr Gibbs took the opening kickoff and sprinted 75 yards downfield before being tackled deep in UCF territory. Three plays later, Yellow Jackets quarterback Jeff Sims plunged into the end zone to give Georgia Tech (1-1) a 7-0 lead before UCF could even catch its breath.
But UCF immediately responded with Gabriel finding Nixon across the middle for a 49-yard gain that pushed the team deep into Tech territory. Gabriel hit Nixon again, this time for a quick 6-yard slant that resulted in a touchdown.
UCF scored touchdowns during four of its first six possessions, a routine surge for the Knights during the past few seasons. Heupel's team scored on 46% of its offensive possessions in 2019.
But the Knights' offense came to a grinding halt in the third quarter. During five possessions in the third, UCF recorded no points.
Costly penalties and mistakes limited UCF's ability to push the football downfield, issues the Knights struggled with during road losses last season.
For the most part, Gabriel showed improvement from last season, but he made some mistakes. He fumbled on a scramble in the second quarter that cut short a UCF scoring opportunity.
And in the third quarter, Gabriel's arm was hit as he tried to throw a pass and the football popped out of his hands, floating into the arms of Georgia Tech safety Juanyeh Thomas to end another possible scoring opportunity deep in Yellow Jackets territory.
While UCF's offense stalled, the Knights got some help from their defense.
Freshman defensive tackle Josh Celiscar stepped up in a big way for the Knights, registering a forced fumble and an interception. He also recovered one of three fumbles for the UCF defense.
Sims' elusiveness, however, was a challenge for UCF's pass rush. The Knights finished with no sacks and six tackles for loss.
Georgia Tech pulled within seven points with 13:12 left in the fourth quarter, but Gabriel regrouped and led a six-play, 75-yard drive capped by a 1-yard Otis Anderson touchdown run.
The Knights' defense delivered stops and the team tacked on two more scores to seal the win.
Anderson led the Knights in rushing with 18 carries on 88 yards and a touchdown. Greg McCrae and Bentavious Thompson also scored touchdowns during the victory.
Nixon, who stepped into the primary receiver role after the departure of Gabriel Davis to the NFL, had four catches for 94 yards and touchdown. But Nixon left the game with an injury during a scoring drive and didn't return.
Oklahoma transfer Jaylon "Flash" Robinson was impressive in his first action after sitting out last season in observance of NCAA rules. Robinson had six catches for 105 yards and was one of Gabriel's favorite targets in the first half.
Williams had a career-best performance against the Yellow Jackets, finishing with highs in catches (10), receiving yards (154) and touchdowns (2). It was his second consecutive 100-yard performance that included last season's Gasparilla Bowl appearance.
UCF's next game is at East Carolina. Kickoff is set for noon on Saturday, Sept. 26, and the game will be streamed online at ESPN+.
———
©2020 The Orlando Sentinel (Orlando, Fla.)