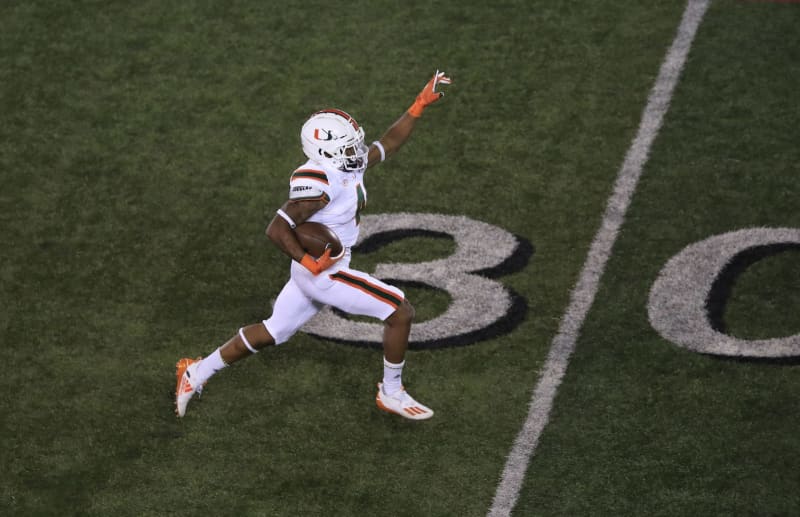 LOUISVILLE — It was a perfect night for the Miami Hurricanes to display a new offense that was clicking on all cylinders, debut a new Turnover Chain and bring new hope that this program could be turning things around — all on a national stage.
With all of college football's eyes on the prime-time matchup and only pairing of two ranked teams this week, No. 17 Miami got the best of No. 18 Louisville, 47-34, on Saturday night at Cardinal Stadium.
The Hurricanes earned a key conference win to open a run of 10 consecutive ACC games under a revised 2020 schedule that doesn't split the conference into two divisions. They did it looking impressive against another team in a crowded tier vying to challenge ACC frontrunner Clemson.
Twice when Louisville got within a touchdown in the third quarter, UM responded with a quick-strike, one-play touchdown drive.
Junior running back Cam'Ron Harris scampered for a 75-yard rushing score — a week after he had a 66-yard touchdown run in the opener against UAB — in response of Louisville back Javian Hawkins' score.
The Hurricanes then answered former Miami Northwestern star Tutu Atwell's touchdown catch for Louisville with freshman back Jaylan Knighton taking a pass to the flat 75 yards for another score, his second, on the following play from scrimmage.
Quarterback D'Eriq King went 18 of 30 for 325 yards and three touchdowns. Harris had 134 yards on just nine carries. King spread his completions to seven different receivers. Tight end Brevin Jordan led the way with seven receptions for 120 yards, his wide-open 47-yard touchdown with under 6 minutes to play the one that sealed the victory.
UM went into halftime leading 20-6 after busting out the new fourth edition of its famed Turnover Chain twice at the end of the first half.
First, Al Blades Jr. made a toe-tapping interception to debut the chain that carries a large charm with the state of Florida on it, a flashy U over it and the South Florida tri-county area highlighted in orange and green. Amari Carter then recovered a fumble before the teams went into the locker room. With the chain an ode to extending last year's "305" chain into Broward and Palm Beach counties, it was fitting that Blades, a St. Thomas Aquinas grad, and Carter, out of Palm Beach Gardens were first to don it.
After a late Louisville score and onside kick recovery, redshirt senior linebacker Zach McCloud, also from Palm Beach and Santaluces High, finished off the win by recovering a fumble.
While quarterback Malik Cunningham (307 passing yards, three touchdowns), Hawkins (164 rushing yards) and Atwell (114 yards receiving and two touchdowns) all had impressive statistical performances, the Hurricanes defense held Louisville to 4 of 14 on third downs and twice kept the Cardinals to a field goal from in the red zone.
To make it a truly complete effort in all three phases, kicker Jose Borregales connected on all four of his field goal attempts. His 57-yarder in the second quarter tied a school record (Michael Badgley in 2015 and Danny Miller in 1981).
The Hurricanes had a 14-3 lead at the end of the first quarter. Knighton scored his first college touchdown from 3 yards out. It came after UM converted two third-and-long situations, one to Mark Pope and one to Brevin Jordan. Jordan nearly scored by impressively hurdling a defender and diving toward the end zone, but he was out before he could make the lunge forward.
Miami went up 7-3 in the first quarter when King floated a 17-yard touchdown pass to tight end Will Mallory's outside shoulder. Harris got free for a 38-yard run down the right side early in the series.
Louisville scored first with a James Turner 40-yard field goal on its opening drive. The Hurricanes allowed Cunningham to escape for a 24-yard run to get the Cardinals across midfield. Striker Keontra Smith then had a personal foul, hitting Cunningham out of bounds to put Louisville in field goal range.
Louisville also had to settle for a field goal in the second quarter when Cunningham missed a wide-open Ean Pfeifer in the end zone on third-and-2
Miami now heads into Florida State week for another prime-time matchup on ABC. The Seminoles appear like they'll be without coach Mike Norvell, who announced on Saturday he tested positive for COVID-19 during FSU's bye week.
———
©2020 Sun Sentinel (Fort Lauderdale, Fla.)