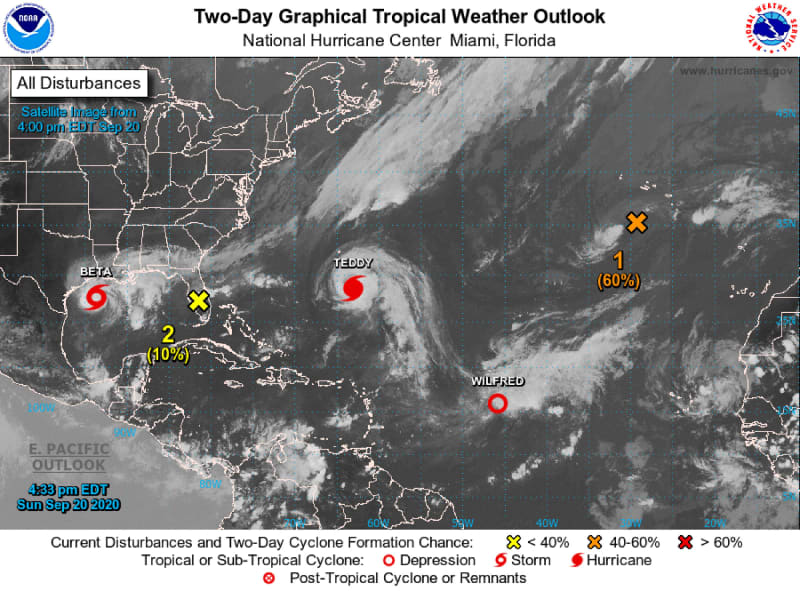 ORLANDO, Fla. — The National Hurricane Center continues to monitor several storms across the Atlantic basin Sunday, including Hurricane Teddy, Tropical Storm Beta and now Tropical Depression Wilfred.
Tropical Storm Beta, named using the Greek alphabet, continues to move in the northwestern Gulf Coast toward Texas. This motion is expected to "produce a long duration rainfall event from the middle Texas coast to southern Louisiana," according to the National Hurricane Center.
As of 5 p.m. Sunday, TS Beta was located about 120 miles south-southeast Galveston, Texas, and about 155 miles east-southeast of Port O'Connor, Texas, with sustained winds of 60 mph. It's moving west-northwest at 6 mph, a gradual increase from the previous 5 mph forecast on Sunday afternoon.
Several warnings in NHC forecasters' key messages on Beta include the danger of life-threatening storm surge along portions of the Texas and Louisiana coasts and tropical-storm-force winds along portions of the northwestern Gulf Coast.
Tropical Storm Beta maintains tropical-storm-force winds extending 195 miles from its center. Increasing swells will affect the Texas and Mexico Gulf Coast over the weekend, and are likely to cause life-threatening surf and rip current conditions, forecasters said.
The NHC extended its Storm Surge Warnings in effect from Rockefeller Wildlife Refuge in Louisiana to coastal parts of Texas such as Port Aransas to High Island, Texas—including Copano Bay, Aransas Bay, San Antonio Bay, Matagorda Bay and Galveston Bay.
"A decrease in forward speed and a sharp turn to the north and northeast is expected Monday night and Tuesday," forecasters said. "On the forecast track, the center of Beta will continue to move toward the central coast of Texas and will likely move inland by Monday night, and remain close to the coast of southeastern Texas on Tuesday."
The NHC originally projected Beta to grow at or near hurricane strength over the weekend. A Tropical Storm Warning remains in effect from Port Aransas to Morgan City, Louisana, and a Tropical Storm Watch from Baffin Bay to Port Aransas, Texas.
"Reconnaissance aircraft and radar data indicate that Beta has redeveloped a little farther to the west," forecasters said. "Little change in strength is forecast during the next couple of days before Beta reaches the Texas coast. Weakening is anticipated once Beta moves inland."
Beta formed out of Tropical Depression 22 on Friday.
Hurricane Teddy
In the mid-Atlantic, Hurricane Teddy dropped from Category 3 to Category 2 on Sunday morning. It was the second major hurricane of the year, reaching its peak at Category 4 with 140 mph winds on Friday.
At 5 p.m. Sunday, The Canadian Hurricane Centre issued a Tropical Storm Watch for the coast of Nova Scotia, from Lower East Pubnico to Canso, due to Hurricane Teddy packing maximum sustained winds of 105 mph and higher gusts. Teddy is forecast to be approaching Nova Scotia late Tuesday or Wednesday, according to the NHC.
Bermuda, which remains under a Tropical Storm Warning, endured a direct hit from Hurricane Paulette last week.
Teddy is about 245 miles south-southeast of Bermuda. The storm is moving north-northwest at 9 mph and will approach Bermuda on Sunday night, and the center is expected to pass east of the island Monday morning, according to the NHC.
"Teddy is a large hurricane," NHC forecasters said. "The system is expected to remain a large and powerful hurricane through Monday, then become a strong post-tropical cyclone on Tuesday."
Hurricane-force winds extend 80 miles from Teddy's center and its tropical-storm-force winds extend outward up to 230 miles. Bermuda can expect to see impacts of Teddy's tropical-storm-force winds tonight.
Rip currents are expected along western Atlantic beaches for several days, the NHC said.
"Large swells generated by Teddy are affecting the Lesser Antilles, the Greater Antilles, the Bahamas, Bermuda, the east coast of the United States, and Atlantic Canada," forecasters said. "These swells are likely to cause life-threatening surf and rip current conditions."
Tropical Depression Wilfred
Tropical Storm Wilfred weakened down to a depression on Sunday morning. It poses no threat to land.
As of 5 p.m. Sunday, Wilfred was located over the open Atlantic about 1,445 miles west of the Cabo Verde Islands, with maximum sustained winds of 35 mph. It's heading west-northwest at 20 mph.
"Wilfred should slow its forward speed while heading toward the west or west-northwestward for the next couple days until dissipation," forecaster Christopher Landsea said. "Wilfred should weaken to a remnant low within a day or two, but could also degenerate into a trough of low pressure during that time."
Developing systems
The rest of the tropics are still showing signs of activity.
First, Post-Tropical Cyclone Paulette is located a few hundred miles south of the Azores and producing disorganized showers to the northwest of its center as of 2 p.m. Sunday. It may develop once more into a tropical system, its chances within the next five days up to 60%.
"This system is drifting southward over marginally warm waters and is expected to begin moving eastward in a couple of days," NHC forecasters said. "The cyclone could develop tropical or subtropical characteristics during the next day or two."
Second, a small low-pressure system has moved inland over south-central Florida. It's now just northwest of Lake Okeechobee, producing disorganized showers. NHC forecasters said some development could occur when the low moves over the Gulf of Mexico Sunday through Monday, but it may run into unfavorable upper-level winds. Its chances for development within the next five days remain low at 10%.
"Isolated lightning storms will be possible today," the National Weather Service in Melbourne said Sunday morning. The agency also said occasional and some heavy showers may move onshore from the Atlantic, with a majority of showers occurring throughout the afternoon, and expand to areas south of Osceola and Brevard counties.
The NWS issued a Hazardous Weather Outlook for east Central Florida, including risk for flooding, high winds, and thunderstorms on Sunday morning. A Coastal Flood Warning is in effect from southern Brevard County northward through Tuesday night, with a Coastal Flood Advisory for the Treasure Coast. Read the agency's latest advisories here.
The 2020 hurricane season goes Greek
Soon after Tropical Storm Wilfred snagged the last name in the 2020 hurricane list, hurricane specialists had to begin using letters from the Greek alphabet for future storms — something that has only happened once before in 2005. There were a total of 29 named storms that year, requiring the NHC to go six letters deep into the Greek alphabet.
Tropical Storm Wilfred, Subtropical Storm Alpha — which formed off the coast of Portugal — and Tropical Storm Beta in the Gulf of Mexico set a new record when they formed within 24 hours.
Wilfred marked the earliest "W" named storm on record. And the previous Alpha formed in Oct. 22, 2005, making the 2020 storm the earliest formed Alpha on record.
The previous earliest named "W" storm also came in 2005 in the form of Wilma, which cut through Florida as a Category 3 hurricane, brought devastating damages to South Florida and was responsible for power outages in 42 counties, according to a NOAA report. Wilma later developed into a Category 5 storm in the Gulf of Mexico.
Alpha didn't get very far once it developed. It made landfall Friday night with maximum sustained winds of 45 mph about 120 miles north-northeast of Lisbon. By 11 p.m. Friday, the storm had reached a remnant low status with 30 mph winds southeast of Viseu, Portugal.
The NHC will continue any new named storms using the Greek alphabet. Next on the list would be Tropical Storm Gamma, then Delta, Epsilon and Zeta, the farthest the NHC has ever gone in its use of Greek letters in 2005.
NOAA released a forecast in August predicting the season to have somewhere between 19 to 25 named storms, but there's a good chance the Atlantic could see a total above the forecast, said Dennis Feltgen, spokesman and meteorologist at the NHC.
"Earlier this season we were asked if we would start using Greek letters for storms, and I told them it wasn't a matter of 'if' but "when" and "how deep into the Greek alphabet we go," Feltgen said.
The hurricane season officially runs from June 1-Nov. 30, but 2020 saw two storms form before June 1, and still has more than 10 weeks to go.
Orlando Sentinel staff writers Lynnette Cantos, Katie Rice, Joe Mario Pedersen, and Richard Tribou contributed to this report.
———
©2020 The Orlando Sentinel (Orlando, Fla.)