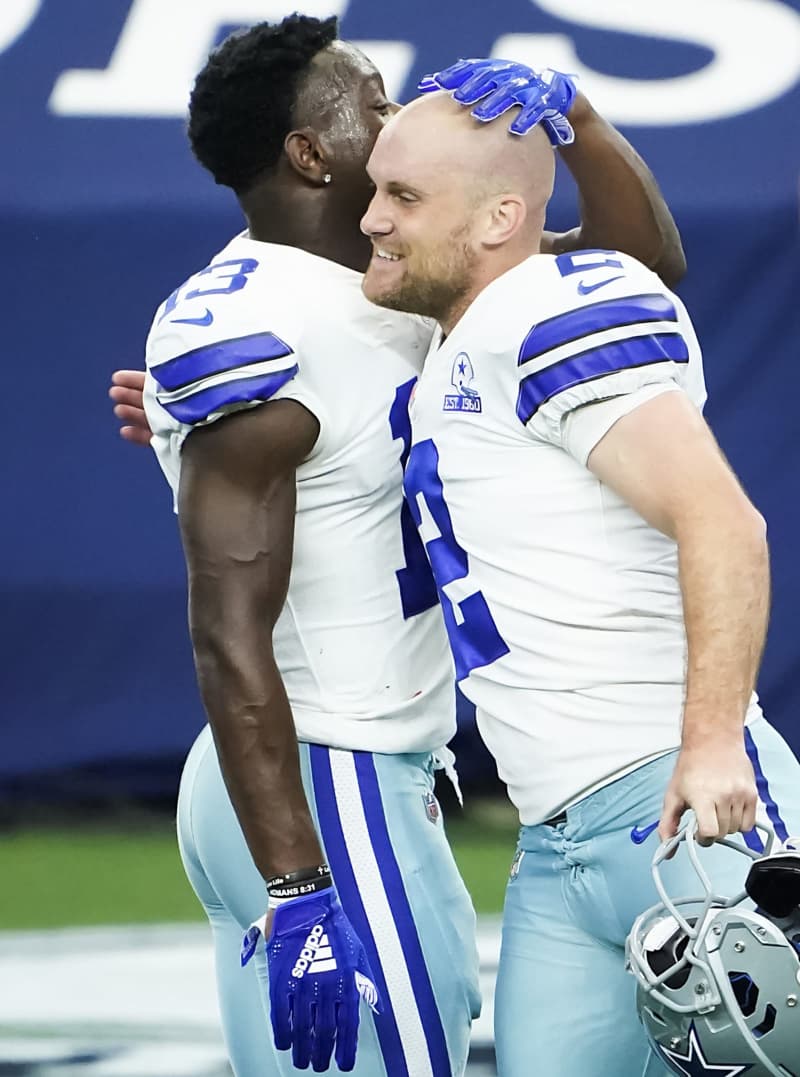 ARLINGTON, Texas — In his home debut, the Dallas Cowboys saved their head coach from being fired after two games.
Mike McCarthy was handed the game ball by his players after his first win as the Cowboys head coach, but he should donate it to charity because he tried to give the game away.
The final stat line shows the Dallas Cowboys won 40-39 over the Atlanta Falcons through a series of events that not even the Almighty would have believed possible.
They did it in front of an NFL COVID record 21,708 socially-distanced fans at AT&T Stadium, after playing one of the worst halves of football this franchise has ever seen.
For those who stayed around to watch all 60 minutes of football, in person or on TV, it's a game you will never forget, because it included everything.
"No, we were not supposed to win that game," running back Ezekiel Elliott said after the game.
Agreed.
Celebrate the win, and don't forget the head coach on this one did everything in his power to blow it.
The Cowboys fell behind 20-0 in the first quarter, to a franchise that is renowned for blowing big leads.
The Cowboys won thanks to executing the near impossible in the current day NFL: Recovering the onside kick.
After the NFL adjusted the rule several years ago to reduce the possibility of concussions, recovering an onside kick is akin to getting through the holidays without a political fight with the relatives.
Put it this way, last season about six% of onside kicks were recovered.
Down two points with 1:49 remaining in the game, because of McCarthy's decision to go for 2-points after an earlier-fourth quarter score, and with 0 timeouts, the Cowboys had no choice but to send out the desperation onside kick.
Kicker Greg Zuerlein's onside kick went in a way that defied physics, and as it rounded the necessary 10 yards Falcons defenders acted like the ball was covered in coronavirus.
Cowboys cornerback C.J. Goodwin waited for the ball to scoot 10 yards, and then pounced on it.
"In practice, that was the only time I've seen it (work)," Cowboys tight end Dalton Schultz said. "Like Coach said, we've never done it live. The whole sidelines was antsy to see if it would work."
Quarterback Dak Prescott completed a 24-yard pass, but McCarthy pulled a classic Jason Garrett and rather than try to shorten the field, he settled for the long field goal.
Zuerlein rewarded the confidence by hitting a 46-yard field goal as time expired to give the Cowboys their first win of '20.
Had Zuerlein missed that kick, McCarthy would have been kicked all week.
He made at least three decisions earlier in the game that were as questionable as his decision to go for it on fourth down early in the fourth quarter of their loss to the Rams in the season opener.
It does not help his defense is not good, and he was playing Sunday's game without All-Pro starting left tackle Tyron Smith.
When Tyron Smith is out, the Cowboys usually don't win. Both starting tackles were out Sunday to injury.
After a three-and-out with a punt to start the game, the offense produced in succession on their following drives: Fumble, fumble, turnover on downs, fumble.
In that span, there was another fumble running back Ezekiel Elliott lost, but he recovered it.
———
MCCARTHY QUESTIONABLE DECISION NO. 1
The first turnover on downs came from McCarthy's decision to attempt a fake punt from his own 29-yard line. Punter Chris Jones' pass was low, and intended receiver C.J. Goodwin fell down on his route.
The dud play resulted in a Falcons field goal.
———
MCCARTHY QUESTIONABLE DECISION NO. 2
To the credit of the Cowboys, they never did quit. They kept playing. They started to finally score.
They trailed 36-24 with 12:53 remaining in the game, and had the ball at their own 40-yard line.
The problem was the problem: Their defense is not good enough to trust. The unit had already dropped two interceptions, and were not making plays.
So McCarthy called for a fake punt on a 4th-and-4, and a direct snap to safety Darian Thompson. He ran three yards.
The Cowboys are now 1-of-5 on fourth down attempts this season.
The Falcons hit another field goal, and again the game felt just about done.
———
MCCARTHY QUESTIONABLE DECISION NO. 3
Trailing 39-24 with eight minutes remaining in the game, they put together a long drive that ended on Prescott's 10-yard touchdown pass to Dalton Schultz.
Rather than settle for the PAT, and an 8-point margin, McCarthy went for the 2. Running back Ezekiel Elliott's run failed.
Normally you take the 1 here, and give your team the mental edge of knowing it can tie it with a TD and a two later.
The Cowboys forced one more stop, and scored what felt like would be the final points on Prescott's 1-yard run with 1:49 remaining in the game.
By any rational measure, the final score should have been 39-37.
Only the divine can explain the rest, because it should never have happened, but rejoice that it did.
———
©2020 Fort Worth Star-Telegram