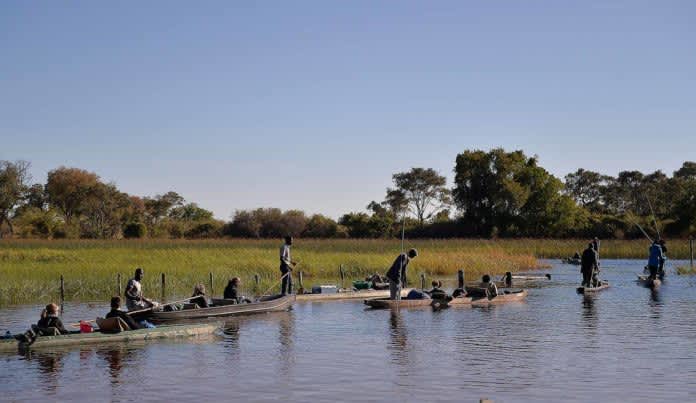 Thanks to COVID-19, Batswana are now being welcomed to one part of their own country that has always been off-limits and has been described as a "white ethno-state" by a London-based pressure group – the enclave of luxury safari camps across the Okavango Delta.
The quality of luxury at these camps is such that Hollywood A-listers and European royalty holiday there. A Civil Aviation Authority of Botswana employee who used to work at the Maun International Airport recalls processing paperwork for a plane carrying an American talk-show host – who had had to be called from the plane to clear immigration after haughtily sending an aide to have her passport stamped. Former Spanish king, Juan Carlos, had to be hurriedly airlifted from the Delta after sustaining a broken hip during a lion hunt gone wrong. Prince Harry is said to have proposed to Meghan Markle deep inside the Delta.
It has been credibly alleged that when he would visit one of his casinos, Donald Trump would demand that black employees stay out of sight because that better enabled him to indulge a fantasy about a lily-white world. Not having been able to get whites to do menial jobs, Delta camps can't recreate that kind of world but it is common knowledge that historically, black Batswana (including two tourism ministers and a former Botswana Defence Force commander) are generally unwelcome.
Years ago in private conversation, a former tourism minister recalled to the writer a highly unusual reception at a luxury safari camp deep in the Okavango Delta. Racially, he and a former BDF commander were the odd men out in a lily-white party visiting the camp. The owner of the camp, also white, did an unimpressive job of hiding his displeasure that the black men were part of this party. His disdain became much more pronounced as the day wore on. The trust level at these sort of places is so high that guests get drinks from a self-service bar and make entries in a register book at the counter. The party occupied an open-air area set a little way off the bar and one by one, the guests (as well as the camp owner who had joined this party) would get up, walk the short distance to the bar to get drinks and rejoin the chatty pack.
The former minister noticed that when he and the BDF commander would get drinks from the bar, the white safari operator would be watching furtively, hawkishly and when they came back, would go to the bar to check whether their entries were correct. The operator was himself drinking and so naturally after some three or so hours had enough Dutch courage to confront one unwelcome guest. When the former minister made his umpteenth visit to the bar, the owner came up behind and out of earshot of the main party, asked: "You people are supposed to have cattleposts; why aren't you at your cattlepost?"
The former minister remembered telling him that if he wanted to go to the cattlepost he would have done so but had chosen not to. He followed up with some bluntly assertive words to convey his displeasure and his tormentor backed off. Later, the former minister espied the owner talking to one of his black employees and noticed both stealing glances at the merrymaking party. When he rejoining the group, the operator was suddenly friendly towards the black men and would later slap the former minister familiarly on the back, quipping: "Hey minister, that was a joke." It was indeed a joke and like all racially harmless jokes, began with "You people." The former minister would later establish that his and the BDF commander's identity had been revealed by the black employee.
Fast forward to some seven years later, in the course of another private conversation about the blatant racism in the tourist industry and to buttress a point he was making, the writer told the above account second-hand to the sitting tourist minister. It turned out that was not necessary because the minister told of his own experience with racism. He too was in the Delta and was asking a white camp owner some questions about his operation. On the other hand, the latter was not keen on talking to the inquisitive stranger, was more interested in talking to white tourists and barely concealed his disdain. Finally, the minister reached into his pocket, took out a business card, gave it to the camp owner and asked him to give him a call if he ever found the time. All of a sudden, the man became cloyingly friendly and forgot about everything and everybody else around him to concentrate fully on the minister.
What appears to be general sentiment about black people patronising luxury tourism hotspots was crystallised in the words of a white man who told artist Berry Heart (whose real name is Keotshephile Motseonageng)that she was not welcome at a Kasane hotel: "I will kill you and no one can say anything. White people have arrived in Kasane to take over. What do you want here? Thebe Safari Lodge is for white people." While its racism is not on the Delta level, Kasane has also demonstrated propensity for racial exclusion.
As even two opposition candidates managed to agree during a GabZ FM debate in 2014, the Delta, which is Botswana's most lucrative tourist asset, is essentially a white fiefdom in which indigenous (meaning black) people only feature as lowly-paid manual workers. As a direct result of the latter condition, while tourism brings in a lot of tourism revenue, a majority of the people who live in the Delta (its actual owners) are dirt poor. When it was revealed that the Tawana Land Board was surreptitiously facilitating an application for a Delta concession area for British tycoon, Richard Branson, former Maun West MP and Batawana kgosi, Tawana II, made his own revelation about having long but unsuccessfully applied for a Delta concession area way before Branson.
Many more people (including senior tourism officials who conduct periodic inspections) have described their own experiences of racism at exclusive hospitality establishments at both Delta and Kasane. Years ago, the Botswana Guardian republished a Marie Claire article that was written by a black British woman (a journalist) about the racism in the Delta.
However, the COVID-19 pandemic is re-arranging commerce. For as long as it has existed, the high-value, low-volume tourism strategy of the Delta and Kasane hotspots has always targetted westerners. However, those westerners can't come to Botswana now because of COVID-19. This has created an unusual challenge for hospitality establishments that have always targetted westerners and discouraged local (meaning black) patronage. For the first time ever, establishments in tourism hotspots are targetting local people through concerted advertising campaigns. For the first time ever, they are quoting prices in pula. This makes business sense but the question: what happens after a vaccine is found and luxury tourism returns to normal? Would black people still be welcome?
Stephen Corry, the director of a London-based pressure group called Survival International, has described a certain group of neo-colonialists who "don't want to give up their control of large areas of Africa, and are still building up protected areas which prohibit local people, many of them tribal, from accessing their traditional territory." That description perfectly fits the Okavango Delta whose exclusive resorts are an extension of the west. These resorts are managed by white couples, their prices are quoted in a western currency (United States dollar) and most guests pay using a global payment technology (Visa) administered from a western city. Where cash is used, lodges generally prefer that it be an international currency.