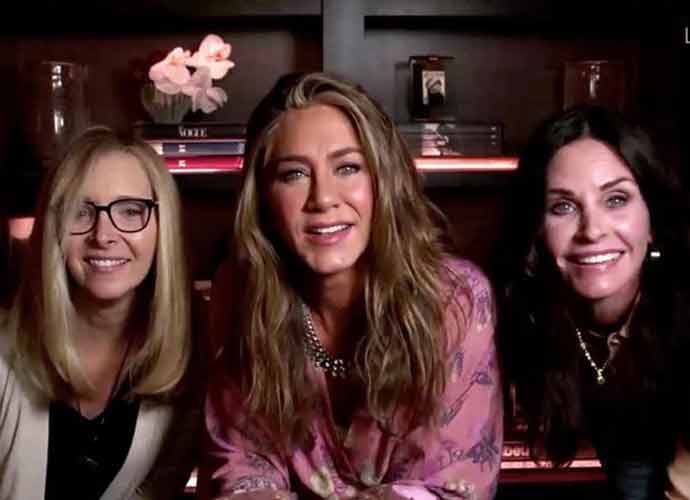 The 2020 Emmys brought viewers into the homes of celebrities, and gave them a sneak peek into the way some of the most famous actors and actresses decorate their homes.
As the night's host Jimmy Kimmel said of those who were nominated "instead of being judged on their hairstyle or what they wear… will be judged on what kind of living room furniture they have." And he was right — while some nominees opted for a plain background, many showed off their interior design expertise.
Some celebrities held small get togethers with their family, friends and castmates. Jennifer Aniston appeared with her Friends friends, Lisa Kudrow and Courtney Cox.  "We've been roommates since 1994, Jimmy," Aniston told the host during the show.
Jason Bateman also joined the Friends stars. Their chosen background was Aniston's office, which featured beautiful dark wooden built-in cabinets adorned with books and art.
Aniston also shared a pre-show picture on Instagram of her in her pajamas, showing off a big comfy gray chair and her home's large windows.
Reese Witherspoon also held a Emmys party at her house with Kerry Washington and a limited group of people. She placed small tables on her lawn in a mock New Years Eve celebration because, as Witherspoon put it, "we're ready for this year to be over."
Witherspoon appeared in her stylish black dress and pink fuzzy slippers on her Instagram Story.
Zendaya, 24, who made history as the youngest woman to win Best Lead Actress in a Drama for Euphoria, appeared in her living room surrounded by her friends and family. Her sleek all cream colored living room featured a poster of The Supremes and a large bushy plant in the background.
Uzo Aduba showed off her bookcase and her Breonna Taylor shirt after winning the award for Outstanding Supporting Actress for a Limited Series or Movie.
Breaking Bad's Bryan Cranston appeared with his army of Emmy Awards on his backyard patio, which featured large trees and outdoor furniture.
Mark Ruffalo, who won for his performance in HBO's I Know This Much Is True, joined the show from his couch, alongside his wife Sunrise Coigney. The couple popped against the teal wainscoting behind their cream couch.