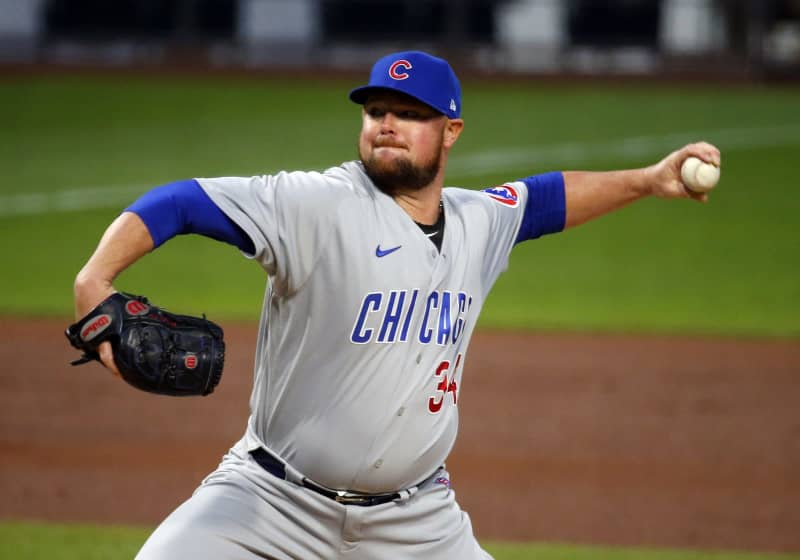 Jon Lester pitched the Chicago Cubs to a 5-0 win over the Pirates on Monday night in Pittsburgh, but third baseman Kris Bryant left the game early with right lower oblique tightness, the team announced.
Bryant appeared to cringe during a swing in his first at-bat in the second inning, but he stayed in the game until David Bote replaced him in the third.
Bryant, who is hitting .195 with five RBIs, might have to sit for a day or more depending on the severity.
Lester threw six shutout innings for his 193rd career win as the Cubs cruised past the struggling Pirates and reduced their magic number to clinch a postseason spot to three with six games remaining. Their National League Central lead was at four games, pending the outcome of the St. Louis Cardinals- Kansas City Royals game.
Kyle Schwarber, who was lifted from Sunday night's game after a defensive gaffe, had a pair of doubles and two RBIs to lead the Cubs offense.
took the lead off JT Brubaker in the second on Schwarber's double and a two-out, RBI bunt single by Javier Baez. Victor Caratini's RBI double in the fifth padded the lead, and Lester was never in serious trouble.
He gave up two of his four hits allowed in the sixth on a leadoff single and a one-out infield hit. But Lester got Erik Gonzalez to hit a double-play grounder to get out of the inning unscathed, and that was the end of his night after 90 pitches.
Schwarber's two-run double in the three-run eighth sealed it.
Kyle Ryan, Jeremy Jeffress and Dan Winkler finished it off with three scoreless innings as the Pirates lost for the 13th time in 14 games.
Before the game, manager David Ross announced that Jose Quintana will return from the injured list Tuesday to start that night's game against the Pirates.
Quintana, who has missed the last three weeks with a strained lat, originally was slated for bullpen duty. But he's stretched out enough after rehabbing in South Bend, Ind., and ready to rejoin the rotation.
Though Quintana has made only two relief appearances totaling six innings this season, Ross hasn't ruled him out of the postseason rotation, which is up in the air after Yu Darvish and Kyle Hendricks.
The wild-card round is best of three, so Ross has to decide on only one more starter for the opening series, likely Lester or Alec Mills.
Quintana also will pitch Sunday against the White Sox in the regular-season finale.
"Obviously we're going to go with the best pitchers for the postseason," Ross said. "Before I comment, I'd like to see him pitch."
After pulling Schwarber from Sunday night's game following a defensive lapse in left field, Ross re-inserted him into the cleanup spot Monday while moving Bryant down to the No. 5 hole and keeping Javier Baez at No. 7.
Schwarber owned up to his mistake Sunday night.
"Kyle Schwarber is a true professional in every sense of the word," Ross said. "And I'll leave it at that."
Ross has tinkered with his lineup the last few days, hoping to find something that clicks. The Cubs are hitting .224 heading into their final seven games, fourth-worst in the majors.
"Hitting can turn on a dime," Ross said. "I'm really relying on the back of the baseball card for a lot of my optimism. I know what kind of players I have, their resumes and what they've done. I know this is a unique season that everyone is dealing with and it's not normal. A lot of guys are trying to find their way around the league in this area.
"I rely on the group. I've trusted in the group all season and it's gotten us this far. Maybe the numbers aren't pretty, but the wins and loss column looks pretty good from my vantage point, so I'm going to continue to focus on those positive things."
———
©2020 Chicago Tribune