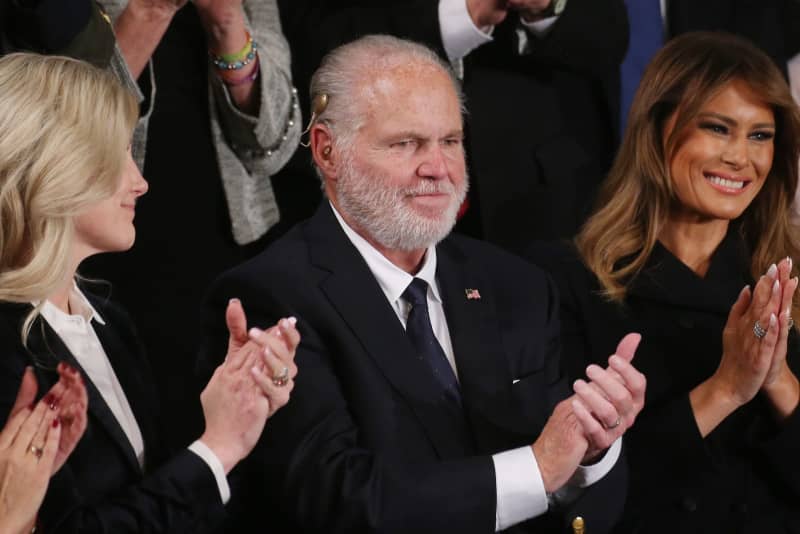 Right-wing conspiracy theorist and Presidential Medal of Freedom recipient Rush Limbaugh wants Republican senators to push through President Donald Trump's Supreme Court nominee without a confirmation hearing.
The fact-challenged pundit sees no reason to subject the president's pick to replace Ruth Bader Ginsburg — who hasn't yet been buried — to the scrutiny endured by previous conservative nominees Brett Kavanaugh, Robert Bork and Clarence Thomas.
Knocking the "tradition" of exposing Supreme Court nominees to due process before awarding them a lifetime position on the nation's highest court, the 69-year-old broadcaster thinks it'd be great to just put it to a vote.
"That could be great if it were skipped," Limbaugh said on his Monday show. "We don't need to open that up for whatever length of time, so that whoever this nominee is can be Kavanaughed, or Borked, or Thomased."
Justices Kavanaugh and Thomas both firmly denied claims of sexual misconduct during their confirmation hearings and were appointed to the Supreme Court, in 2018 and 1991 respectively.
Bork's 1987 nomination was blocked in a bipartisan vote following a hearing in which the conservative jurist was criticized for coming across as stoic and lacking empathy.
All three candidates were nominated by Republican presidents.
Trump and Senate Majority Leader Mitch McConnell have expressed their intentions to push through a 2020 Trump nominee, despite the 2016 declaration of multiple GOP senators — including McConnell — that justices should not be voted on in an election year. Before dying Friday, Ginsburg's granddaughter said it was the 87-year-old justice's "most fervent wish" that her vacancy on the bench would be filled by the next president elected.
Should the president follow Limbaugh's advice, that decision too would break with precedent and could face political challenges, though perhaps not legal ones.
According to the Senate's Committee on the Judiciary, "Under the provisions of the Constitution, one of the most important roles of the United States Senate is to advise and consent to presidential nominations."
The Judiciary Committee is headed by South Carolina Sen. Lindsey Graham, who said he would vote on the president's nominee in this election year, despite having at least twice before stated he would do the opposite if and when such an occasion should arise.
The Judiciary Committee's statement on line makes clear that due diligence in vetting Supreme Court Justice's falls under the purview of Graham's committee.
While Limbaugh's word carries weight with the president who awarded him the Medal of Freedom in February, his credibility has been questioned by critics including former Minnesota Sen. Al Franken, whose book "Rush Limbaugh is a Big Fat Idiot: And Other Observations" was published in 1999.
Since then, Limbaugh, who says he has lung cancer, has expressed doubts about climate science, evolution and the dangers of smoking.
He also stated without evidence in August that Democratic candidate Joe Biden's live speech accepting his party nomination before witnesses might have been recorded and edited for its national broadcast.
The president is hardly Limbaugh's only supporter. The best-selling author and influential broadcaster boasts more than 15 million listeners, making his the second highest radio personality in the country, according to Forbes.
———
©2020 New York Daily News