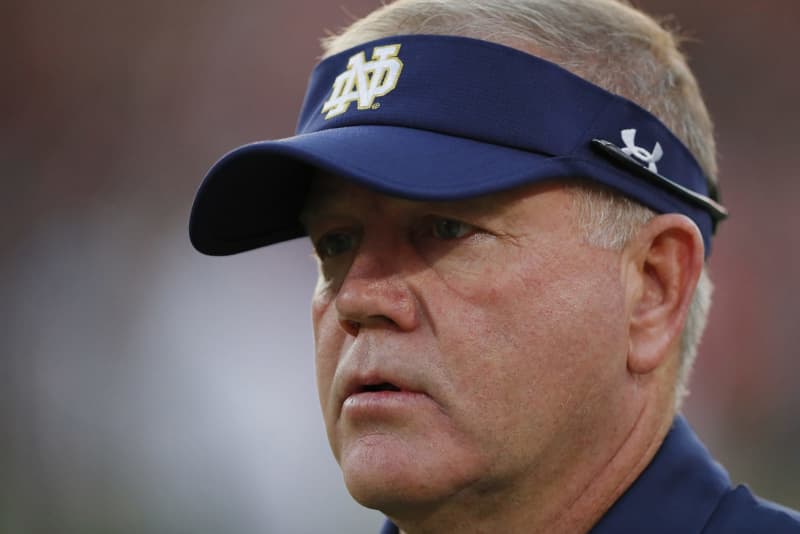 Notre Dame coach Brian Kelly on Monday called his team's COVID-19 plan "an evolving situation."
No joke. The Irish canceled Tuesday's practice, as first reported by Yahoo Sports' Pete Thamel, after four players tested positive last week. Another six were quarantined because of contract tracing.
None of those 10 played in Notre Dame' 52-0 dismantling of South Florida on Saturday.
The Irish (2-0) are scheduled to face Wake Forest on Saturday in their first road trip of the season.
As part of the team's COVID-19 protocol, players will not be able to meet up with family members before the game.
"You're trying to avoid as much contact outside your 'bubble' as possible," Kelly said. "We'll do everything as if this is a home game. In other words, all of our meetings, practice and post-meetings will be done here (in South Bend, Ind.). We'll eat here, board the plane, get in there (Friday) evening, get off the plane and go to bed to lessen the contact in the hotel.
"Our guys will be in individual rooms, wake up in the morning, throw on a Superman cape and go beat Wake Forest. That's how we do it."
Notre Dame announced 90 minutes before kickoff Saturday that eight players on the two-deep had been ruled out: quarterback Brendon Clark, linebackers Marist Liufau and Shayne Simon, wide receiver/punt returner Lawrence Keys III, running back Jahmir Smith, cornerback TaRiq Bracy, defensive end Ovie Oghoufo and safety Kyle Hamilton.
Hamilton's was a non-virus injury (ankle) and might return this week. Receiver Ben Skowronek, the graduate transfer from Northwestern, is day-to-day with a strained hamstring.
The Irish are off next Saturday and host Florida State on Oct. 10.
Kelly said Monday that while the Atlantic Coast Conference mandates three tests a week, Notre Dame is testing players from high-risk groups every day.
"Generally speaking that's those that fall under close contact, which would be the linemen," Kelly said. "It's (a question) of distance, duration and direction."
Coaches are on high alert after Florida State announced a positive test result for first-year coach Mike Norvell.
"It's serious, right?" Kelly said. "You've got to have a mask. Social distancing is important. We have to be very, very serious.
"We have a succession plan in place for every coach. Mine is not singular in terms of one coach taking over. There are different responsibilities. I'm not going to get into who that person is at this time. Hopefully, we don't have to.
"We have it detailed across the board at all positions, from special teams down to wide receivers. We've got to be vigilant."
———
©2020 Chicago Tribune