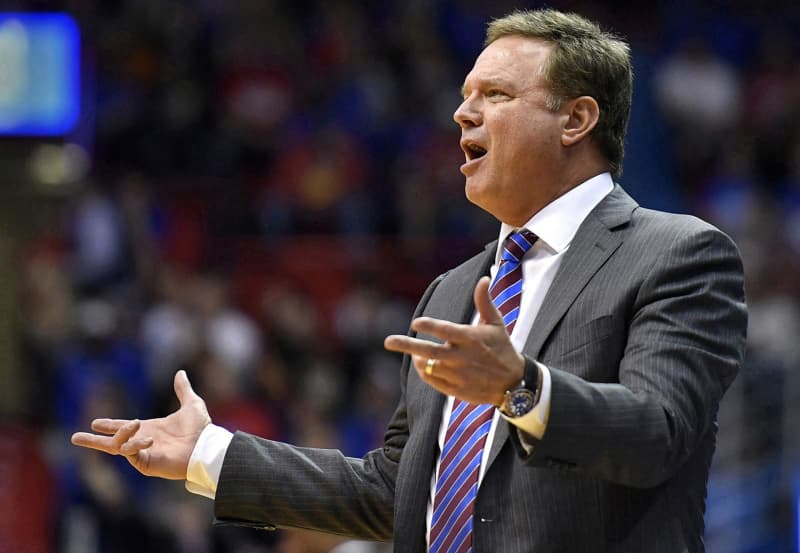 Jalen Lewis, a 6-foot-9, 210-pound sophomore power forward from Bishop O'Dowd High School in Oakland, Calif., who received a scholarship offer from Kansas in April, tells Stockrisers.com he continues to hear from numerous college basketball programs.
"My recruitment has been really good so far. I feel like I've definitely gotten my name out there from last season. I currently earned offers from Cal, UC-Davis, Kansas, Arkansas, Michigan, Georgetown, USC and Stanford," Lewis informed the recruiting website.
Lewis — he is the No. 2-ranked player in the recruiting Class of 2023 by ESPN.com — also has heard from coaches from North Carolina, Texas, UCLA, Florida State and others.
Lewis averaged 14.0 points and 6.0 rebounds a game his first year of high school.
"I feel like I'm an inside-out player. I like to play strong inside but also enjoy being a stretch forward," Lewis said, noting he studies tapes of NBA players Anthony Davis and Nikola Jokic.
He's one of the best players in a high school sophomore class that includes LeBron James' son, Bronny.
"Throughout his freshman season he showed an impressive combination of a soft touch around the basket and behind the three-point line," writes simplybasketballhq.com.
Lewis' trainer is Anthony Eggleton of Oakland, who has worked with several pro athletes, including Damian Lillard, Ivan Rabb and Gary Payton Jr.
"I've worked with a lot of college player and pros," Eggleton told Dillon Buchanan of Madehoops.com. "I haven't seen a kid his size be able to move like he does. He's different."
Of Lewis, Buchanan wrote: "Jalen Lewis is an impressive kid, not just on the court but off the court as well. Everyone I spoke to about him praised his work ethic. Everyone I spoke to talked about his competitiveness and how he raises his level in the biggest moments. Obviously, Jalen has tools that you can't teach. You are either gifted with them or you aren't. But what you do with those gifts and tools is what sets you apart from the crowd. Jalen Lewis has made the most of his gifts to this point and there's no reason to believe he won't continue to do so."
———
Sam Ayomide, a 6-11, 255-pound senior center from Phelps School in Malvern, Pa., continues to be pursued by Kansas, he tells Recruits Zone.
Ayomide, who is ranked No. 103 in the recruiting Class of 2021 by Rivals.com, said he's heard recently form coaches from KU, Memphis, VCU, Seton Hall and Providence.
He also has Illinois, TCU, Texas A&M, Wake Forest and others on his list.
"Sam Ayomide is trending up in a big way," Eric Bossi of Rivals.com wrote of Ayomide. "Here's a guy that is 6-11 and 255 pounds who loves contact and who understands that he is a force in the paint. He's not trying to float around the perimeter, he just wants to rebound the ball, play tough defense, set crushing screens and then score around the rim when given the opportunity."
Ayomide, a native of Nigeria, averaged 12.0 points, 11.0 rebounds and 1.8 blocks a game last season at The Phelps School.
"I can do pretty much everything," Ayomide told Illinois.rivals.com. "I rebound, run the floor, block shots and make shots and I'm a good passer. I need to work on running the floor harder and being a great rebounder."
———
Another top big man, Daimion Collins, continues to have KU on his list of schools. He's rated No. 10 in Rivals.com's latest rankings of the Class of 2021, vaulting 10 spots from No. 20 overall.
"Although he didn't rise from No. 5 in the position rankings, Daimion Collins went from a 4-star ranked No. 20 overall to a 5-star ranked No. 10. He still has to get stronger and he still has to get more consistent, but man is his game trending up," wrote Bossi of Rivals.com. "He's a freaky athlete with long arms who is starting to shoot the ball with some range and has gotten sneaky good off the dribble. An elite rim protector, Collins is just scratching at the surface of his considerable potential."
He has a list of KU, Baylor, Texas, Oklahoma, Oklahoma State, Texas Tech, Houston, Alabama, LSU and Arkansas.
———
Hunter Sallis, a 6-5, 175-pound senior point guard from Millard North High School in Omaha, Neb., has jumped from No. 11 to No. 6 in Rivals.com's latest player ratings for the Class of 2021.
Sallis has a final 12 of KU, Kentucky, North Carolina, Gonzaga, Alabama, Auburn, Creighton, Iowa State, Louisville, Michigan, Oregon and UCLA.
Of the schools in his top 12, Sallis has taken one official visit. That visit was to Gonzaga in late January.
Various analysts seem to believe Kentucky, North Carolina and Gonzaga may be the leaders.
"We were never able to watch all of the best at this position go head to head, but Hunter Sallis did enough this summer to justify moving into the No. 1 spot at the point guard position," wrote Bossi of Rivals.com. "The 6-5 product of Omaha can play either the one or the two but his ability as a playmaker for himself and others dictates that the ball is going to be in his hands on the next level and beyond. Great size, great demeanor and he just keeps getting better."
———
©2020 The Kansas City Star (Kansas City, Mo.)