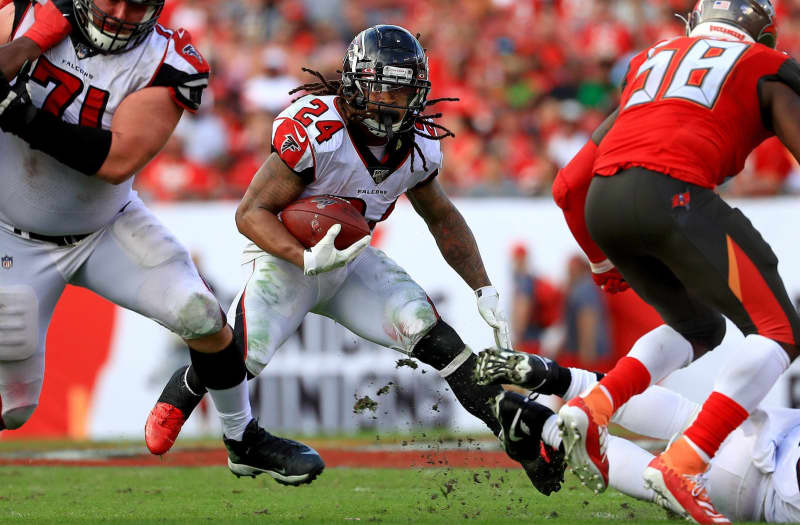 NEW YORK — Devonta Freeman has agreed to a one-year deal worth up to $3 million with the Giants, according to a source.
The veteran running back will sign his contract Wednesday morning and practice with the team in the afternoon, with his likely Giants debut looming Sunday against the San Francisco 49ers.
Freeman, 28, who played his first six NFL seasons for the Atlanta Falcons, entered the Giants' coronavirus testing protocol on Monday and worked out Tuesday before agreeing to the deal.
Saquon Barkley's season-ending torn right ACL prompted the Giants (0-2) to seek immediate reinforcements approaching their home game against the Niners (1-1).
Their other healthy running backs are Dion Lewis, Eli Penny and Wayne Gallman, and practice squadder Rod Smith.
If Freeman plays Sunday, his first game as a Giant will come against his former Falcons offensive coordinator, Niners head coach Kyle Shanahan, who called the plays in Freeman's two Pro Bowl seasons in 2015-16.
Freeman reunites with Giants tight end Levine Toilolo, a Falcons teammate from 2014-17.
Freeman has not been on a roster yet this summer or fall. He turned down a reported one-year, $4 million offer from the Seahawks in May, and he visited the Eagles last weekend before shooting up I-95 to join the Giants. The Jets also reportedly had interest in the spring.
The 5-8, 206-pound Freeman is a compact and powerful runner. He projects to be the Giants' lead early-down back with Lewis as a third-down complement.
Freeman has 3,972 career rushing yards, 32 rushing TDs, 86 career catches and 11 more TDs through the air. He has a concussion history and played in only two games for Atlanta in 2018 due to foot, knee and groin issues. But he did play in 14 games in 2019.
On Tuesday, the Giants officially placed Barkley on injured reserve, and they signed corner Ryan Lewis off the practice squad to the active roster. The team will have to cut another player when Freeman officially signs on Wednesday.
Freeman's signing is not good news for Gallman, who was a healthy scratch on Sunday in Chicago and who did not play a special teams snap in Week 1.
The fact the Giants did not put wide receiver Sterling Shepard on injured reserve on Tuesday might be a good sign that he won't miss more than a week or two. Players who go on IR have to remain out for at least three weeks.
Shepard (toe) played just one snap at the start of Sunday's second half in Chicago after hurting himself late in the second quarter.
The Giants also signed linebacker Jermaine Grace to their practice squad and released undrafted rookie offensive lineman Tyler Haycraft from their practice squad.
Grace, 26, has played almost exclusively on special teams in 24 games for the Falcons, Seahawks and Colts. He was released by the Browns in July.
———
©2020 New York Daily News