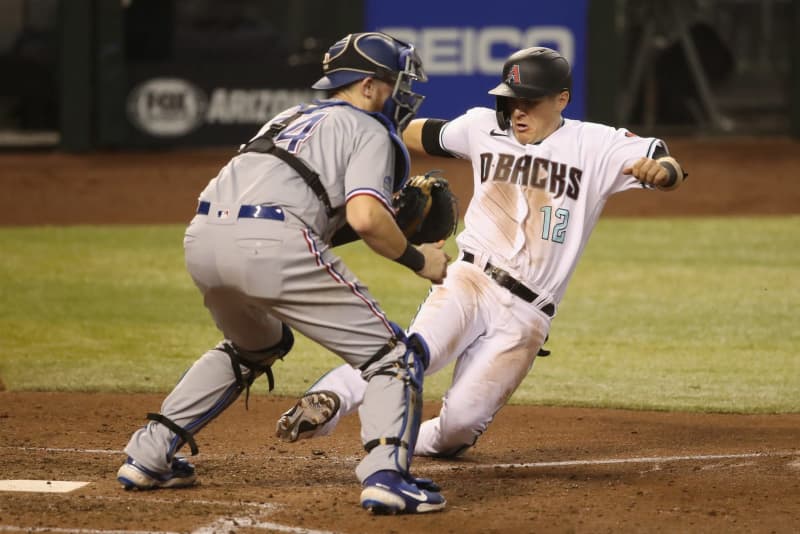 The first inning Tuesday night at Chase Field in Arizona sort of summed up the Texas Rangers' season.
Diamondbacks starter Caleb Smith walked the first three batters, but the Rangers failed to score after Joey Gallo fouled out and Rougned Odor and Anderson Tejeda struck out.
Arizona won 7-0 in the first of a two-game series. It's the first time Texas has been shut out in 2020. The Diamondbacks scored two in the fourth, one in the fifth and four in the sixth, including Carson Kelly's three-run home run against starter Jordan Lyles.
The Rangers were held to six singles. Riley Smith took over for Smith and pitched five scoreless innings of relief.
The first four D-Backs in the sixth combined for the cycle, including David Peralta's lead-off ground-rule double, Nick Ahmed's triple that bounced away from Gallo in the right-field corner, and Pavin Smith's single. That set up Kelly's three-run homer that gave Arizona a 7-0 lead and chased Lyles from the game. Lyles made two of the three Rangers errors that allowed three unearned runs.
"We didn't play good defense behind him and he was a part of that," Rangers manager Chris Woodward said. "Any time you give extra outs to any major league team you're flirting with disaster, especially to lead off innings. It just wasn't a great game overall."
The loss dropped Texas to a season-low 17 games under .500 at 19-36. The Rangers winning percentage is now at .345, which would be the lowest in franchise history in Arlington. The inaugural Rangers team in 1972 finished 54-100 and a .351 winning percentage, which is the club's worst finish.
Texas has to finish at least 3-2 in their last five games to avoid setting a new low. After finishing the series Wednesday in Arizona, the Rangers finish with four games against the Houston Astros at Globe Life Field.
The Rangers team batting average dropped to .213, which would break the all-time low of .217 set by the '72 team. Their on-base percentage dropped to .282, which also would break the '72 team's record of .290.
———
©2020 Fort Worth Star-Telegram