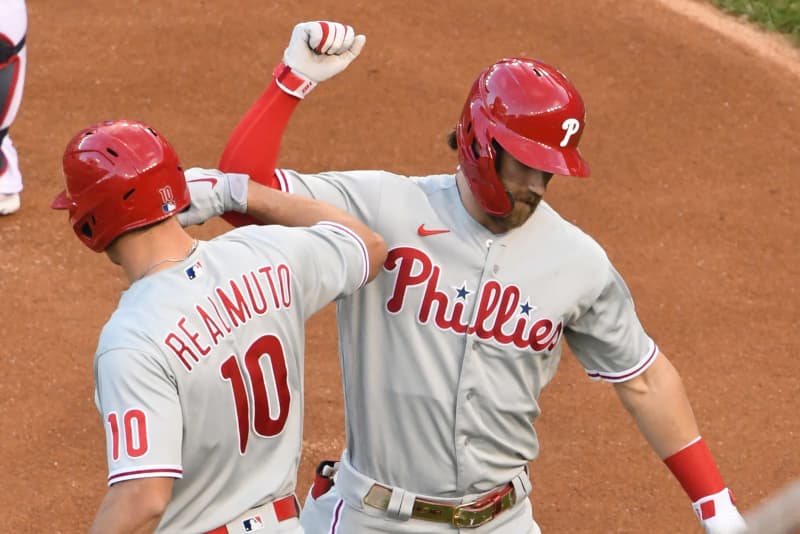 For the Phillies to reach the playoffs, they'll need more than just Wednesday night's 12-3 win over the Washington Nationals. They'll need help from other teams. They'll need to keep winning, and they'll need to use both Aaron Nola and Zack Wheeler this weekend before the regular season concludes.
If all of that happens, and the Phillies find themselves celebrating a postseason berth on Sunday in Tampa, they'll likely need a pitcher to start next Wednesday's opening playoff game as Nola and Wheeler would be on short rest.
And they received a promising audition for that job on Wednesday from Zach Eflin, who pitched eight strong innings at Nationals Park. If the Phillies do not start Wheeler or Nola on short rest, Eflin will likely find himself on the mound for the first game of a three-game series.
Eflin may not be Wheeler or Nola, but he looked like a playoff-caliber starter on Wednesday night. He allowed just four hits, struck out nine, and allowed one run against the Nationals before allowing two runs in the ninth inning when the game was out of reach.
Eflin has allowed just three runs in his last 15 innings, with 18 strikeouts.
The Phillies flew after Wednesday night's win to Tampa, where they'll spend Thursday's off-day before opening a three-game series at Tropicana Field.
The Phillies could still make the playoffs if they don't win all three games, but their best route to October is a three-game sweep against the Rays, who will be trying to clinch the American League's top seed and will start Charlie Morton on Friday night against Vince Velasquez.
The Marlins will finish a four-game series Thursday in Atlanta before playing three games at Yankee Stadium. The Cardinals and Brewers begin a five-game, four-day series on Thursday in St. Louis. The Giants are spending the final weekend against the Padres. If the Phillies take care of their own business, a playoff spot should open up. It won't be easy, but the Phillies aren't done yet.
They played Wednesday night like a team pushed to the brink following four straight losses. Bryce Harper, who continues to play through lingering back soreness, homered twice. He hit a tone-setting homer in the first inning to center field, and followed it with a leadoff homer in the sixth.
Andrew McCutchen homered in the eighth. Jean Segura added a two-run single, Didi Gregorius and Andrew Knapp hit three-run homers in the ninth, and the Phillies built a large enough lead for their bullpen to handle.
The team's postseason chances could be heavily influenced by their bullpen, the worst unit in the majors. Connor Brogdon picked up the final three outs. A starting pitcher going deep into games and the lineup scoring 12 runs is a good way to lessen that influence.
Eflin did that, and he was excellent. He used 98 pitches and threw just 11 in the eighth inning, which allowed manager Joe Girardi to push Eflin into the ninth. He attacked the Nationals lineup, firing first-pitch strikes to 15 of the 28 batters he faced.
Eflin retired the side in order six times, and never found himself in trouble. His lone run before the ninth came on a fifth-inning groundout. Eflin allowed two runs in the ninth, and failed to get a complete game. But it did not ruin his night.
———
©2020 The Philadelphia Inquirer