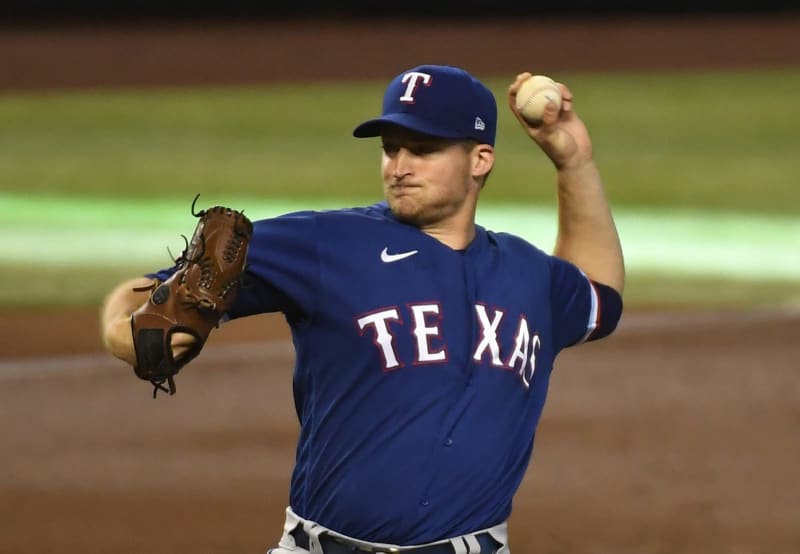 Pitching prospects who undergo Tommy John surgery can quickly be forgotten.
Kyle Cody was the Texas Rangers Minor League Pitcher of the Year in 2017, but by spring training was dealing with elbow soreness and by June was undergoing Tommy John surgery.
With one start to go in his first MLB season, Cody is at the top of the heap of internal candidates to fill a rotation spot for 2021.
Wes Benjamin might have been forgotten before his career even started.
He needed Tommy John surgery before the Rangers even drafted him. His first taste of professional baseball wasn't the Arizona League or Northwest League, but a league of other injured Rangers players who toiled away in the desert sun just for the chance to get back on a field.
That was six years ago, and Benjamin is now 27.
But he made the first MLB start of his career Wednesday at Chase Field in Phoenix, which in good traffic is about 45 minutes from where his long journey began at the Rangers' facility in Surprise.
The outing should give him a boost as he heads toward the next challenge in his career, competing for the rotation next spring.
Benjamin opened with four scoreless innings before being charged with three in five innings. He pitched into the sixth, left with a lead and did something that veterans didn't do in the two games before him.
He gave the Rangers a chance to win.
Reliever Nick Goody, though, allowed both runners he inherited from Benjamin to score and then allowed three more as the Arizona Diamondbacks rallied into a 6-3 lead. Arizona added a sixth run in the sixth to erase a 3-1 deficit and defeated Texas 7-3.
Benjamin allowed seven hits and a walk and five-plus innings, striking out three. He stands to be one of as many as 10 young and/or inexperienced pitchers vying for the rotation in a busy spring training for the rebuilding Rangers.
"It's exciting to see that we have some arms coming," pitching coach Julio Rangel said. "It's not only very young, but they also have good arms. We just have to help them continue their development and make sure they can contribute at the major-league level."
Benjamin isn't flashy, with a fastball that sits in the low-90s, but does what all pitching coaches want to see — he throws strikes and lets batters put balls in play. One of Benjamin's strengths is his minor league experience.
He logged 443 2/3 innings since 2016, with the vast majority coming over 84 career starts. He pitched 135 1/3 innings in 2019 at Triple-A Nashville.
The left-hander added a cut fastball last season, which helped him shrink a 6.84 first-half ERA early to 3.75 in the second half. Benjamin has been learning about the ups and downs of baseball since having surgery after being injured in his junior season at Kansas.
His second half wasn't enough for him to earn his first invitation to big league spring training, but he left a favorable impression as an extra pitcher in spring training games and was included in the 60-man player pool for the 2020 season.
"He's got a little chip on his shoulder to the game in a positive way," manager Chris Woodward said. "He can't wait to prove people wrong. I think that's kind of his mentality. He doesn't have a whole lot of fear when he's on the mound. He doesn't really get bothered by too many guys standing in the batting box."
The Rangers have right-handers Lance Lynn, Kyle Gibson and Jordan Lyles under contract for next season, and have discussed bringing Corey Kluber back on a smaller contract than the $18 million club option they hold on him.
Woodward doesn't expect the Rangers to add any high-dollar free agents or any from the middle tier. The Rangers shopped Lynn at the trade deadline and would be open to more conversations in the offseason.
The expectation, though, is the Rangers will have two openings in the rotation.
Cody is a strong front-runner for one of the rotation spots, Woodward said. Benjamin would be in a deep group of others that could include eight others from within the organization.
It will be difficult for left-handers Joe Palumbo (ulcerative colitis) and Brock Burke (shoulder surgery) to make the opening day roster after missing either all or almost all of this season.
Another lefty, Kolby Allard, will be in the group, and the Rangers will discuss if they want lefty Taylor Hearn to give starting another go. A third lefty, John King, has shown well while piggy-backing Cody.
The Rangers will likely look at right-handers Tyler Phillips and Jason Bahr. Cole Winn, the Rangers' first-round pick in 2018, might be too young, Rangel said.
Even Cody isn't a perfect candidate. He is pitching for the first time since 2017, and the Rangers aren't sure how many innings they want to put on his arm next season.
Benjamin might have a better chance than many expect next spring.
"He's basically forced the organization to put him in this spot, which is cool," Woodward said. "That's what you want every player to do."
———
©2020 Fort Worth Star-Telegram