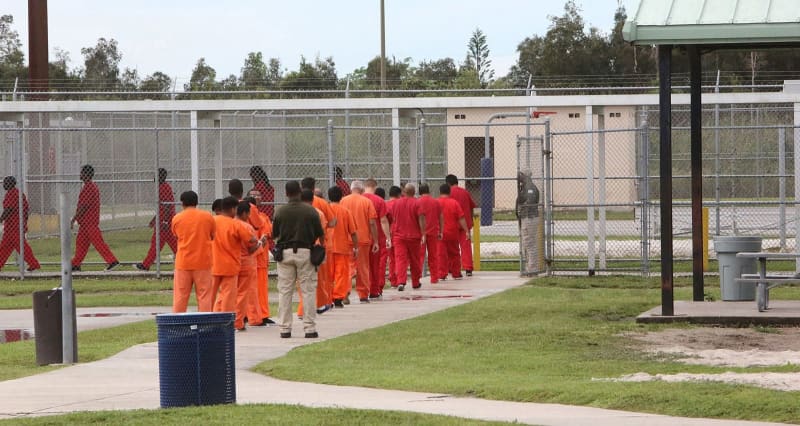 MIAMI — Immigration detainees in South Florida are being required to attend court hearings with other migrants even if they have COVID-19, two sources with the Department of Justice confirmed Wednesday.
The news that detainees who have the coronavirus are being taken out of medical isolation to attend court hearings was revealed Wednesday morning during a Miami immigration court hearing at the Krome detention center in West Miami-Dade. Across South Florida, because of the pandemic, some detainees are appearing in person before a judge and others via video.
During the hearing, a Venezuelan detainee — who appeared in Krome court on video from the Glades County Detention Center in Moore Haven — told Judge Maria M. Lopez-Enriquez that he currently had COVID-19 and that he was taken out of an isolation cell to attend his immigration hearing. The Glades detention center is operated by the Glades County Sheriff's Office under contract with U.S. Immigration and Customs Enforcement.
When Lopez-Enriquez questioned the Glades County lieutenant behind the detainee on why the detainee was brought to the hearing — where dozens of ICE detainees line up at the detention center to see a judge on video — the lieutenant said she was just following orders and that all detainees, regardless of their medical conditions, have to attend court hearings, per the instructions she was given.
Wednesday's account was confirmed by two federal sources physically present at the non-public court hearing at Krome in Miami-Dade, as well as two immigration attorneys who were also in attendance.
"The lieutenant was very nervous and said she was just following orders," said one senior federal official, echoing Andrea Crumrine, a South Florida immigration attorney who also attended the hearing from Krome.
"The lieutenant was encroaching, creeping closer and closer to the detainee when he was answering the judge's questions. The man said on the record that he contracted the virus at Glades," Crumrine said. "My client and other detained immigrants sit in the same chair as him, lean on the same table. People from other housing pods line up to go into that room to attend virtual court. And let me tell you, the judge had a full docket of hearings this morning."
Duane Pottorff, the Glades County Sheriff's Office chief deputy, refused to discuss the lieutenant's exchange with the immigration judge and referred all inquiries to ICE, which also declined to comment on the incident, citing an unrelated ongoing court case.
"As there is pending litigation on this subject (COVID), we are not able to speak specifically to the lawsuit as ICE does not comment on pending litigation," said ICE spokesman Nestor Yglesias in an email. "That said, absence of specific comment should in no way be construed as agreement to anything in a particular lawsuit."
Shortly after, the Glades County Sheriff's Office sent the Herald an almost identical statement.
The lawsuit ICE and Glades officials referenced is an ongoing class-action lawsuit filed in Miami federal court in mid-April seeking the release of thousands of immigration detainees who are held, or have been held, at the Krome Processing Center in West Miami-Dade, the Broward Transitional Center in Pompano Beach and the Glades County Detention Center since the beginning of the coronavirus pandemic.
A few months after it was filed by the University of Miami's immigration law clinic, the Southern Poverty Law Center, the Rapid Defense Network in New York, Americans for Immigrant Justice, the Legal Aid Service of Broward County, and Washington, D.C.-based law firm King & Spalding, U.S. District Court Judge Marcia Cooke appointed an independent fact-finder to investigate possible "inhumane conditions, deliberate indifference and cruel and unusual punishment" at the three facilities.
The designation of a "special master" was in response to a motion filed by immigration lawyers accusing ICE of violating the court's April 2020 order. The accusations included: co-mingling COVID-positive detainees with individuals who have not been confirmed as having the disease, failing to provide cleaning supplies and masks to detainees, and not educating detainees about the pandemic. The detainees and their attorneys also accuse the agency of not promoting or enforcing social distancing within the detention centers.
As of Tuesday, ICE data show that 182 have tested positive for COVID-19 at Krome, 146 have tested positive at Broward and 165 at Glades.
Mimi Tsankov, a New York immigration judge and a regional spokesperson for the National Association of Immigration Judges — the union that represents immigration judges across the United States — said that judges "have had consistent problems with the agency's lack of transparency and ineffective communications with judges about health and safety at the courts during the pandemic."
What happened in Miami on Wednesday "is not inconsistent with other reports we have received from other courts, where we learn that safety protocols either aren't clear and where there is fear of coronavirus exposure," she said. "ICE has failed to develop a consistent and transparent protocol to inform the judges and the stakeholders about the presence of COVID-positive individuals in the courthouse. When a notification is provided, it is often very general, and typically lacks enough specificity for the recipient to determine what action s/he should take, if any.
Tsankov added: "In other words, it's impossible to know who has been exposed because any contact tracing being done isn't handled transparently and isn't communicated fully."
Dr. Ashish Jha, dean of Brown University's School of Public Health and former director of Harvard's Global Health Institute, said that "until somebody is fully recovered you should not be taking them out of isolation."
"If you are, you are spreading the virus and you are spreading it and running the risk of infecting others," Jha said. "Sounds like they are not following basic (Centers for Disease Control and Prevention) guidelines. It's clearly a bad public health practice, a bad medical practice, and it should not be getting done."
———
©2020 Miami Herald