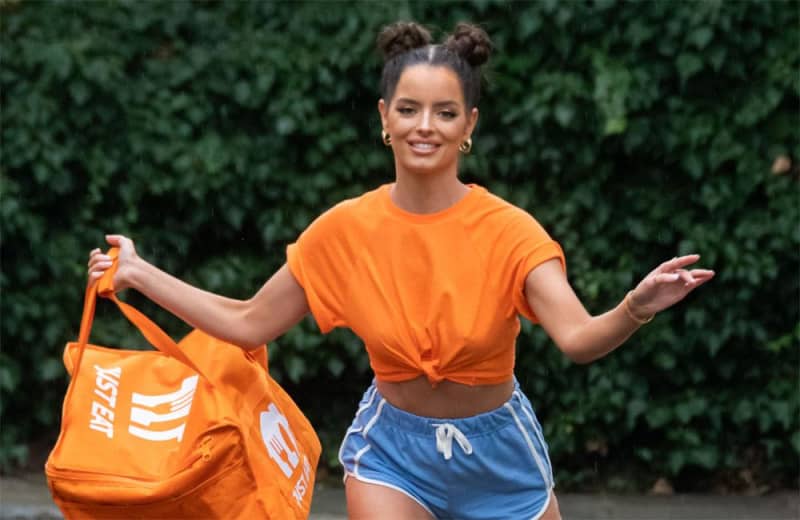 Maura Higgins has told the celebrities signing up for 'Dancing On Ice' they have to learn to control their nerves otherwise they'll make mistakes on the live shows.
The former 'Love Island' contestant hit the rink on the 2020 series of the ITV programme and she has been watching with interest as the new names have been announced, which so far include 'Emmerdale' actor Joe-Warren Plant, Denise Van Outen and former Hear'Say member Myleene Klass.
Maura - who performed with professional Alexander Demetriou - was the sixth star to be voted off the programme and she admits that before some routines she let her butterflies get the better of her which meant she didn't skate as well as she had done in rehearsals.
Speaking exclusively to BANG Showbiz, she said: "What advice would I give? What I would say is when the live shows start don't over think it, just go out there and do your best.
"One thing I remember is being so scared to make a mistake and then that's what happens, you end up making a mistake because you're thinking about it. I wanted to do well on that show so bad, that I put my heart and soul into it.
"I wish I would have relaxed more on the live shows, but it's obviously nerve-racking. You're live on television and it's something you're not used to, I'd never skated, I'd never performed in front of an audience, I'd never danced, I'd never done anything like that so it is pretty terrifying but it is honesty one of the best opportunities I'd ever been given. It's an amazing experience. I'd do it again in a heartbeat."
Maura, 29, has another tip for the celebrities competing in 2021, and that is to not rely on padding to protect you from injuries on the ice during training.
Many stars choose to wear protective clothing and cushioning so if they hit the cold surface they don't end up with bruises or something worse, but Maura insists you should rehearse in the same way you perform because you can't rely on your padding on the night.
She said: "There were a lot of people who wore padding in training, but in my opinion I don't think you should because then you kind of rely on it and then you'll be more scared on the live shows and you can't wear your padding on the live shows. I'd rather just take the bangs, know what that feels like and then on the live show I'm not more scared."
Maura was speaking as part of Just Eat and Greggs new trial to deliver food via couriers on roller-skates.
The 'Sausage Roll-er skating Squad' has been trialling deliveries from the Ludgate Hill and Palmer Street Greggs shops in London this week to get food to hungry customers at home quicker and more efficiently.
Maura even slipped into a pair of roller-skates herself to give it a go and she admits her 'Dancing On Ice' past helped her on wheels.
She said: "Roller skating has been all over my timeline during lockdown, so after hanging up my ice-skates , I was really excited to give it a go as part of the Just Eat roller squad - what a cool way to have your sausage rolls delivered! I do love a Greggs sausage roll."
Greggs is available exclusively on Just Eat via the app or website, with no minimum spend. Visit Just-eat.co.uk/takeaway/brands/greggs to check availability in your area and for more information.