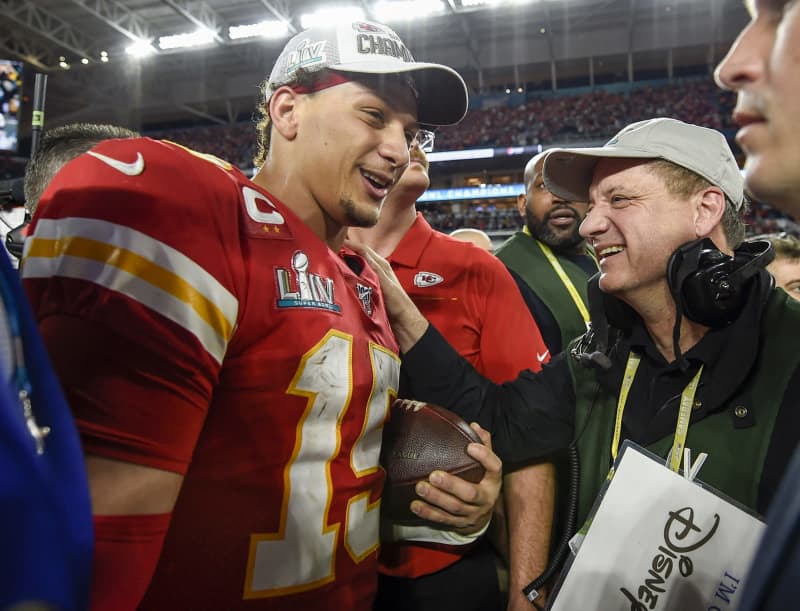 Chiefs quarterback Patrick Mahomes underthrew his receiver, Mecole Hardman, by about three yards on a deep route Sunday, and so Chargers cornerback Desmond King reached up and plucked the ball out of the sky.
As the Chargers sideline celebrated a game-changing, fourth-quarter turnover, Mahomes remained near the line of scrimmage, tapping his hips over and over again, mimicking a referee's signal.
Offsides.
The flag already rested on the field. Mahomes knew it before he threw the pass. And the interception, which would have been the first September pick of his career, never happened. All because of what he did before the play.
Mahomes possesses one of the elite arms in football, uses probably the game's most unique throwing angles and has one of its most creative minds. But there is one more elite trait, one that dates back to his days as a high school quarterback, long before anyone saw or heard it on their living room big screens.
His voice.
"I have the unique advantage of having a unique voice that's able to get these guys to jump offside," Mahomes said. "So I try to utilize that as much as possible."
There's more to it. For all of his abilities to alter a game with his arm or with his legs, Mahomes has been stealing plays with his voice. With hard counts. With variations to his snap calls.
Set, hut! The ball is snapped.
Set, hut! The ball is snapped.
Set, hut! The Chiefs remain motionless along the line, but Mahomes has shouted the usual cadence with such fervor that a defensive lineman can't help but creep just past the line of scrimmage. And before the defender can inch back, Mahomes unleashes one more "hut" to call for the snap, like pulling the lure just as the fish bites.
Mahomes has himself a free play. A free shot toward the deepest route on the tree. And he rarely bypasses the chance to take it. What's he got to lose?
There's an art to this, and, yes, Mahomes' voice plays into at all. It's a Texas twang that his teammates used to tease him sounds a bit, well, frog-like.
That's fine. Because by the time you think you have it memorized, by the time you're settling in, by the time you're ready to get that perfect jump off the line and sprint into the Chiefs' backfield …
He's got you.
Hook, line and sinker.
———
A future NFL most valuable player's quarterback career began in Whitehouse, Texas, and so did his mastery of the hard count.
In high school, Mahomes and his teammates wore wristbands, with numbers corresponding to play calls. Head coach Adam Cook left a number assigned to the hard count.
"Freeze," they called it.
Mahomes would cycle through his usual pre-snap calls, but when he requested the football from his center — ready, go! — the ball never arrived, and the players were instructed to stay stationary. They'd hike it a split-second later, and Mahomes would throw a deep fade pattern on what often amounted to a free play.
"We rode that play pretty hard," Cook said. "Patrick ran it so well."
The Whitehouse offense, as you might expect, relied on tempo. They played fast. Mahomes did Mahomes things, scrambling behind the line of scrimmage, wearing out defensive linemen and secondaries while extending plays.
A perfect time for "Freeze."
The first time Mahomes ever ran it, during his junior season, it went for a touchdown to teammate Dylan Cantrell. The last time he ran it, as a senior, it went for another touchdown, to teammate Jake Parker.
In two seasons, Cook called "Freeze" on 41 occasions. On nine of those, the defense jumped, and Whitehouse marched five yards down the field. On five others, Mahomes threw a touchdown.
"It just added another element to our game plan every week," Cook said. "It was a huge part of what we did — to throw off those teams to what we were doing."
———
During Sunday's 23-20 overtime win in Los Angeles, Mahomes and the Chiefs played in an entirely unfamiliar environment.
No fans.
The oddity struck coaches and players alike, but the Chiefs arrived prepared. During a normal road trip, they might keep the snap counts simple, sometimes even going to a silent count at the more hostile venues. But absent crowd noise, they went the other way.
To the hard counts.
Mahomes drew the Chargers offside four times Sunday — including three times in the fourth quarter or later. On all four instances, Mahomes recognized immediately he had baited a defensive lineman, and he demanded the snap. Four free plays.
In recent history, nobody in the NFL has been better at drawing freebies than Packers quarterback Aaron Rodgers. In the only published statistics on it, Rodgers has averaged 225 "air yards" per season on offside calls since 2010, per NFL Operations.
But Mahomes isn't far behind. In his first year as a starter — the only season in which his individual statistics are available — he drew the defense offside 15 times. He completed nine passes. That included a key play in the game-trying drive of the AFC Championship Game. He completed a 27-yard pass to Demarcus Robinson, so the Chiefs declined the penalty. But it effectively stopped the clock as it ticked below 20 seconds with the Chiefs out of timeouts.
"He's great with his voice inflection," said Ravens coach John Harbaugh as he prepares to face Mahomes on Monday night. "They have a number of really effective snap counts. They cover their snap counts. They dummy their snap counts. Obviously they work on it really hard. And they time their snap counts.
"The other thing that Patrick does is that he'll snap the ball and try to get a play off. So he doesn't just stop and take the five (yards). He'll take the five if the whistle blows, but they're going to try to throw the ball downfield and get a free play every chance they can when they get that opportunity."
It's such a simple difference between a hike and a fake — often just a single word in Mahomes' cadence — but it requires plenty of practice to master.
It must fool the defense.
It can't fool the offense.
The Chiefs offensive linemen have to be ready for it, too, to ensure they don't budge when Mahomes mixes the inflection. A year ago, they tied for the fewest false starts in all of football with eight, though they already have been called for four this season.
"We work on changing up the snap count all throughout training camp," Mahomes said. "There's some rough days, where you get a lot of false starts and stuff like that, but it always makes you better when the season comes along."
Especially this season. In stadiums in which "you can hear, it seems like, every penny drop," as coach Andy Reid put it.
Every word from the quarterback, too.
The Chiefs travel to Baltimore for a Monday Night Football game that pits the two best teams in the AFC against each other. And there's an important thing to remember.
There won't be fans.
There will, however, be a hard count.
———
©2020 The Kansas City Star (Kansas City, Mo.)