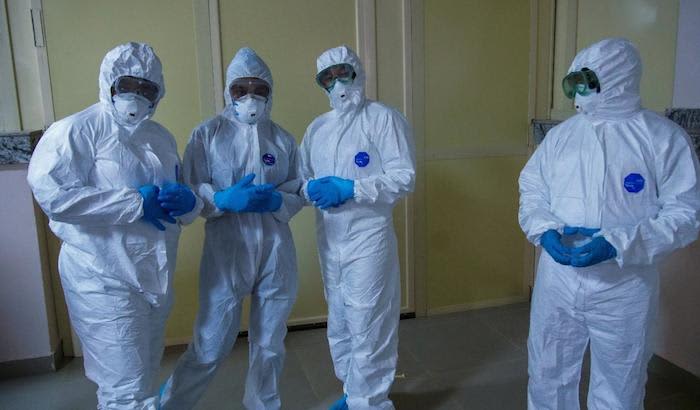 Since Nigeria reported its first confirmed case of COVID-19 in February 2020, the response has been led and driven by the government through the Presidential Task Force. The Nigeria Centre for Disease Control (NCDC) coordinated the public health response through the activation of a multi-sectoral national emergency operation centre. Similar structures were established to support the response in the states- setting up laboratories for the testing of COVID19 samples, training of rapid response teams and disseminating public health messages. The private sector supported the response through efforts like CACOVID, a private sector-led coalition established to support the government in combatting COVID-19.
As the outbreak took hold, Nigerians watched countries in Europe, Asia and the USA putting in place lockdown measures. It became very clear that the response had to be driven by all sections of the society and as the Director General of the World Health Organisation (WHO), Tedros Ghebreyesus reiterated on several occasions, the response "requires a whole-of government and society response". With the initial closing of borders in May and lockdowns in Nigeria, the laboratory network across the country was scaled up to enable more testing. Public health messaging focused on reinforcing the public health measure that people needed to adhere to, in order to limit the spread of COVID-19. These included the washing of hands frequently, limiting physical contact with others, maintaining a physical distance and wearing a mask and other locally defined non-pharmaceutical interventions.
An all of society response referred to by the Director General of the WHO requires using all the tools in our arsenal andensuring the involvement of all stakeholders in society in adhering and upholding the public health measures instituted by the government. No one should be a passenger in the response to the COVID-19 pandemic. The lockdown affected economic activity in the country and understandably, there was an eagerness to return to normal, or at least some semblance of normality. However, COVID-19 has not gone away. It is a virus that is still with us and we just have to deal with it, working together in solidarity until a vaccine is found.
This situation raises questions of how best to mitigate the spread of the virus, until a vaccine is found. There are certain structures and institutions in our society that can play a crucialrole in stopping the spread of the virus. From the first imported case, to the subsequent cluster of cases and nowcommunity transmission, institutions are an important part of our society and play a critical function in our communities. They have the ability to impose structure on how individuals behave and guide what we do. But what are institutions? Institutions in simple terms are businesses, corporations or social structures like schools, religious institutions, governments, hospitals etc. Each of these institutions haverules of engagement that govern how they operate and are able to regulate and influence behaviour through the application of rules and norms. This is important for the COVID-19 response, as adherence to the COVID-19 public health measures have proved difficult to enforce through the mechanisms of the state or through individual initiative.
Institutions are in a unique place to assume a leadership role, ensuring that members of society adhere to the public health measures. Evidence has shown that SARS-COV-2, the virus that causes COVID-19 spreads easily in enclosed spaces, and this means that the risk of spread will be greater in churches, supermarkets, banks or restaurants, wherever people gathertogether. Each of these churches, mosques, restaurants, banks have a leadership team that can ensure adherence within their facilities.
This elevates the responsibility of institutions, but it is not evident that this responsibility has been sufficiently articulated or understood by them. When observing adherence to the public health measures in banks, restaurants, malls and businesses, it is clear that many of these institutions are not taking sufficient ownership or steps to support the government's response to the COVID-19 pandemic. On entering one of the largest malls in Abuja, the hand sanitizer canister previously replenished for the public's use, has been empty for weeks and shoppers walk around the mall, some wearing masks and many walking around without a mask or with a mask nestled under their chin. Some supermarket owners mentioned their concern that if they enforce mask wearing, customers complain and state they would just shop elsewhere, so the supermarket owners often capitulate. Institutions have not recognised the benefit that implementing these measures can bring to them, preserving the health and lives of their community and the sustenance of their activities.
There needs to be stronger co-operation between business owners and other institutions to enforce public health measures, supporting the ongoing response efforts that require vigilance. There is also no competitive advantage that can be gained by being lax in the enforcement of public health measures. There is no doubt that people are putting themselves and loved ones at risk when they do not bother to wear a mask, physically distance or wash their hands frequently. Business should be at the forefront of the response, taking responsibility to protect their employees and customers by ensuring that all the mandated public health measures are strictly followed. When people visit shops, restaurants, churches or businesses, leaders within these institutions have a role to play, persuading people to follow the public health measures so that they are better protected. In addition, people should hold each other accountable in adhering to these public health measures. It is in all our enlightened self-interest.
We are only as strong and safe as our weakest link and combating the spread of COVID-19 will only work with support and engagement from communities, institutions and the most vulnerable members of our society. Institutions have a collective responsibility to protect the health of their employees and clienteles, by ensuring that the individual behavior of a few customers does not pose a risk to others. We are in a living-with-the-virus phase now, and by taking steps now, we are better placed to slow down the spread of COVID-19, while protecting ourselves and others. We are all in this together.
Vivianne Ihekweazu is the Managing Director of Nigeria Health Watch (www.nigeriahealthwatch.com)