Verdant dreams
Emeralds take centre stage in Cindy Chao's Black Label Masterpiece Collection
published : 25 Sep 2020 at 04:00
newspaper section:
[
Life](http://search.bangkokpost.com/search/result_advanced?category=news&xNewsSection=Life)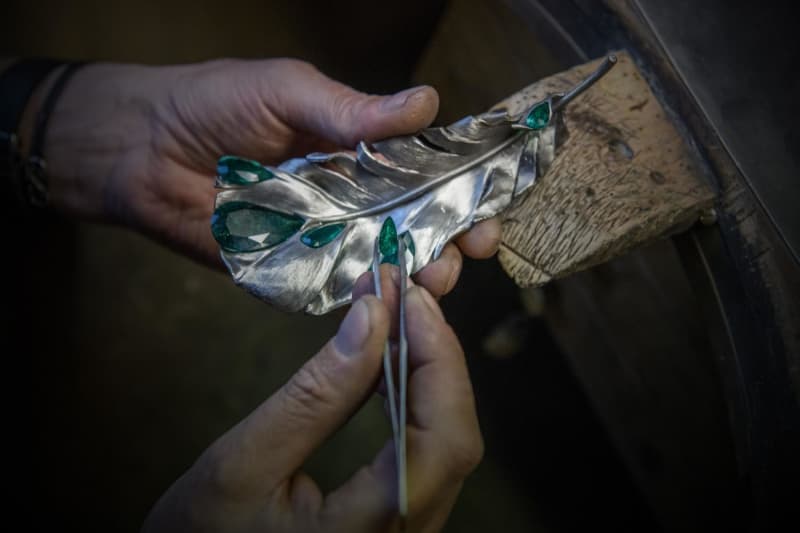 One of the 2019 Black Label Masterpieces, the Emerald Architectural Necklace expressed Cindy Chao's penchant for green stones.
Emeralds shine again in the 2020 Black Label Masterpieces, exhibited earlier this year, at TEFAF Maastricht 2020, the world's premier fair for fine art, antiques and design.
Founded by the Taiwanese jewellery artist in 2004, Cindy Chao The Art Jewel has become known for its high jewellery created as miniature works of art. Dating back to the 18th century, artisanal wax sculpting technique (La Cire Perdue) is used in the process of crafting each piece.
Emeralds gleam on the feather-light titanium Green Plumule brooch, whose silhouette, carat weight of the gemstones and their unconventional setting make it a bold and exceptional piece. There are actually 487 pieces of fancy-cut emeralds, 17 of them coming from Colombia, with the largest being 30.06 carats.
Each angle and height was accurately calculated so that the emeralds are set in an interlacing, embossment-like manner to create a three-dimensional contour for the brooch, thereby portraying the plumule's airiness.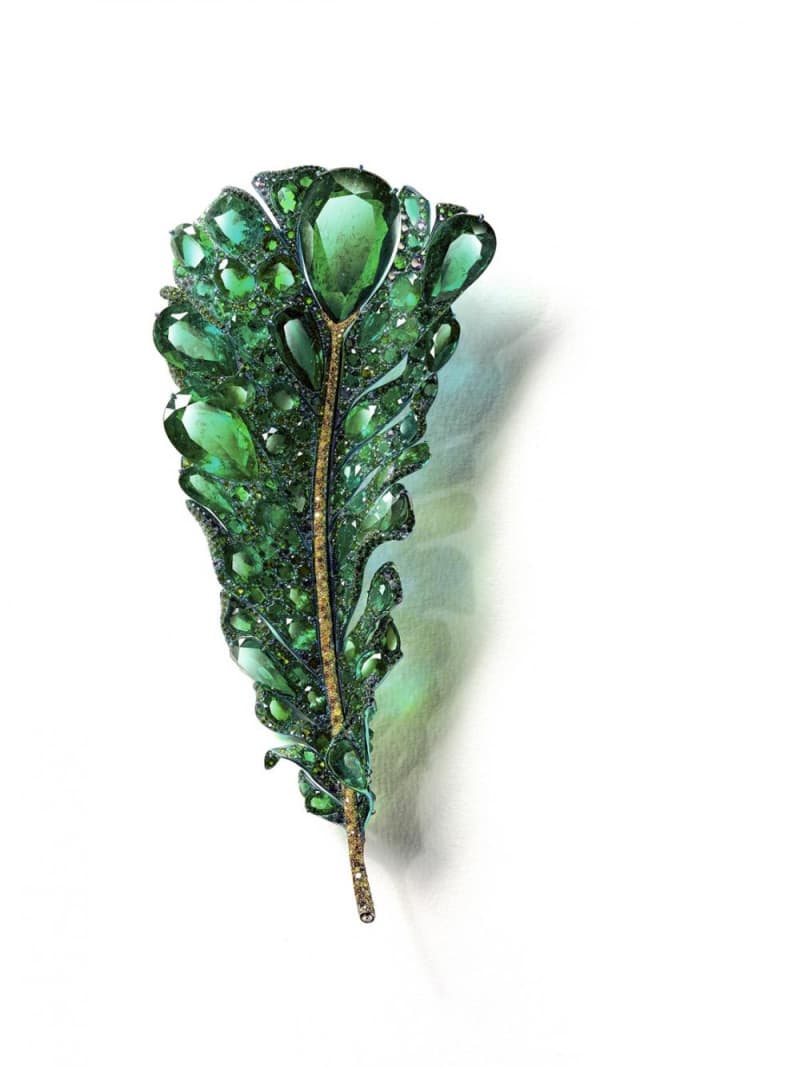 Green Plumule brooch and matching earrings.
The brooch is composed of 14 barbs, all linked to the yellow diamond-paved rachis with flexible joints that give life and motion to the masterpiece. The back is as beautiful, as the rachis are painted with a layer of black enamel, and paralleled with diamonds and yellow diamonds.
The matching earrings are embellished with pear-shaped vivid green Colombian emeralds, briolette-cut brown diamonds, tsavorites, alexandrites and colour-changing garnets.
This year's Black Label Masterpieces further include Cameron Falls Earrings, inspired by the magical "pink" waterfall in Waterton Lakes National Park, Alberta, Canada. The colour of this natural spectacle, which occurs during heavy rainfall, is due to pink sedimentary rocks.
The sculptural earrings evoke a multi-layered representation of this particular landscape.
From the main gemstones, a pair of natural conch pearls are lavishly pouring streams of pink sapphires and purple garnets, set on anodised titanium.
The movement of water is portrayed through diamonds as well as coloured and rose-cut diamonds. Each of the stones is set in a dynamic fashion on an individually crafted gold seat. A flexible mechanism on the metal base allows the earrings to unfold, giving the water-themed creation extra movement.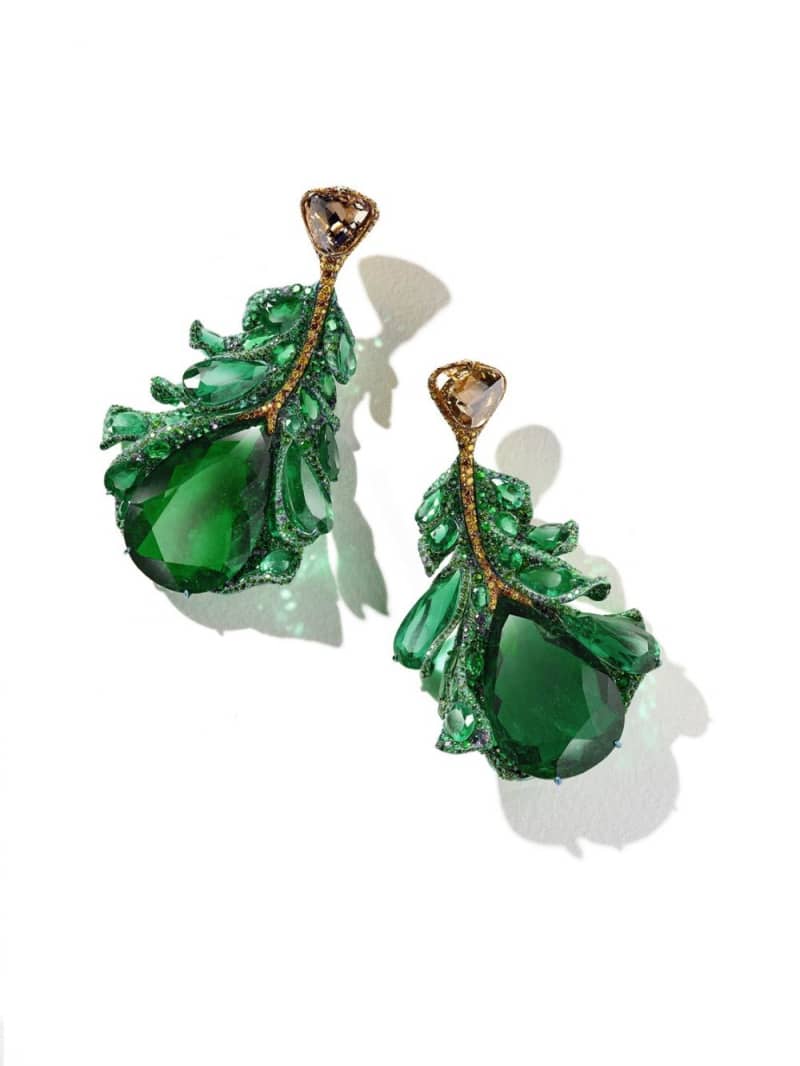 Green Plumule brooch and matching earrings.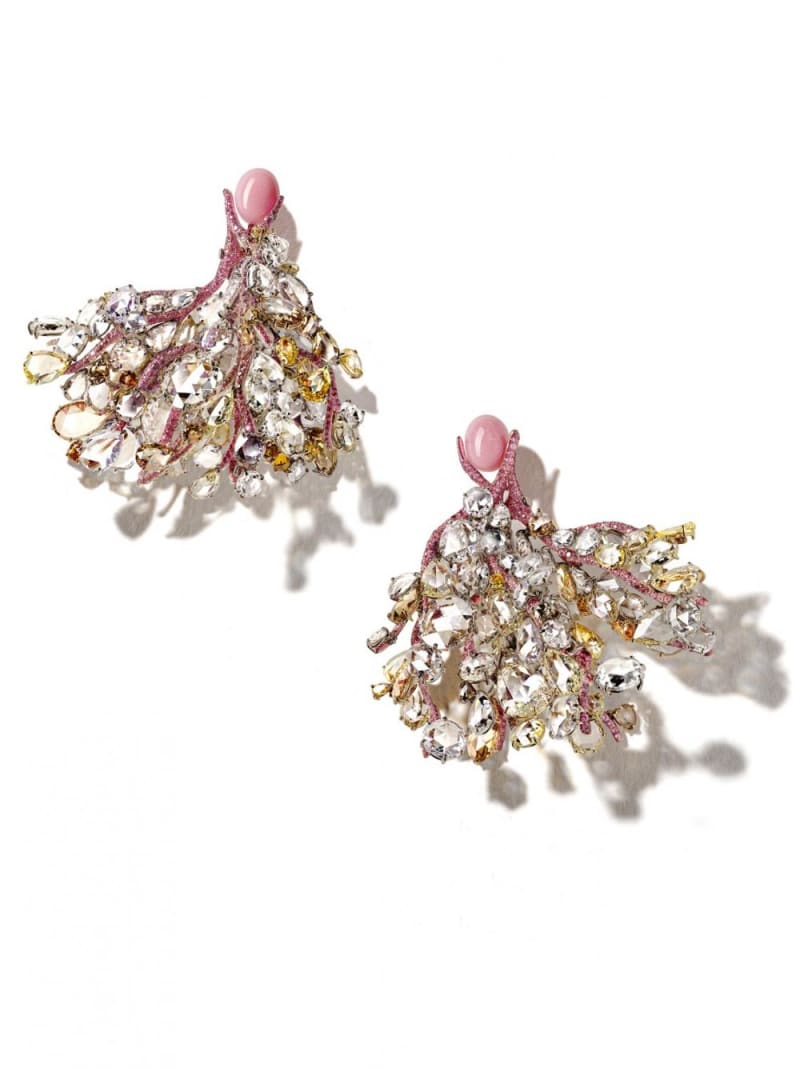 Scuplting the Cameron Falls Earrings.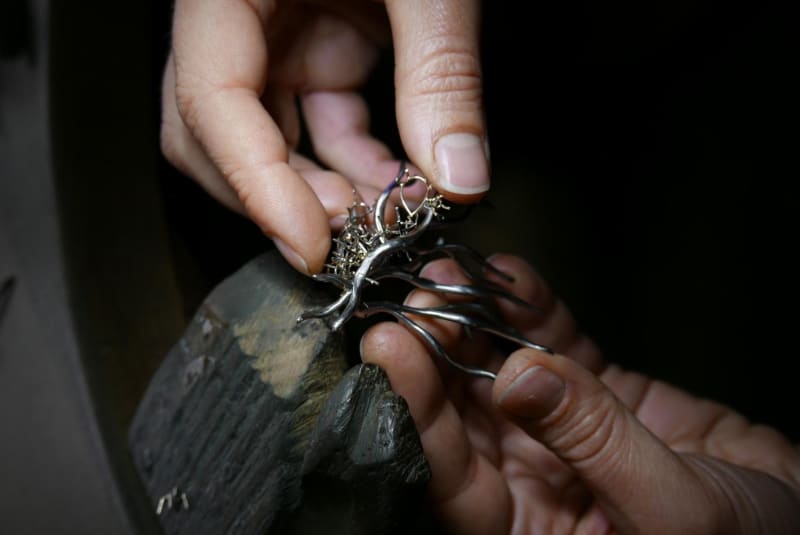 Scuplting the Cameron Falls Earrings. Montree PR