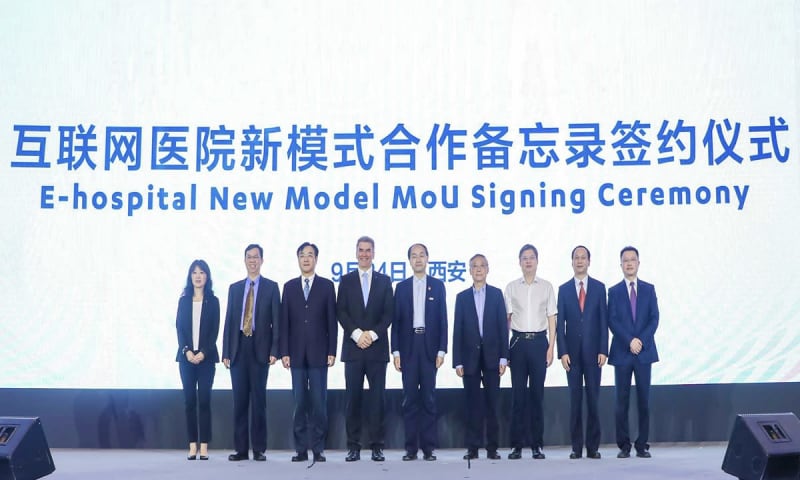 The e-hospital new model MoU Signing ceremony between Xian Janssen Pharmaceutical Ltd and the First Affiliated Hospital of Xi'an Jiaotong University is held in Xi'an, Northwest China's Shaanxi Province on Thursday. Photo: Courtesy of Xian Janssen
On September 24, Xian Janssen Pharmaceutical Ltd (Xian Janssen), a pharmaceutical subsidiary of Johnson & Johnson with 35 years of operation in China, announced the signing of a memorandum of cooperation with the First Affiliated Hospital of Xi'an Jiaotong University. The two parties will give full play to their respective strengths and expertise to explore a novel model of the Internet-based and patient-centered "e-hospital".
This strategic partnership is aimed at delivering a comprehensive new e-hospital model, which will provide virtual health services for patients, initially focusing on oncology (hematology and solid tumors), immunology and pulmonary arterial hypertension. The partnership will also contribute to improving the health of people living in the Central and Western Regions and support the construction of medical consortiums in Gannan, Gansu provinces. It helps develop their digital infrastructure and ability, so to introduce high-quality medical services to local people and improve local medical capacity.
New e-hospital model to meet evolving medical needs
The cross-border cooperation is a pilot between a public hospital and a multinational pharmaceutical company. The pharmaceutical company like Xian Janssen, as one of the most important stakeholders in health ecosystem, is poised to empower Internet+ healthcare with robust foundation from treatments to novel patient support programs.
This emerging demand from patients for online consultation and other medical services is by no means an individual case. Take patients with pulmonary hypertension as an example, the long-term symptoms of hypoxia have already complicated the situations for patients to go to medical institutions for treatment and follow-up checks at the first place.
Beyond the current internet+ healthcare model mainly concerning the repeat visit and repeat prescription for patients with chronic diseases, the cooperation aims at exploring the patient management and disease management models with a special focus on severe diseases such as oncology, immunology and rare disease.
"This partnership demonstrates our commitment to improving the health of Chinese patients above and beyond the work we do to research and develop innovative medicines," said Asgar Rangoonwala, president of Xian Janssen. "Under the impact of the COVID-19, patients cannot access medications offline or seek help from their doctor through traditional channels. By adopting the model of e-hospital, more patients can benefit from medical consultations in a more convenient and efficient way," Rangoonwala said.
The evolving medical needs and demand for new solutions are especially prominent during and after the outbreak of COVID-19, which has undoubtedly changed the medical needs of patients to a considerable extent.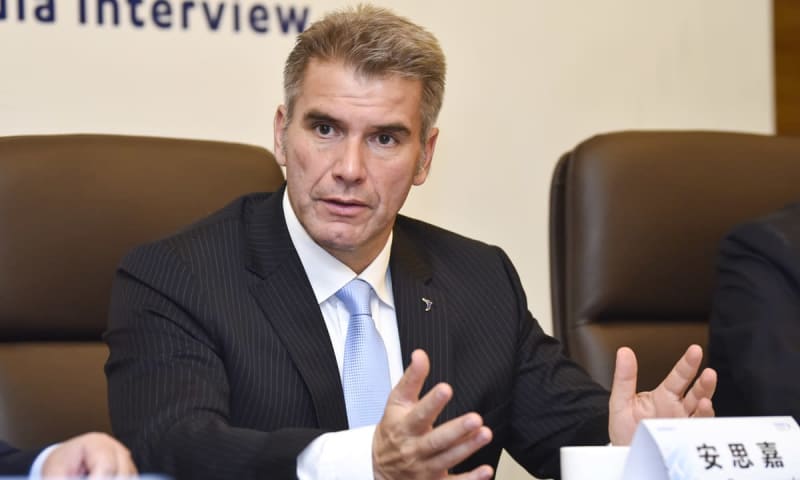 __
Digitalization drives pharmaceuticals company to upgrade patient service__
While the e-hospital is only part of Xian Janssen's efforts to better safeguard the health of Chinese people with innovative solutions and technologies. Over the past 35 years, as one of the earliest multinational pharmaceutical companies entering China, Xian Janssen has accompanied and witnessed China's healthcare reform and the evolution of innovative healthcare development.
As China's healthcare infrastructure evolved, the new business model was soon scaled up. "Based on the key capabilities we invested, innovation strategy empowers us to engage our customers and patients through closed-loop digital services. The innovative "offline + online DUO Muscle model" with stakeholders is our strong capability, combining ascensive off-line engagement with accelerated online engagement, which is paving our way to reach a broader patient population in China." Rangoonwala said.
Xian Janssen has also been collaborating with many renowned digital giants in the fields of e-commerce, medicine traceability, and intelligent medical treatment exploring novel ways to provide patients with online medical and health services such as medication knowledge queries, disease consultation, outpatient appointments, and e-prescription, etc. The collaboration between Xian Janssen and AliHealth has benefited more than 15 million Chinese patients so far.
Xian Janssen in China: safeguarding Chinese health for 35 years and beyond
First established in 1985, Xian Janssen has become one of the fastest-growing MNCs with approximately 3,000 employees across the country.
In June 2019, following an investment of $400 million, Xian Janssen opened its new supply chain innovation hub in Xi'an for commercial production. It sets a new standard in pharmaceutical manufacturing in China and helps to serve the rapidly expanding needs of the country and other markets in the Asia Pacific. The plant features world-class manufacturing technologies and advanced quality control systems.
"With our novel innovation strategies and forward-looking investment models, Xian Janssen enables the discovery of game-changing medicines and deployment of transformational patients' service model in China to support the fast-changing demands from patients and consumers," Rangoonwala told the Global Times, "Beyond the innovative medicine, we also intend to extend to tailor-made solutions that can optimize patients experience alongside the treatment journey."
Xian Janssen has been launching Patient Support Program (PSP) in its key therapeutic areas, with features including online consultation and order system, patient education program and superior patient experience of using its innovative drugs with special made patient-care packs. These key disease areas include psychiatry, neurology, hematology, immunology, solid tumor, rare disease e.g. PAH etc.
The Chinese market has always been a top priority of Xian Janssen. The population of China is the largest among countries all over the world, leading to large unmet medical demands.
"We remain agile and committed to accelerating the process of addressing the unmet medical needs," Rangoonwala said.
"We are benefiting from the great measures taken by the government, especially the recent policies to ensure patients' early access to innovative treatment, and we have strived for delivering on the Healthy China Initiatives with the mission to form an innovative healthcare ecosystem," Rangoonwala added.Copyright Global Times. All rights reserved.Provided by SyndiGate Media Inc.