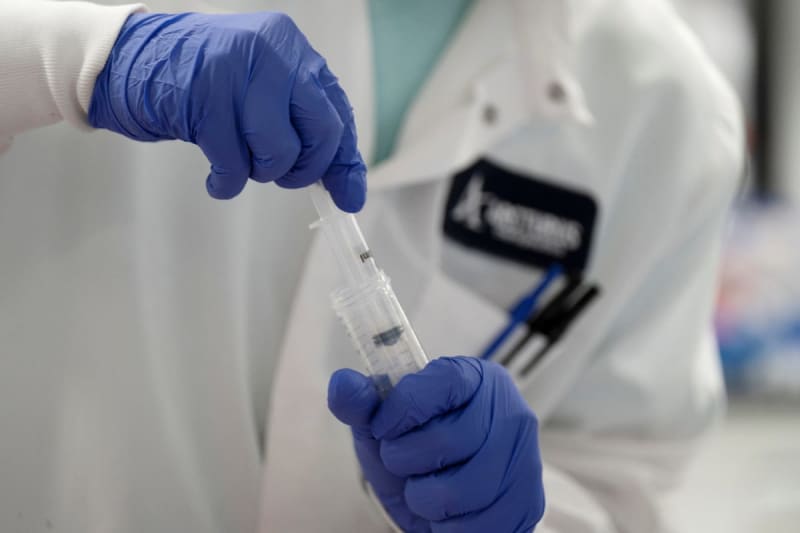 Johnson & Johnson said Wednesday that it has started the final stage of clinical trials for its single-dose novel coronavirus vaccine, becoming the fourth experimental COVID-19 preventive shot to enter final-stage testing in the United States.
The company's vaccine candidate began phase three trials on Wednesday. The vaccine trials will include up to 60,000 adult participants at nearly 215 sites in the US and internationally.
Dr Paul Stoffels, J&J;'s chief scientific officer, said on a call with reporters Wednesday that the company might be able to determine by the end of the year if the vaccine is safe and effective.
"Big news," tweeted President Donald Trump about the trial on Wednesday morning. "@FDA must move quickly!" he added, referring to the US Food and Drug Administration, which oversees vaccine approval.
Trump has repeatedly claimed that a coronavirus vaccine will be ready before Nov 3, Election Day. He has urged federal regulators to act quickly to approve one.
The federal government's Operation Warp Speed program has invested more than $10 billion in private companies' coronavirus vaccines to date, including about $1.5 billion to J&J; to develop and manufacture its vaccine.
Stoffels said the company plans to make diversity information about participants public and is committed to testing the vaccine in children after it has shown to be safe in the adult population.
J&J; has begun manufacturing the vaccine on an industrial scale to build up a supply that can be released immediately if the vaccine is authorized. In August, the company signed a $1 billion contract with the federal government to supply 100 million doses to the US if the vaccine gets authorized for use.
J&J; is collaborating with the UK government for a separate phase three study to test a two-dose regimen of the vaccine.
"We need multiple vaccines to work," said Dr Dan Barouch, a virologist at Beth Israel Deaconess Medical Center, who led the development of the technology used in J&J;'s trial.
"There are 7 billion people in the world, and no single vaccine supplier will be able to manufacture at that scale," he told The New York Times.
Experts said J&J;'s experimental vaccine may have considerable advantages over its competitors, not only because it is one dose but because it doesn't need to be stored in subzero temperatures.
Only phase three trials, which compare the effects of a vaccine with those of a placebo, can determine if a single dose is effective. A single dose could greatly speed up vaccinations to curb the pandemic.
According to J&J;, its experimental vaccine uses an adenovirus to carry a gene from the coronavirus into human cells. The cell then produces coronavirus proteins, which can potentially prime the immune system to fight off a later infection by the virus.
Adenovirus vaccines must be kept refrigerated but not frozen, unlike the two front-runner vaccines by Moderna and Pfizer, which depend on bits of genetic material known as mRNA. The freezing requirement could make distribution of those vaccines difficult in many places. Moderna and Pfizer's vaccines also require two doses given a few weeks apart.
The vaccine that Moderna co-designed with the National Institute of Allergy and Infectious Diseases started phase three testing in July and has enrolled nearly 26,000 people toward a goal of 30,000.
Pfizer and partner BioNTech also started a phase three trial of their vaccine in July and have enrolled nearly 32,000 toward a goal of 44,000.
Interim results of the Moderna and Pfizer studies could come as soon as October, according to company executives.
AstraZeneca, which licensed a vaccine from the University of Oxford, started a 30,000-person phase three trial in the US in August, but that study is on hold while an independent committee reviews a safety matter.
© Copyright 2020 China Daily Information Company. All Rights Reserved.Provided by SyndiGate Media Inc.