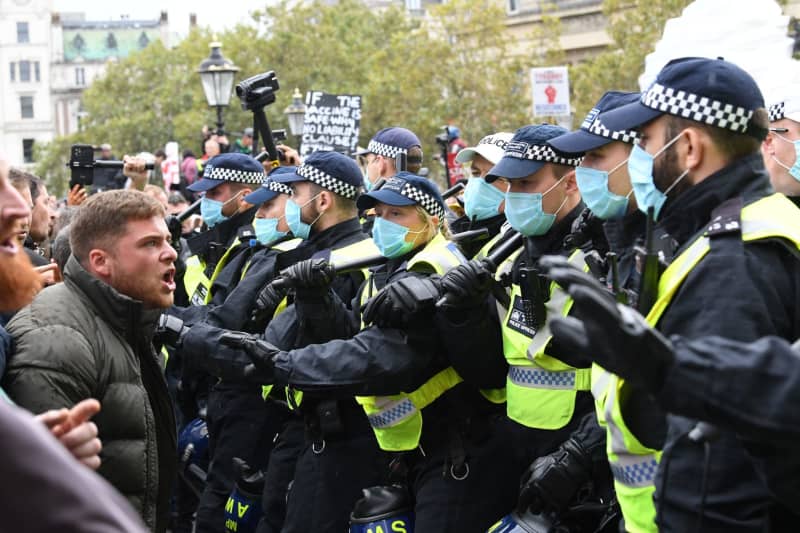 Hundreds of anti-lockdown and anti-vaccination protesters rallied in central London on Saturday, despite police warnings that they could be breaching Britain's coronavirus social distancing rules.
Among the main speakers was eccentric conspiracy theorist David Icke, who took the stage in Trafalgar Square to loud applause and chants of "Freedom! Freedom!" at the "We do not consent" rally.
Protesters held up placards with messages including "No to mandatory vaccines" and "Covid-1984," a reference to George Orwell's dystopian novel, "1984."
London's Metropolitan Police later cleared the square, sparking some clashes with protesters, after saying officers had warned the crowd repeatedly that they breached Britain's Covid-19 law, which allows protests subject to social distancing rules.
"We have come here today to put on a public display of individual and collective self-respect... for self-respect always triggers the power of no," Icke, a former professional footballer, told the crowd.
"We will not hand control of our lives and our children's lives to [people like] the UK Health Secretary Matt Hancock," he said.
"We stand amidst extraordinary, almost unimaginable deceit."
Icke's Facebook account was closed in May because he circulated misleading claims about the coronavirus pandemic.
Another speaker, Sandi Adams, told the protesters that global governments want to develop "surveillance captialism" in which "the ultimate goal is to merge us with the AI [artificial intelligence]."
"If it means throwing away our [electronic] devices, can we do that to save the human race?" she asked, drawing a muted response.