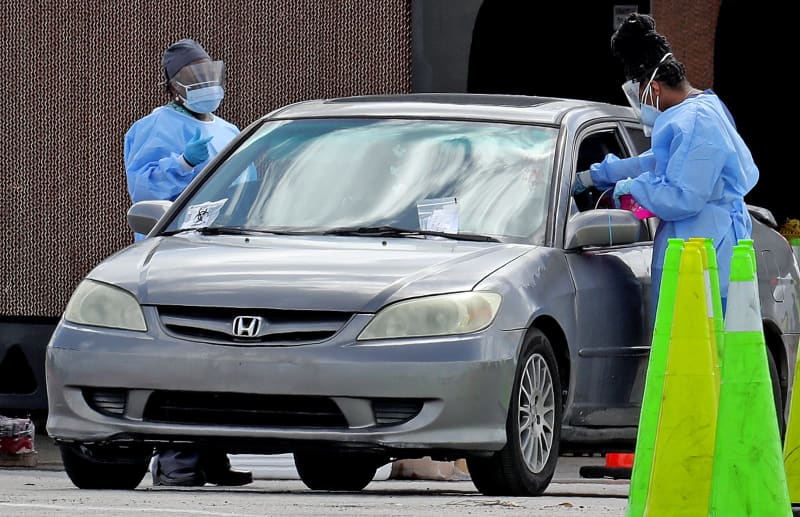 ORLANDO, Fla. — As Florida moves into "Phase 3" of reopening under Gov. Ron DeSantis' new executive order, the state health department posted 2,795 new coronavirus cases and 107 new resident fatalities on Saturday.
In total, 698,682 people have been infected statewide, and 14,022 Florida residents have died. With 168 nonresident deaths, the combined toll is 14,190.
Each report includes deaths from several previous days, as it can take two weeks or more for fatalities to be logged.
On Friday, DeSantis officially lifted all remaining restrictions on bars and restaurants imposed due to the coronavirus pandemic.
The order also bans local governments from closing businesses or penalizing people for not complying with local orders, such as mask requirements — leading to at least one Central Florida county being flooded with calls asking if people no longer have to wear one.
In the heat of the confusion, Orlando Mayor Buddy Dyer and Orange County Mayor Jerry Demings cautioned to residents Friday that the pandemic is far from order. Dyer on Friday urged people to continue wearing masks and practice social distancing "irrespective of the governor's order today."
"During the last few months, our individual and collective actions have helped us reduce the spread of COVID-19 here in Orange County," Dyer tweeted Saturday. "I encourage everyone to continue taking the pandemic precautions to protect yourself, your loved ones and every person in our community."
The Florida Department of Health hasn't reported a daily increase above 10,000 infections since July 25. But testing has declined statewide, to a daily average of about 23,800 so far in September. That's down from about 32,000 daily tests on average in August and 54,400 a day in July.
Over 5.2 million people have been tested in Florida, with 29,021 more tests reported Saturday compared with the previous day.
Statewide, the latest positivity rate reported by the Florida Department of Health was 4.15%, but that's for new cases only and excludes anyone who previously tested positive. For all cases including retests of those previously infected, the latest positivity rate is 5.47%.
COVID-19 hospitalizations have been steadily falling from mid-July highs of over 8,000. Across the state, 2,107 people were hospitalized with COVID-19 as of about 10:46 a.m. Saturday. The state's online tool updates several times throughout the day.
South Florida, home to 29% of Florida's population, accounts for about 42% of cases with 292,027 total. That includes 709 new cases reported Saturday among Miami-Dade, Broward, and Palm Beach counties.
South Florida's reported deaths rose by 49 Saturday for a total of 5,952, about 42% of the state's total.
The virus has infected over 32 million people and has killed over 989,000 worldwide, according to the Johns Hopkins University & Medicine Coronavirus Resource Center. Nationwide, over 7 million people have been infected and over 203,000 are dead.
Since April, America has led the world by far in sheer numbers of confirmed infections and deaths. The U.S. has less than 5% of the globe's population but more than 20% of the reported deaths.
———
©2020 The Orlando Sentinel (Orlando, Fla.)