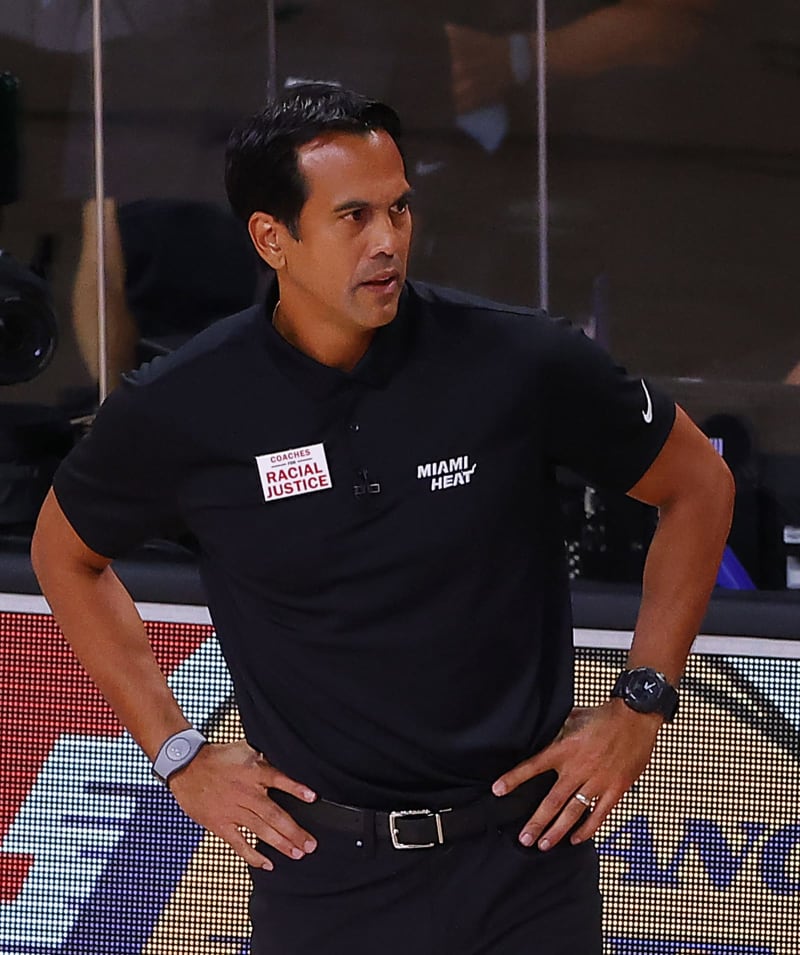 The primary recurring theme for the Miami Heat during these NBA playoffs has been winning, from the 4-0 sweep of the Indiana Pacers in the first round, the 4-1 thrashing of the top-seeded Milwaukee Bucks in the second, to closing out the Boston Celtics 4-2 in the Eastern Conference finals.
But in the background, there has been the recurring theme about the franchise's future and what could be next. In that first round it was about the possibility of Pacers guard Victor Oladipo relocating to the Heat amid an impending extension window. In the second round, it was about Giannis Antetokounmpo's 2021 free agency and the cap space being stashed for a potential courtship. And now? Well, Los Angeles Lakers forward Anthony Davis is an impending free agent, and the Heat do have cap space …
One would think it would be enough to make the head explode of in-the-moment Heat coach Erik Spoelstra.
Instead, the opposite, and the rare acknowledgement of a place for what Spoelstra typically terms "outside noise."
"I think that's just the nature of sports and fans," he said in an interview with the South Florida Sun Sentinel. "And I think that's OK. First of all, it's not an issue with our group. When you have a group that has an opportunity, that's all this team is focusing on right now. It's not about the future or a bunch of speculation.
"But if fans want to talk about different things and they're interested, that's part of it. I don't condemn fans for getting excited about possibilities."
And yet it is speculation that directly impacts the roster that opens the best-of-seven NBA Finals against the Los Angeles Lakers at 9 p.m. Wednesday at Disney's Wide World of Sports complex, amid the quarantine necessitated by the novel coronavirus pandemic.
For the Heat to maximize cap space for a run at a major free agent this offseason (which is not the expectation), it potentially would require losing impending free agents Goran Dragic, Jae Crowder, Derrick Jones Jr., among others.
And to utilize cap space in 2021 for a major addition, those players and others might have to be excised.
That does not even get into conjecture about trades, with Washington Wizards guard Bradley Beal long considered an intriguing target.
"When you get into the playoffs, there become a lot of different storylines," Spoelstra acknowledged. "But it's all about putting together a team that competes for a title. This year, we felt like we did that. It's irrelevant at what point that you get to that point. But this team has proven it deserves that opportunity.
"And that's the only thing that matters. And our team, everybody in the locker room has been able to not even spend any time or even acknowledge any kind of storylines out there."
Actually, some have, with Dragic, Jones and Kelly Olynyk having had their names in play last offseason, as the Heat were going through the machinations required to add Jimmy Butler. None, however, made it an issue with Spoelstra.
"I don't know how many players would go to their head coach to discuss that," Spoelstra said. "But, you know, if you've been in the business long enough, you know that there's going to be a lot of wild rumors. And you do have to find a way to compartmentalize.
"League-wide, 99% of the rumors are just way off base. And I can speak from just that example. I was in the room and everything that was speculated was wrong. And it doesn't matter what was discussed. It doesn't matter. The only thing that matters is this group that's here. They feel like they have an opportunity to compete for a title."
———
©2020 Sun Sentinel (Fort Lauderdale, Fla.)