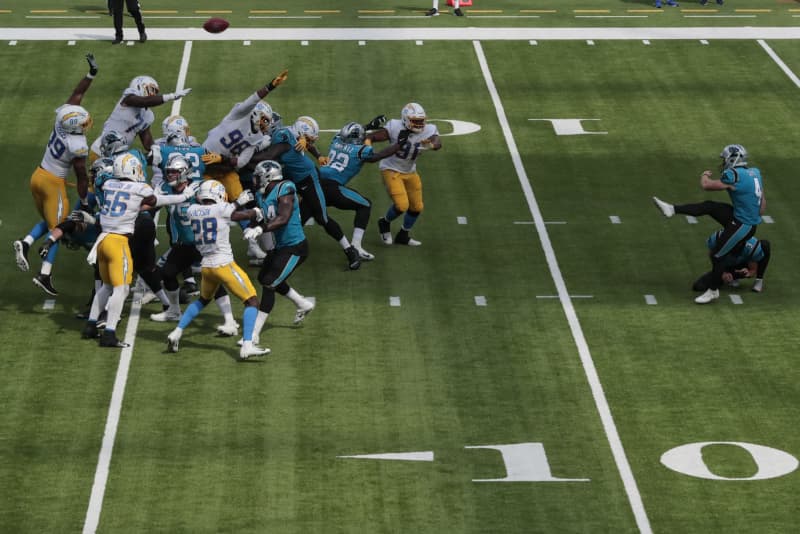 Since the Panthers hadn't won a game for nearly 11 months until their 21-16 victory over the Los Angeles Chargers Sunday, there were some pent-up celebrations in both the team locker room and throughout the Carolinas afterward.
Here are three things I liked about the victory as the Panthers (1-2) start preparing to face Arizona (2-1) and quarterback Kyler Murray at Bank of America Stadium this coming Sunday, as well as some notes:
———
While kicker Joey Slye got some attention for scoring 15 of the Panthers' 21 points Sunday on five short field goals, he may have received more praise for a textbook tackle he had on a kickoff in the first quarter.
Slye prides himself on kicking every kickoff through the end zone, and he did that on five of his six kickoffs Sunday. But he didn't hit one quite as squarely and allowed it to be brought into the field of play.
"I'm p — — ed that I didn't get a touchback," Slye said of the play. "I go out every day trying to set the record for 100% touchbacks throughout the season."
As returner Joe Reed brought the ball out, Slye — a former linebacker in high school — lined up the tackle and made it, shoulder-first. Reed spun away, but Slye fell to the ground and held onto his ankles.
"It's nice for me to be able to try to lay someone out," Slye said. " … . I didn't get a touchback, so kind of taking some anger out on (Reed)."
Slye has now made his last 15 field goals in a row, dating back to 2019.
———
Cornerback Rasul Douglas only joined the Panthers on Sept. 8, but he has quickly established himself as a starting cornerback and also had a key role in two team meetings last week. Rhule said Douglas told him following the Tampa Bay loss that the team "doesn't feel real close."
As Rhule said, quoting Douglas: "We don't really know each other yet. We've had these masks on. We're sitting six feet apart. He's like, 'I play better when I'm playing for somebody.' So he suggested we have some guys get up and share a little bit about themselves, so we did that Thursday and we did that again Saturday night. And I think when you hear what people have been through … you appreciate it."
Quarterback Teddy Bridgewater — who spoke during one of the meetings about his mother having cancer, Douglas said — later credited the team gatherings for being instrumental in the victory. Other speakers included linebacker Tahir Whitehead, Douglas and running back Mike Davis, according to linebacker Shaq Thompson.
Said Douglas, explaining the genesis of his idea: "I remember playing the game, we were down 21-0 vs. Tampa Bay, and I looked at everybody … . and I didn't like it. It's bigger when you play for the team than individually … . I just talked to him and basically said what I felt. And he (Rhule) made some key changes."
———
Neil Diamond's "Sweet Caroline" has been used by numerous sports teams, including the Davidson Wildcats, whose men's basketball squad plays it at the eight-minute timeout in the second half at every home game.
Now the Panthers have begun their own tradition. They will sing "Sweet Caroline" in the locker room after every win, led by assistant special teams coach Ed Foley.
While Rhule introduced the idea to the team, it was Foley's brainstorm. Foley had previously worked for Rhule at Temple and Baylor and, in both cases, usually led the team in song after victories.
"Ed had started a tradition at Temple where we sang 'High Hopes' at the end of every win," Rhule said. At Baylor, Foley also used "High Hopes," and occasionally the joyful "Down in my Heart."
As for the switch to "Sweet Caroline," Rhule said: "That was all Ed. He's one of the great personalities in football."
If you watch Foley's performance, you may also detect that he has a fictional kindred spirit with the same surname: It reminded me very much of Chris Farley's beloved "Saturday Night Live" character, the motivational speaker Matt Foley.
———
The Panthers put some limited single-game tickets on sale for their seven remaining home games Monday, including the Arizona game Sunday at 1 p.m. in Bank of America Stadium.
A quick glance at Ticketmaster.com showed prices for the Arizona game that started at $169 apiece for "standard" seating. The only tickets being sold are in the 100 and 200 levels, as the team is only using the lower bowl of Bank of America Stadium due to COVID-19 restrictions. The Panthers will be allowed a maximum of 5,240 fans Sunday based on current N.C. guidelines, which restrict large outdoor venues to a maximum of seven% of full capacity.
— The Panthers' snap counts Sunday included a few interesting facts. The team rotated Trent Scott and Greg Little at left tackle, with Scott playing 61% of the offensive snaps and Little playing 39 percent. Rhule said that duo's effective replacement of starting left tackle Russell Okung was "the key to the game" on offense.
— Running back Mike Davis, subbing in for Christian McCaffrey, played on 76% of the offensive snaps — McCaffrey usually hovers in the 90s, but Curtis Samuel and Reggie Bonnafon took snaps at tailback. Second-year defensive end Brian Burns had a career high in defensive snaps (63) as he posted another strong game.
— According to Rhule, the team's inability to score touchdowns in the red zone Sunday boiled down to not being able to run the ball consistently enough. Carolina had the ball six times inside the Chargers 20, but kicked field goals on five of those. The only touchdown came on a 13-yard screen pass to Davis from Bridgewater.
— Cornerback Donte Jackson (toe) and linebacker Shaq Thompson (neck) were both being evaluated by doctors Monday after sustaining injuries Sunday. Jackson had an interception for the second straight game Sunday and Thompson led the Panthers in tackles.
— Rhule said the team's biggest defensive flaw right now is missed tackles. However, after getting only 10 total pressures — by how the Panthers count it — and zero sacks in their first two games combined, Rhule said the team had 22 total pressures and two sacks Sunday.
— Rhule said that performances by several of the team's rookies Sunday — he specifically singled out defensive tackle Derrick Brown — made him think that general manager Marty Hurney "nailed the draft."
— Rhule said he has avoided using the word "rebuild" with the team. "I've never used the word 'rebuild,'" Rhule said. "I've just said we've got to build."
———
©2020 The Charlotte Observer (Charlotte, N.C.)