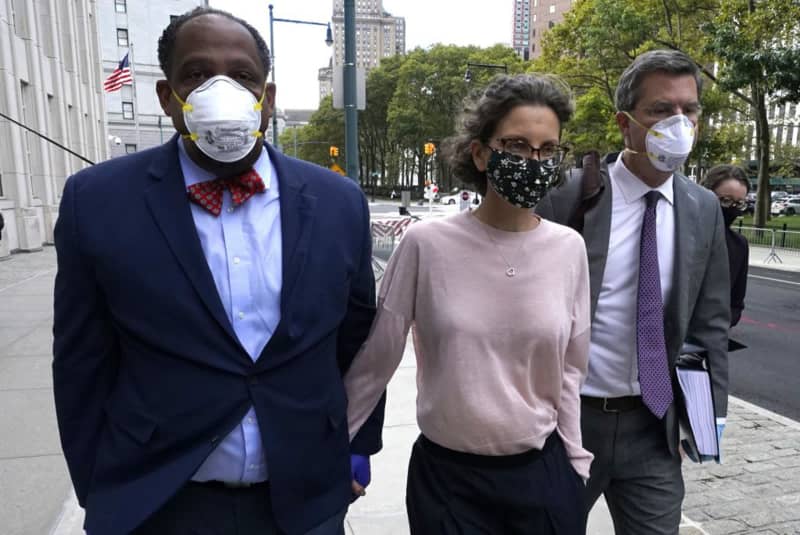 NEW YORK — NXIVM sex cult funder Clare Bronfman was sentenced to more than six years in prison Wednesday for her role in the upstate cult.
The Seagram's heiress, wearing a pink sweater, betrayed no emotion as Brooklyn Federal Judge Nicholas Garaufis handed down the 81-month sentence. But she did share a few words of regret before being taken into custody by U.S. marshals.
"I have made mistakes, I'm sorry for the time and resources I have taken from the court," Bronfman.
Bronfman will also be required to pay a $500,000 fine. She pleaded guilty last year to conspiracy to conceal and hide undocumented immigrants for financial gain, and fraudulent use of identification during her time with the cult. She continued to support cult leader Keith Raniere as her sentence loomed.
"She used her incredible wealth as a means of intimidation, threat and exacting revenge on individuals who challenged its dogmas," Garaufis said during the sentencing.
Susan Dunns, a former NXIVM member, heralded the decision outside the courtroom: "Good. It's about damn time."
Prior to Bronfman's sentencing, Dunns was one of nine women who shared emotional stories of the hell they faced under her rule.
"In my opinion you're a predator. You should feel shame, self-loathing … You should understand there are lives you destroyed," said said, crying as she spoke.
"I pray that you will take the claws of Keith Raniere out of you, and you will learn who Clare Bronfman really is," she said.
Bronfman helped noncitizens get into the country, promising them visas and payment, but once they got stateside, she did not pay them as promised.
Bronfman also used her massive wealth to bankroll the NXIVM's litigation machine that often went after members who left the sex cult or spoke negatively about it to the media.
Former member Toni Natalie — who was indicted in 2015 on computer hacking charges — said she was sued by NXIVM and spent over eight years in bankruptcy court while being followed by an ex-Mossad private eye. She spoke about the cult's practice of "scorched-earth litigation."
"I was not scorched. I was incinerated," Natalie said.
Barbara Bouchey said was dragged into 14 lawsuits from NXIVM since she left, all because she broke up with cult leader Raniere.
"I have endured hundreds of headline news stories," Boucher said. "All I did was decide to break up with Keith Raniere."
The feds arrested Raniere in March 2018 after they discovered there was a secret society of women within the criminal cult who were branded over their genitals and required to turn over collateral — often nude photos — as part of a lifetime vow to stay faithful to the group.
Raniere was convicted in 2019 in Brooklyn Federal Court of sex trafficking, forced labor and child exploitation among other charges. He is expected to be sentenced next month.
Sally Brink, who left NXIVM in 2016 after 13 years in the sordid cult, warned Bronfman about sticking by Raniere's side.
"As long as you support KR (Keith Raniere), there is no forgiveness for you," Brink said Wednesday. "You're not going to heal with KR in your life. You have to take back your power. You have no sense of self without him."
———
©2020 New York Daily News