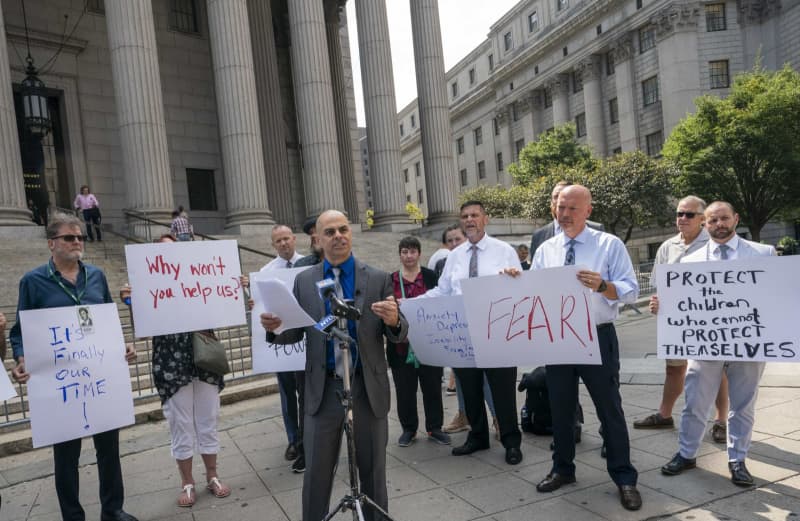 NEW YORK — The beleaguered Diocese of Rockville Centre, facing dozens of sex abuse lawsuits, filed for Chapter 11 bankruptcy Thursday.
The Long Island Catholic diocese — one of the largest in the country — said the bankruptcy filing was necessary to move forward while managing litigation costs, settlements with sexual abuse survivors and disputes with its insurers.
The cases against them have been mounting ever since the Child Victims Act passed last year opened the legal window for victims to sue the Catholic Church and other institutions.
"We believe that this process offers the only way to ensure a fair and equitable outcome for everyone involved, including abuse survivors whose compensation settlements will be resolved by the courts," said Bishop John Barres, head of the diocese. "This decision was not made lightly."
Barres said the diocese's insurers failed to honor their contractual obligations as the lawsuits increased, with close to 100 filed against Rockville Centre. Three other New York state dioceses already filed for Chapter 11, citing similar issues: Buffalo, Rochester and Syracuse.
"We carefully and prayerfully considered other alternatives, but Chapter 11 was the only way to provide fair settlements to survivors while continuing to be of service to the 1.4 million Catholics … in the Diocese of Rockville Centre," the bishop said.
He also noted the steep drop in Sunday collection money due to the COVID-19 crisis, with churches shuttered for an extended period. The diocese typically generates roughly 40% of its annual revenue from parishioners' donations.
Attorney Jeff Anderson, whose firm represents dozens of sexual abuse accusers, quickly denounced the filing.
"We see the diocese's decision to declare bankruptcy as strategic, cowardly and wholly self-serving," said Anderson. "At the heart of these cases, we find a willful deceit on the diocese's part — persistent attempts to evade accountability and a concerted effort to conceal information."
Gov. Andrew Cuomo signed the CVA into law in February 2019, and recently extended the period for victims to file legal actions through Aug. 14, 2021.
———
©2020 New York Daily News